Avast is a popular 3rd antivirus that many people use all over the world. Sometimes, Avast can be overprotective and prevent some of the fundamental utilities that the user requires. Avast is known to interfere with other applications, Outlook and Yahoo Mail in particular. It prevents users from downloading attachments from them and can even stop the users from opening them.
In this article, I have discussed what you can do when Avast is causing problems with Outlook and Yahoo mail.
Why Avast Is Blocking Emails?
Avast has a mail shield that scans your email accounts or email clients like Outlook to locate any spam or phishing emails, which can potentially put your private information at risk. This mail shield not only scans for incoming emails but also checks the outgoing ones for any suspicious activity. If the mail shield finds any such activity, then it immediately blocks it.
However, since the version 19.1.2360 update, many users have reported that Avast is blocking all incoming and outgoing emails. Particularly, it seems Avast is blocking Yahoo Mail and Outlook. It can be a version update bug that may be doing this, or due to conflicts with the browser that you are using for accessing emails.
Some of the known issues related to Avast Mail Shield:
Avast blocking email attachments: Avast can block the user from downloading certain email attachments if it considers them a threat to the PC.
Avast blocking emails: Avast blocks all incoming and outgoing emails.
What To Do When Avast Is Causing Problems With Outlook And Yahoo Mail?
There aren't many things you can do when you are facing this issue. Avast has not rolled out any official fix for it also. Here I have given some solutions that may fix this. However, the best solution is to disable the mail shield, which is also something all of us are trying to avoid till nothing else works.
Solution 1: Use Another Browser
If you are accessing your emails using internet browsers, then the issue can be due to a conflict between Avast and the browser. Firefox in particular is known to have conflicts with Avast in the past. If you are using Firefox, then switch to some other browser, like Chrome or Edge, and see if that fixes this issue.
Solution 2: Update Avast
This issue has been mostly reported for version 19.1.2360 of Avast. If you are also facing this issue with this version of Avast, try updating it to the latest version and see whether still Avast mail shield blocks email. To update Avast, follow the steps given below:
Open Avast and click on the Settings option. Avast Settings prompt will appear on your screen.
Select the Update option from the left panel.
On the right-panel, click on the Update option for both Virus Definitions and Program.
Follow the on-screen instructions to complete the process.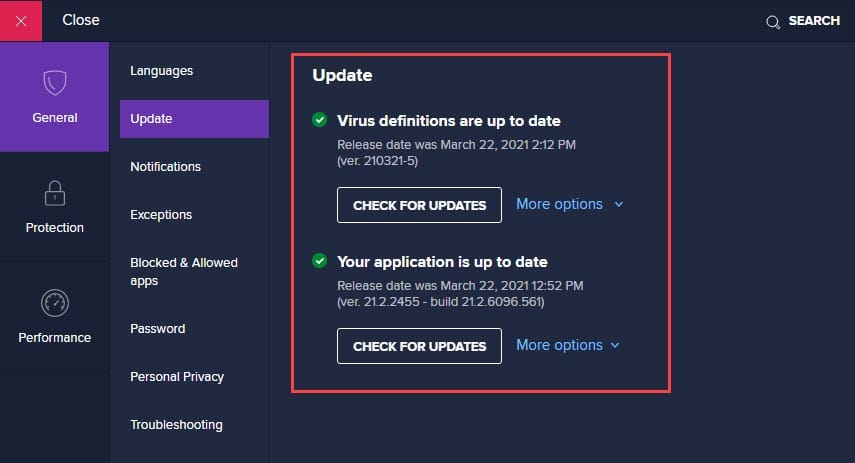 After you have updated Avast, check if the issue remains or not.
Solution 3: Uninstall And Reinstall Avast
If updating Avast also doesn't work, then the next thing you can try is to uninstall and reinstall the latest version of Avast. To do it, follow the steps given below:
Download the Avast uninstall utility from this website. After that disconnect from the internet.
Type Advanced Startup in the Windows search bar and select the Change advanced startup options. This will open the Recovery settings.
In the Advanced startup section, click on Restart now. After your PC restarts, it will boot in the Recovery environment.
Navigate to Troubleshoot >> Advanced options>> Startup Settings.
Click on the Restart option and then press the F4 key to enter Safe Mode.
After you have entered Safe Mode, run the Avast uninstall utility that you downloaded earlier.
Follow the instructions on your screen to completely uninstall Avast.
After you have uninstalled Avast, you can visit here and download the Avast antivirus. Run the installer and fresh install Avast on your PC.
Solution 4: Disable Avast Mail Shield
If none of the above solutions work, then the only other thing you can try is to disable the Avast mail shield. This will leave your PC vulnerable to spam and phishing emails, but at least you will be able to use your email accounts again.
To disable Avast Mail Shield, follow the steps given below:
Open Avast on your PC.
Click on the Settings option again to open the Avast settings window.
Select the Active Protection option from the left panel.
Locate the Mail Shield component and change its setting to Stop Permanently. You may also choose to temporarily stop Avast mail.
Click on OK to save the changes.
Now check if Avast is still blocking your emails or not. This should definitely fix this issue.
Alternative Solution: Use Another Antivirus
As an alternative, you may want to look for other Antiviruses besides Avast if this issue continues. Disabling the mail shield for Avast takes away the entire purpose of having Avast protect them. Rather than still using Avast with mail shield off, you can use another antivirus that does has a working mail shield.
Wrapping Up
So, there you have it. Now you know what to do when Avast causing problems with Outlook. Hopefully, the above solutions will help you fix this issue. There is always the option to change your antivirus if the above solutions fail to help. If you have any questions regarding this topic, ask them in the comment section below.