Listening to music can help in keeping the mood pleasant. Many prefer listening to music for stress-busting. In the current age, one can easily listen to music using a music streaming platform. The days of DVDs and CDs are almost over.
Apple Music is one such music streaming platform that allows users (with a subscription) to listen to music. They have over 50 million songs on their platform. One downside of using Apple music is you have to pay for the subscription. In this article, I have discussed how to download Apple music for free.
After reading this article, you will be able to listen to Apple music without paying for a subscription.
Plans And Features Of Apple Music
Apple Music is one of the best music streaming platforms. It holds a library of 50 million+ songs and music that is accessible for all users that have paid for the subscription. The subscription for Apple music has 3 different plans: family, individual, and university student plans.
The family plan allows the registration of up to 6 people and costs $14.99 per month and the individual plan costs $9.99 per month and only allows 1 user. The university student is the same as the individual plan but cheaper at $4.99 per month.
Apple Music also allows a 3 month trial period with full access to its library. After the trial period is over, the user will no longer be able to listen to Apple music including the offline downloaded ones.
Another irritating feature of Apple Music is that the user is only able to listen to the music as long as they pay for the subscription. After the subscription period is over, they are no longer allowed access to their custom playlists or offline downloaded songs. So, how to download apple music for free? Read the complete article to know how you can use Apple Music downloader.
How To Download Apple Music For Free?
As mentioned above, Apple Music provides a 3-month free trial. In this free trial, you are allowed to download music to listen offline. However, all Apple music is protected by Digital Rights Management or DRM in short in the M4p format.
Because of this, the downloaded music files can not be shared or transferred to another device. So, how to get free music on Apple Music? I have some Apple Music downloader and converter below that can remove the DRM protection and download the music, with the quality intact, to your device.
1) Use Music Convertors
There are 2 very powerful music convertors mentioned below that can convert DRM protected music to DRM free formats. I have mention below how to download apple music for free using these converters.
Apple Music Converter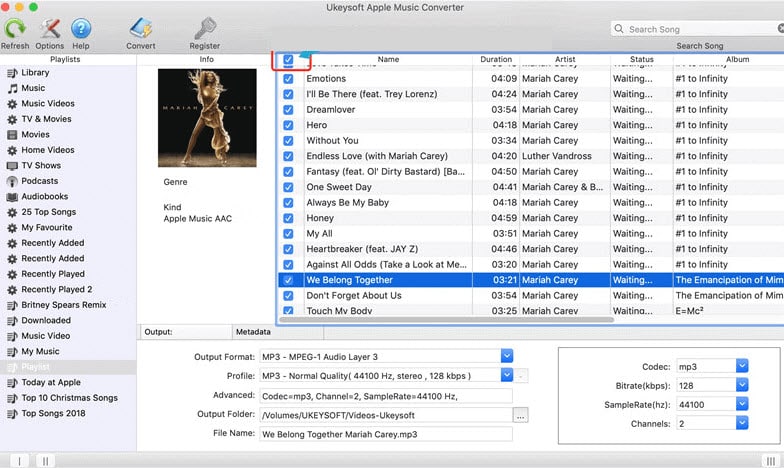 Apple Music Converter is an app that converts downloaded offline Apple music and converts them into MP3, FLAC, AAC, or WAV format. Converting the music makes removes the DRM protection on it, which means you will now be able to listen to them without a subscription.
You also don't have to worry about the audio quality. The audio quality will remain intact after the conversion is finished; thus, you won't have to compromise on quality for using it free.
To convert Apple Music to DRM free format on your PC (Windows or Mac), follow the steps given below:
Visit this website and download the Apple Music Converter for Mac or Windows. Next, install it on your PC.
After the app is installed, launch it.
iTunes should automatically appear after the app opens.
Select the music playlist, located on the left panel, and click on the song that you to convert.
Change the Output Settings to MP3.
Select the Convert The song will now be converted to DRM free MP3 format.
After the music is converted, you can listen to it for free and share it with other devices. You can only download a free trial version of the Apple Music Converter. To access all the premium features, you can purchase it for a lifetime. The one-time purchase of Apple Music Converter costs $39.95 US Dollars.
Sidify Apple Music Converter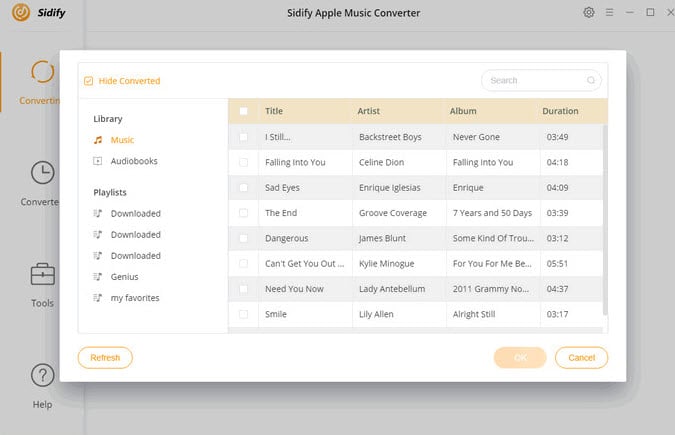 Sidify Apple Music Convertor is another powerful converter. This powerful software can convert DRM protected M4P tunes to DRM free MP3, ACC, FLAC, or WAV formats. The software is very simple to use, all you need to do is choose the music, select the output format, and select the convert option.
The converted music can be listened for free on your device and you can also share them with your friends or upload them to cloud storage. This software is free to download but a premium version of the app is also available, which includes many extra features.
You can make a one time purchase worth $79.95 US Dollars or get a temporary license of $39.95 US Dollars per annum or $14.95 US Dollars per month. The software is available for Windows and Mac.
2) Record Apple Music
How to download apple music for free without using converters? Well, another way to access free Apple Music offline is by recording them. There are some powerful software that can record Apply tracks while maintaining good audio quality. I have mentioned some of them below for you to check out.
Apowersoft Streaming Audio Recorder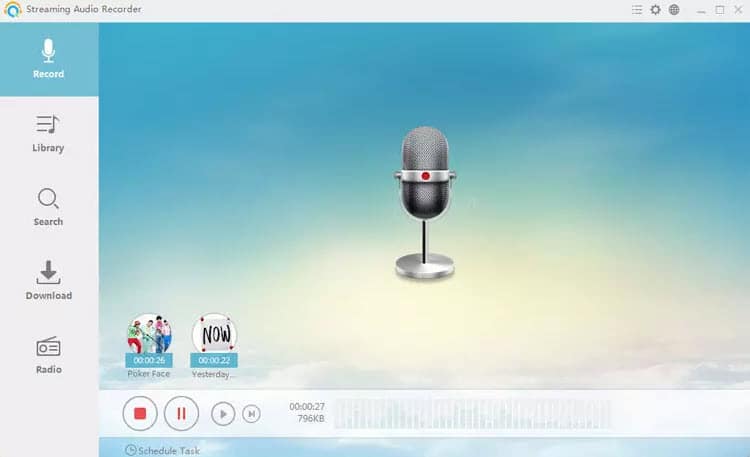 Apowersoft Streaming Audio Recorder is a powerful audio recording software with exceptional editing and recording features. The software can record any audio that is played on the computer with ease. You can select the audio output format, which includes MP3, AAC, FLAC, WMA, and many more.
The app has many features for ease of use, such as keyboard shortcuts for easier recording. You can also record online radio stations using this software. A built-in MP3 search engine is also available for downloading songs online.
To use Apowersoft Streaming Audio Recorder for recording Apple Music, follow the steps given below:
Visit this website to download and install the software.
Launch the app after it is installed.
Click on the Settings icon on the main window.
Select the Record Settings option.
Next, click on the System Sound option.
Set the recorded audio to be System Sound.
Enter the song's name and identify the ID3 tags.
Change the output format to MP3.
Now, exit from Record settings and click on the Download Settings option.
Set the location where you want the output file to be saved.
Play the music in the background and click on the red record button to start recording.
Audials Tunebite Platinum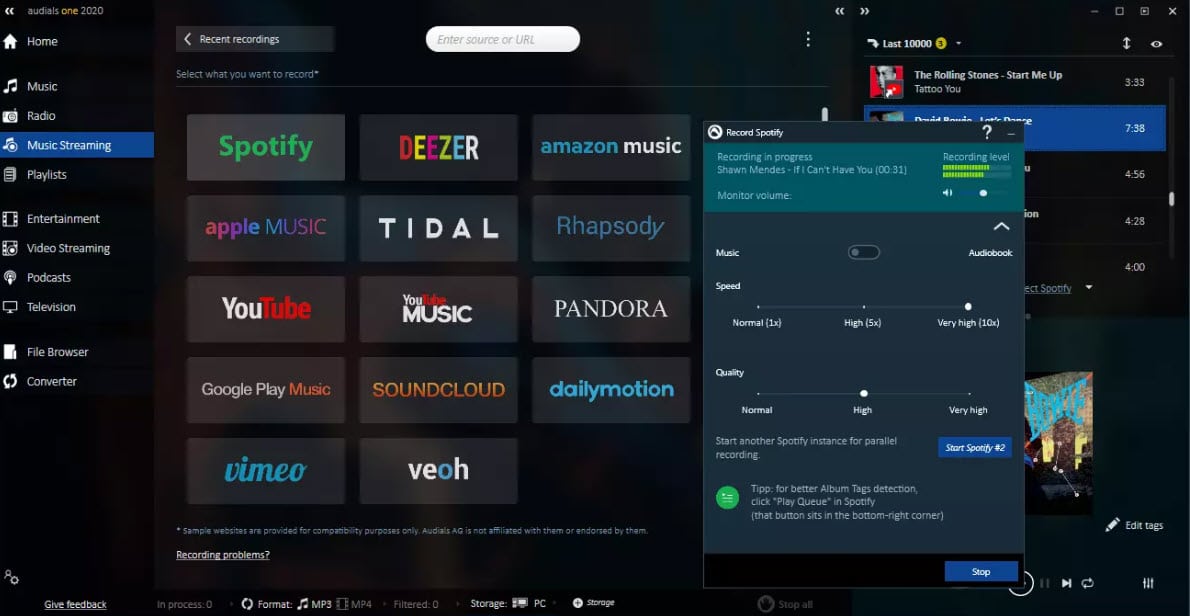 Audials Tunebite Platinum is another powerful recording software that you can use to record Apple music. The app is packed with useful recording features. It automatically adds the ID3 tags and the album artwork for your recorded music.
This software allows you to record from all online music platforms, including protected music streams. You can also record web series or films streamed online using this app. The recorded quality is also top-notch, and the user won't find any issues with that.
Following are the steps on using the Audials Tunebite Platinum to record Apple Music:
Visit this website to download and install Audials Tunebite Platinum.
Launch the software after the installation is finished.
Click on Apple Music among the programs listed on the home screen.
Play the song you want to record from the Apple Music streaming service.
The song playing on the background will be recorded automatically and stored as MP3 files on your PC.
Audial Tunebite Platinum is free to download, but the full license is worth $34.90 US Dollars.
Loading Downloaded Music To Apple Music
If you are wondering how to get free music on Apple Music, one way to do it is by downloading the music from internet and then loading it on your Apple Music. Download the music with a free music downloader for iTunes and convert them to MP3.
After the music is downloaded, connect your iPhone to your PC and follow the steps given below:
Open the iTunes in your PC.
Next, open the folder that has the downloaded song and drag it on the iTunes Music panel.
Now, select the iPhone in the Devices section.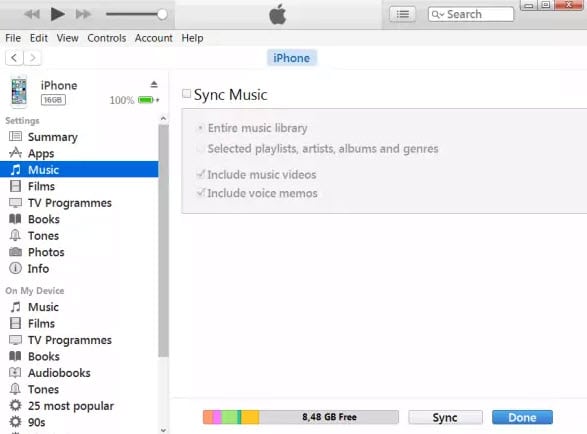 In the Settings section, select the Music option on the left panel.
On the right panel, check the Sync Music box.
Click on the Sync option in the bottom right part of the screen.
After you have done the above step, your iTunes library and Apple Music will be sync. Now, you will be able to listen to the downloaded music on Apple Music.
Wrapping Up
So, there you have it. Now you know how to download Apple Music for free. Downloading licensed music for free is illegal, and we recommend that you use legal ways to listen to licensed music. If you have any questions regarding this topic, ask them in the comment section.