There are many people search websites available online. They are very useful when you are looking for someone but do not have their address. Employers also use these sites to get a background check on new employees.
People search sites are plenty online, some require money while others are free. In this article, I have listed some free people search sites that are tested to be consistent and you can rely on them.
Also, check out:
How Does Free People Search Sites Work?
The people search sites that are free to use, search the public records for the details on the person you are looking for. Generally, there are 3 ways to search on these sites. The first way is by using their names.
If you only have the name of People Search Sites the person you are looking for, the search result will be longer. You can filter it further by inserting the state or city where the person lives.
The next method is by using their phone numbers. Each phone number is registered to a different person, so searching with the phone number gets you accurate results than searching with names.
In the third method, you can search by using the complete address. If you know where someone lives and wants to get basic details of them, then this search method is very effective.
Basic Tips On How To Search For Someone
If you are searching for someone or conducting a background check, it is best to be thorough. There are some basic points you need to keep in mind while doing a background check. These points will help you do a better and more thorough search of the person.
The first thing to keep in mind is to use multiple sources. Never trust a single source, use different sites to check if the result is consistent.
If the person has any online footprint, you should first check the social media sites. In such cases, social media sites can have more details to help you in the search.
When you are searching on search engines like Google, to get the best results you have to be specific. Using the big search engines correctly can help you a lot with this.
Totally Free People Search Sites
To conduct a free person search, you will have to use people search sites. Many free people search website have inconsistencies and can show inaccurate results. Below is a list of totally free people search sites that you can use to conduct basic information search on anyone.
ZABA SEARCH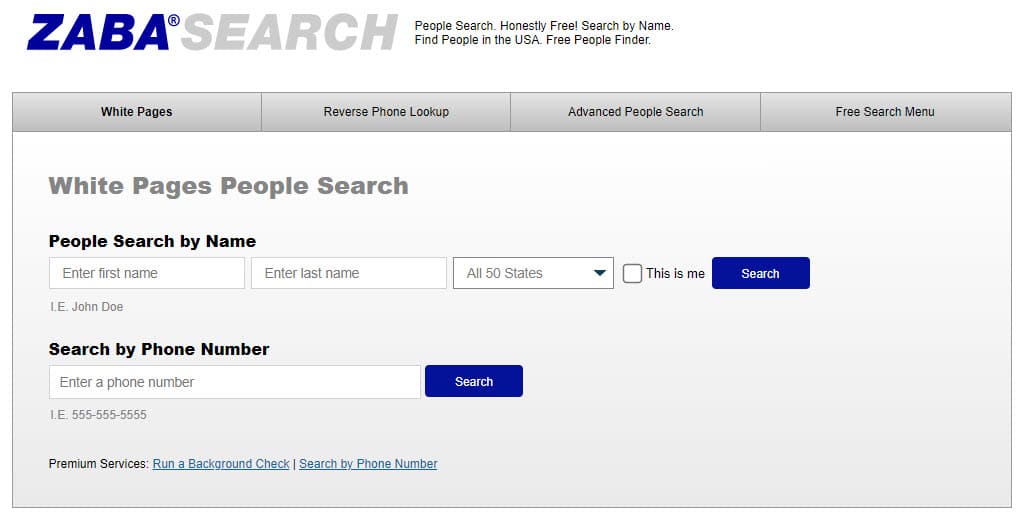 ZABA Search is a great free person search site. This site supports search by name, phone number, and physical address. Using this site is very easy, even for beginners. The moment you visit, you will figure out where to enter the name, address, or phone number.
ZABA Search collects data from several different public sources and then shows the result. This site is mostly known to be mostly consistent, but as the data is collected from various public sources, it can be inaccurate sometimes.
Visit ZABA Search.
Your Family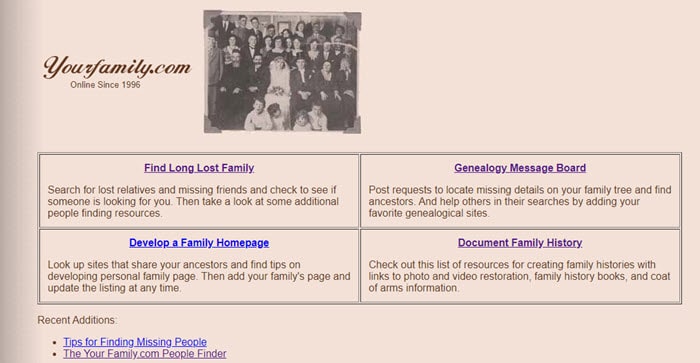 Your Family started in 1996. It is a great site to learn about your ancestors or find missing families. The site has 4 categories:
Looking for a long lost family.
Post requests regarding missing details on your family tree or help others do the same.
Developing a family homepage.
Document family histories using the resources in Your Family site.
You can leave queries regarding the information you are looking for or look at similar queries from others and contact them for more details.
Visit Your Family.
FamilySearch.org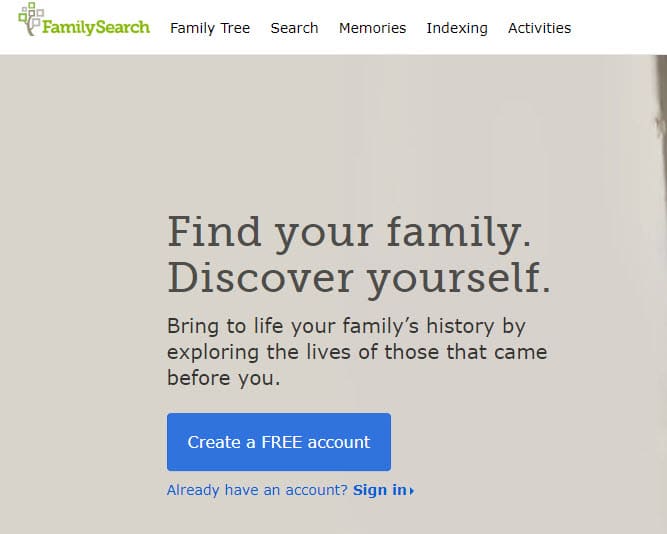 FamilySearch.org is truly an amazing site to make a thorough search to find missing families. The site has been put out by the Church of Jesus Christ of Latter-day Saints and is one of the largest family record databases available online.
You can search using the name, birthplace, birth year, and even death place and death year. It is a great site to explore your family history and find details about long lost family members.
Visit FamilySearch.org.
PeekYou

Thoroughly conduct background research on someone using PeekYou. They have a unique feature where you can either search by the name and state where the person resides, or search using username. The username search is a great way to search for online aliases.
PeekYou conducts thorough research by checking various social media sites to criminal records. It is a nice site to conduct background research on someone and know if they have any criminal history.
Visit PeekYou.
Facebook
The social media giant Facebook can be remarkably effective in finding people. Almost every person today has a face account, where they have input their family history, education history, their residential address, or email.
Facebook is a great way to find people online and make contact with old friends. You can even contact with complete strangers using Facebook.
Visit Facebook.
LinkedIn
LinkedIn is the world's largest professional network. If you are looking for a job or employee, this is the best place to visit. Millions of users of various professions use LinkedIn to find jobs, share their experiences, or make business connections.
If you are looking for employees with the correct qualifications, then this is the best place for it.
Visit Linkedin.
Wrapping Up
So, there you have it. Now you know the best places to conduct a free people search. Remember that all the sites are using searching public data and then showing you the results that you searched for. None of the sites have their own data or conduct surveys to make them 100% correct. When you are looking for someone online, it is best to use multiple sources to get more accurate information.