Loud laptop fans are a serious annoyance. It can become extremely hard to focus on something with a continuous loud noise coming from the laptop. However, the annoyance part is not everything when your laptop fan is loud, it also says that your laptop is overheating, or the fan can have a bearing issue if it is a loud rattling or buzzing noise.
Whichever the case, unnatural loud fan noises are definitely not good for your laptop and your sanity. When your laptop fan is very loud, try the simple methods I have mentioned in this article to fix it.
What Makes Laptop Fan Very Loud?
As mentioned above, loud laptop fans can be hardware or software-related. Here are the potential causes for increased fan noise in your laptop:
Unnecessary applications running in the background: Applications that consume a lot of system resources are overworking the laptop. This will generate more heat, which means that the fans will spin faster to tackle the laptop heating up.
Blocked exhaust vents: Laptop exhaust vents are quite important in keeping the laptop temperature. The heat is blown out of the laptop by the fan using the exhaust vents. If the vents are blocked, then the laptop will keep heating and the fan will spin faster to try to cool it down, which will produce a loud noise.
Malware: Laptops infected with malware will start overworking, which will force the fan to spin faster and trigger the loud sound.
Fan hardware issue: If the fan is making loud rattling or buzzing noises, then it can be a serious hardware issue.
How To Make Laptop Fans Quieter?
Now that you know the potential causes that can make your laptop fan too loud, it is time to fix it. Follow the methods given below for reducing laptop fan noise.
Solution 1: Close Unnecessary Applications
One way to reduce fan noise in laptops is to prevent it from working too hard. The easiest way to do that is to close unnecessary applications running in the background. To do that, follow the steps given below:
Right-click on the Taskbar and select the Task Manager option from the pop-up menu.
Click on the Processes tab and look at the CPU consumption of all the running processes. If any unnecessary applications are running and consuming heavy system resources, right-click on them and select the End Task option.
Once you have closed all the unnecessary background applications, close the Task Manager.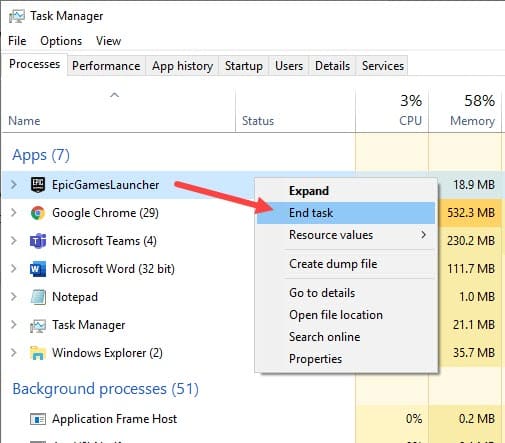 After the system load is decreased, the laptop fan should be slightly quieter now.
Solution 2: Run An Antivirus Scan
Malware infected laptops will overheat faster as the malware uses your PC's resources extensively. To check and get rid of malware from your laptop, you need to run an antivirus scan.
Malwarebytes is a great antivirus for detecting and removing malware. If you don't want to use any 3rd party antiviruses, run the Windows Defender Offline scan. To do it, follow the steps given below:
Open the notification tray and click on the Windows Defender icon.
Select the Virus & threat protection option.
Next, click on the Scan options.
Scroll down and select the Windows Defender Offline scan option.
Click on the Scan now option.
Wait for the scan to finish. It will approximately take 20-30 minutes. It will restart automatically after the scan is finished.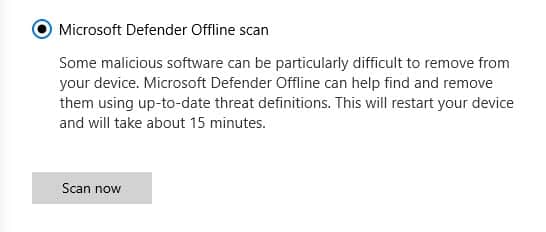 If still your laptop fan is too loud, try the next solution.
Solution 3: Clean Your Laptop
Dust is the arch-nemesis of computers. It clogs down the fans, vents, which heats the PC and that can cause immense harm to the system, ranging from slowing it down to damaging hardware. A loud fan noise coming from the laptop is a good indication of overheating, which can only be caused by certain things. Dust is near the top of that list. For reducing laptop fan noise, you will have to clean up the dust.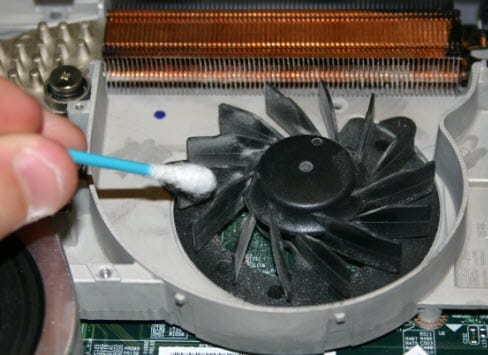 Caution: Only do the following steps if you have enough technical knowledge on handling hardware that you won't mistakenly damage it. Also, keep in mind that opening up your laptop will void the warranty, so you may not want to do it if your laptop still is in the warranty period.
Now, carefully open your laptop with a screwdriver and use a can of compressed air to blow the dust off from inside. Use burst sprays of air rather than a constant flow. Make sure that you clean the areas around fans and heatsinks particularly. Also, don't forget about the exhaust vents.
Solution 4: Check For Blocked Air Vents
As mentioned above, blocked air and exhaust vents will make the laptop heat quickly, which will make your laptop fan very loud. Other than dust clogging the vents, incorrect placement of the laptop can also do so. For many laptops, the vents are directly below it. These laptops have slight studs on its platform that keep it raised a few inches when placed on a flat surface. This prevents the air vents from getting blocked. However, when you place the laptop on your lap or any other non-plain surface like pillows, the air vents can get blocked. Keep the air vents from getting blocked and the laptop shouldn't heat too much, which will, in turn, be reducing laptop fan noise.
Solution 5: Use A Laptop Cooler
A great way to keep your laptop cool, when your laptop fan is too loud, is by using a laptop cooler. Laptop coolers are placed under the laptop and they blow cool air from the intake air vents. This keeps the laptop much cooler comparatively and a cool laptop means a quieter fan.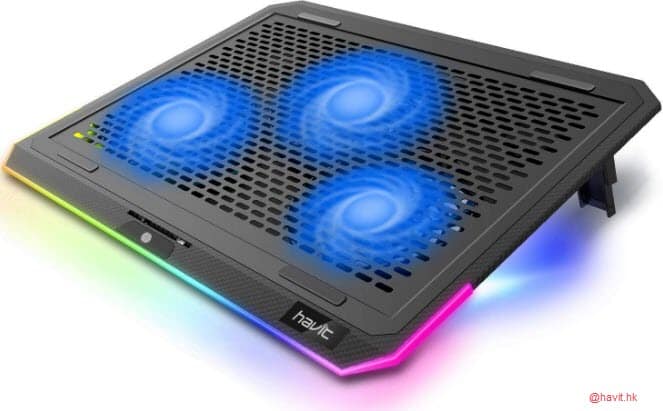 However, remember to get the correct cooler for your laptop as cooler pads placed under laptops with exhaust vents under it will be detrimental. It will only blowback the hot air inside, which was supposed to go out of the exhaust vents.
Solution 6: Reset SMC (For Mac)
Are you facing this issue on a Mac? Then try resetting the SMC (system management controller). The SMC runs many physical parts of your Mac, such as LED, indicators, peripheral devices, cooling fans, etc. When the cooling fan is running unnaturally fast and making a loud noise, like when your laptop fan is very loud, the SMC can be behind it.
If that's the case, then resetting SMC should fix it. To reset SMC on a MacBook with Apple T2 Security Chip, follow the steps given below:
Turn of the Macbook.
Press and hold the power button for 10-15 seconds and then restart.
Check if the fan is running loudly. If yes, then turn off the Macbook again.
Press and hold the Right Shift + Left Option + Left Control keys for 8 seconds.
After 8 seconds, release the keys and wait a couple of seconds.
Restart the Macbook.
Solution 7: Control The Fan Speed
Most laptops allow users to control the fan speed, either natively or by using 3rd party applications. You can use a 3rd party application to do so if your laptop doesn't have it natively. However, remember that slowing the fan can lead to overheating.
If you are unsure of which application to use, then here are some suggestions:
For Windows:
For macOS
Solution 8: Check For Faulty Hardware
If the fan is making loud rattling or buzzing noises, then it can be a serious hardware issue. When laptop fan is very loud, rattling or buzzing, it generally signifies a bearing issue. Open your laptop and have a look. If you are uncomfortable in doing so, call a technician to have a look at it.
Wrapping Up
So, there you have it. Now you know what to do when your laptop fan is very loud. The above solutions should help you fix it. If you have any questions regarding this topic, ask them in the comment section below.