Are you searching for Free Plagiarism Checker software to prevent duplicate content?
As a blogger, you might have written the ideal content and applied SEO factors to your content. However, if you don't proofread the articles and check if there any copied content, you should not think about that post to publish on your website.
For bloggers and other professionals, we have enlisted the top three as well as effective plagiarism checkers that are effective in 2022 and can be used without any hesitation.
But before that, let's have a quick introduction to plagiarism.
What is Plagiarism?
Plagiarism means copying some context or idea from someone else's content with his/her consent. The content might be text, picture, or thoughts that may be somebody's digital property.
We're in the modern era where the information is available in a wide range which can be found easily on the internet as well as accessible from any part of the world.
Today, initial thoughts and content are not secure over the internet as most people can easily copy and use it for their purpose without giving the credit to the original publisher or author.
This is common to be motivated by other's thoughts or copy other's articles and use them to print as their own.
If you're plagiarizing any text, picture, or idea that is not your personal then it may result in copyright infringement.
To prevent such problems, you can change the context in your article or add the citation to the content from the source. For this, you can also use the citation machine for making citations in your article.
Why Checking Plagiarism is Helpful for Bloggers?
Plagiarized content is a really important issue for bloggers as it might result in copyright legal consequences if no citation or other actions taken.
It may be accidental plagiarism in which you're composing blog articles that are already covered by another person. This is one of the common types of plagiarism which is caused by bloggers.
Therefore, even in the event that you've written the site content by your own efforts, this content might get similar to someone's else thoughts.
The plagiarism checker assists in preventing copyright problems and to verify that your content is original.
Which are Online Plagiarism Checker Tools?
To assist bloggers, authors, and students in figuring out if any material is duplicate or original, we've got few plagiarism checkers for bloggers that are efficient and effective for the bloggers.
All these plagiarism checker tools can scan the text that you entered and figure out the originality of the content by comparing throughout the internet's content.
Do these Plagiarism Checking Applications are Efficient in Providing an Accurate Result?
This is dependent upon what type of checking brand you are using as well as the type of content.
Just like if you're a student and looking to check for the assignment, then particular plagiarism checkers keep a database together with the assignment content.
Some of the premium plagiarism scanners over the internet are quite efficient to provide the plagiarism report for your document. We will discuss these in this article later.
What are the Best Plagiarism Checkers for Bloggers?
A blogger needs to decide the best plagiarism checker tool depending on the simple facts including the accuracy of the tool's report and efficiency of the tool.
Usability is another thing, how simple to use this application, registering for the tool and queries offered by that tool.
The top of the list for the plagiarism checkers are discussed below:
Prepostseo
Quetext
Check-Plagiarism
Prepostseo is considered among the most effective plagiarism checker tools that will help one to recognize all kinds of plagiarism including self-plagiarism, as well as paraphrased plagiarism.
You can paste the articles or upload the file to see replicate content.
The most amazing thing about this website is that it is entirely safe and secure to use as it doesn't save your content over their database. It finds within moments and outputs the record of each match.
In the free version of this brand, you can utilize the plagiarism checker for up to 1,000 words while the premium accounts can be used for up to 25,000 words over a single click.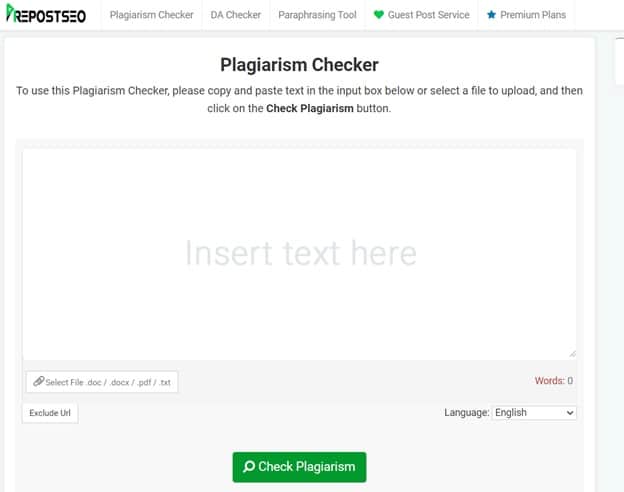 It supplies the results in percentage and supports downloading the accounts.
The very best part is it gives you the ability to rephrase the plagiarized content to allow it to be unique. And the option of "exclude URL" to inspect the readability of your articles.
There are other 95+ tools for students and SEO experts including educational, marketing, domain, ranking, and other helpful tools on Prepostseo.
As a blogger, you may use a lot of these for SEO tools like backlink checker, grammar checker, domain authority checker, and a lot more.
Quetext is another plagiarism checker that provides accurate results. It is possible to enter up to 1000 words for each turn and search for plagiarism, in the free version.
In the free version, you can use this tool for up to 2,500 words while in the premium account, you can increase the limit.
It enables either to immediately paste your articles, upload your file or provide the URL to look for plagiarism.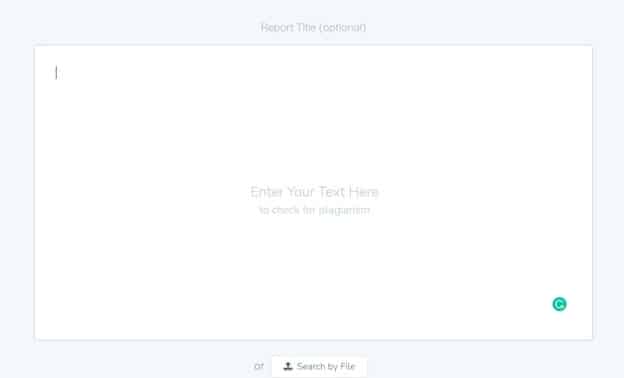 It compares your articles in a wide database of web pages to match and find the percentage of similar data.
After you click the "check plagiarism" button, then it is going to process and show results quite quickly without compromising on the quality of the outcomes.
It will show you the sources even if you are content is paraphrased while displaying the URL of the original content.
Results are in a percent (%) like Plagiarism percent and Uniqueness percent.
Check-Plagiarism is just another completely free plagiarism checker that will provide precise results. It supports looking for 1000 words over a single click where you can immediately paste the content and find the result.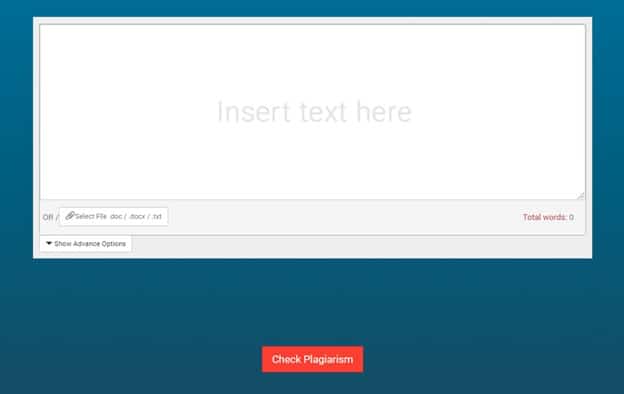 Additionally, it supports uploading the files as well as exclude the URL to scan for duplicate content.
It'll search your articles on countless pages to inspect the creativity in your writing. When there's any duplicate material discovered, it will show you the URL of the original content.
You can also use the comparison tool to find the similarity between two documents.
Wrapping Up
So, there you have it. These are 3 free plagiarism checkers for every blogger. Do tell us how these tools helped you in the comment section.