EPUB stands for Electronic Publication Reader. It is a technology to open and read e-books.
If you have the EPUB reader on your device like PC, tablet, or smartphone, you just need to download the File to read.
There are various EPUB readers available in the market, but I have sorted out the 8 best EPUB readers for you. Have a look!
How To Open EPUB File?
As you already know that there are various applications or software to read or view the EPUB files on your device.
You need to download and install the program on your Android phone or PC.
Now, check-in details.
Best Windows 10 EPUB Readers
Kobo is also a free EPUB reader and available on Microsoft Store for every Microsoft user.
You can access it easily anywhere with any kind of Windows-supported user.
Kobo offers you more than 5 million books, where some of which are free and others at very affordable prices.
Kobo also has a vast range of children's books and comics.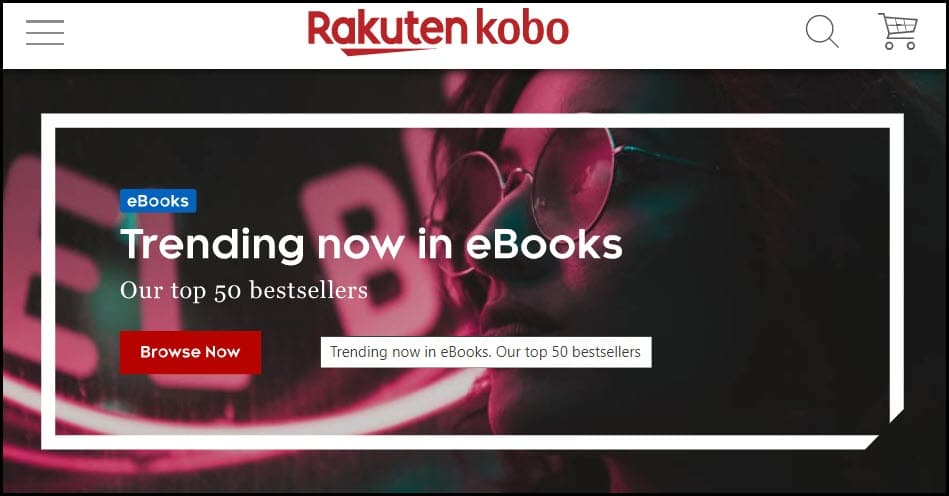 Advantages
Kobo is compatible with Windows 8.1 and higher versions.
Kobo has multiple features like bookmarks, rack progress, and much more.
Kobo has a huge library and catalogs to find the books easily.
Modern UI with very comfortable reading modes.
Kobo has an in-built e-book store.
Dis-advantages
Imported e-books are hard to manage.
Calibre is a user-friendly and popular EPUB reader.
This is one of the oldest EPUB readers for the Windows 10 version with a simple UI.
The UI is less attractive and sometimes have lagging issues.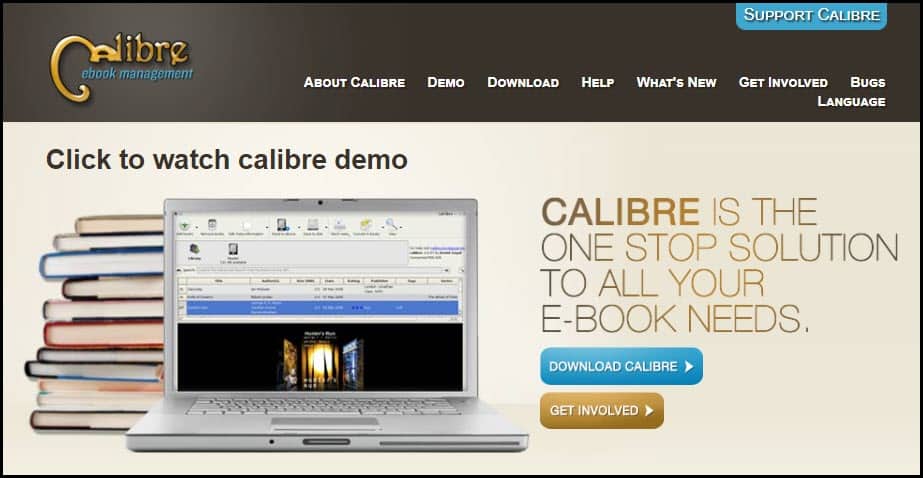 Advantages
Allows users to change the book's metadata.
Keyboards short-cuts to find words.
Supports Custom theme.
Dis-advantages
Outdated UI.
Lags while loading.
One of the World's largest booksellers Barnes & Noble, launched its own online bookstore service called Nook.
By using the Nook application, you can not only read the EPUB books but also buy them from the store.
Nook allows you to customize the features.
There are a variety of Nook books, newspapers, magazines, and comics available in the store.
Before buying any kind of e-books, magazine, or newspaper, you can test it by a 14 days trial period.
After the end of the trial period, you can subscribe to the magazines or buy a book you want.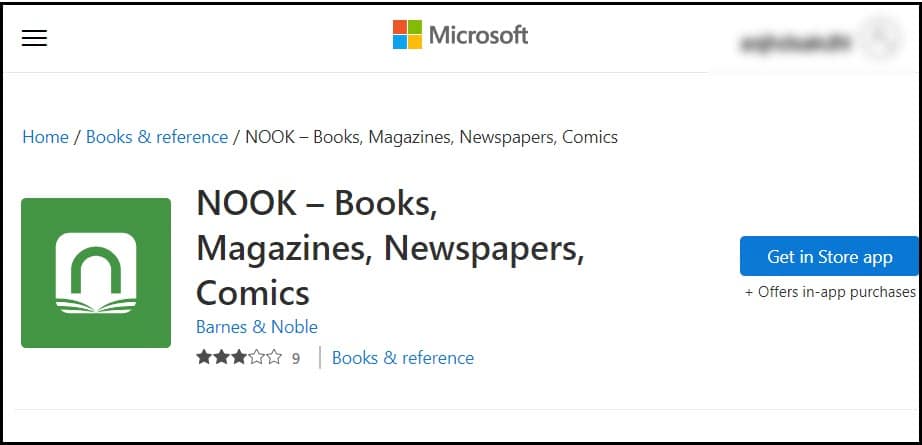 Advantages
Support Windows 8 and higher version of Windows.
Reading mode is very much easy and comfortable for the user.
A large number of customization features like bookmark is available.
14 days trial period is available to test the books and magazines of your choice.
Dis-advantages
It is harder to manage imported books.
Only highlight color is available.
Freda is one of the most attractive EPUB readers on the list.
A native Windows 11 type tool is very much popular among users.
Not only for its in-built attractive looks, it also has customizable options to enrich the experience.
This application supports the EPUB version but also supports the TXT, HTML, and other versions.
Users can access over 50,000 classic books from Gutenberg, Smashwords, Feedbooks, and various other catalogs available online.
Freda allows customizable controls for colors, fonts, bookmarks, annotations, and text-to-speech reading. It also has a dictionary facility for meaning and translations.
If you want an ad-free version, then there is an in-app purchase option or you can choose the Freda Plus app.
Freda is not compatible with 8.1 older version of OS.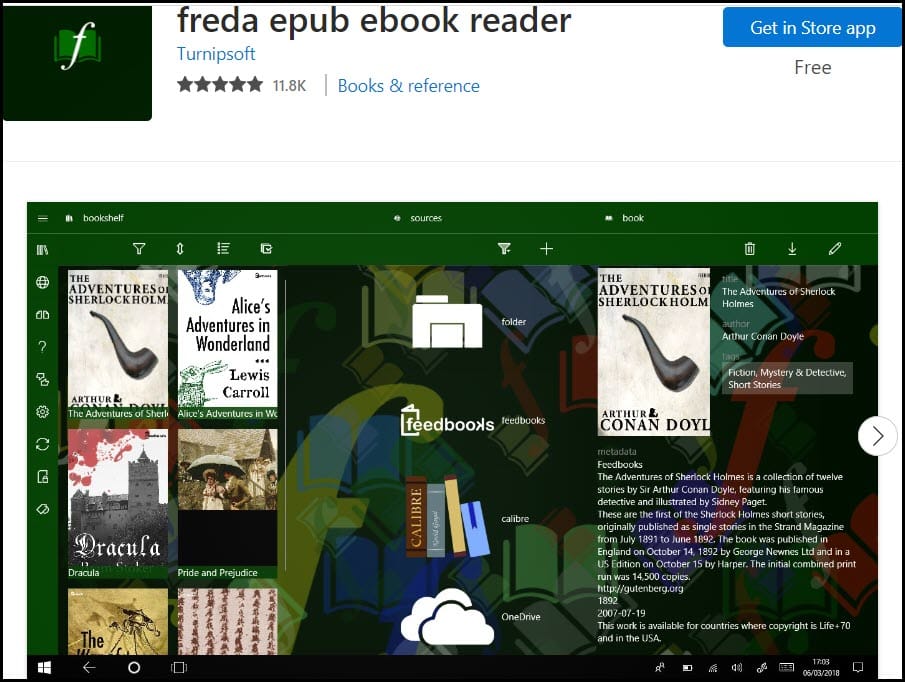 Advantages
Simple but perfect UI, which enriches the experience.
Text – speech reading support.
Supports annotations and bookmarks.
Full customization option.
Dis-advantages
The application lags sometimes.
BookViser has a unique UI that can give a feeling of physically reading a book.
This is a free application that provides some free classics to the user.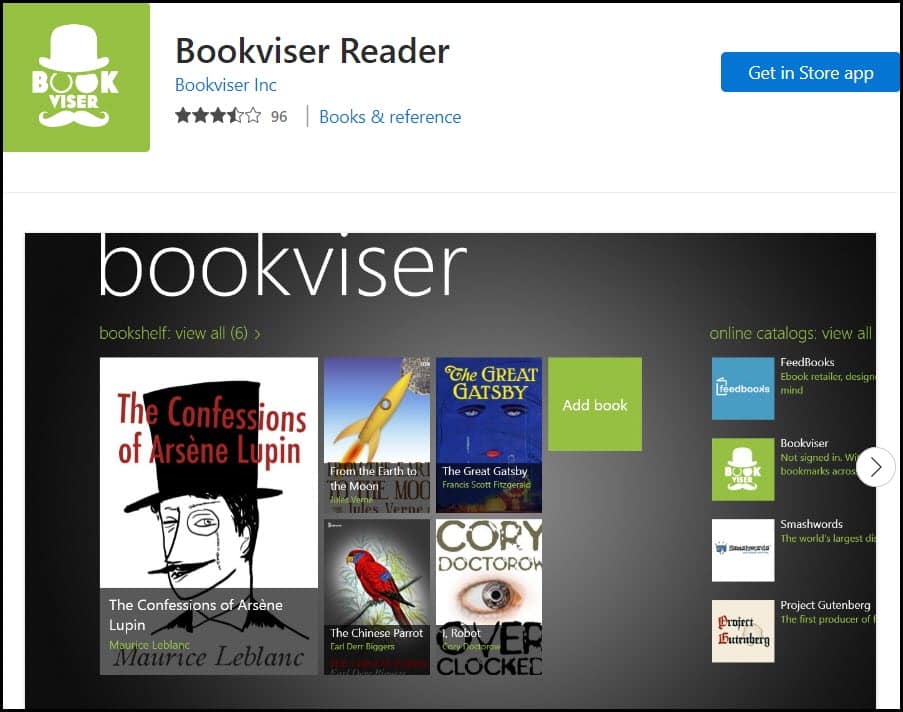 Advantages
BookViser provides progress tracking, theming, and other features.
It allows users to moderate margin, font size-typing, spacing and other features.
There are multiple page-turning animations.
Straightforward but attractive UI.
Dis-advantages
It doesn't allow editing book metadata.
The only paid EPUB reader is on the list that Windows user can access.
Simply UI for Windows users which allows to download and customize the library and track the reading progress.
The main attraction of this application is to transfer the library to any SD card or any cloud storage.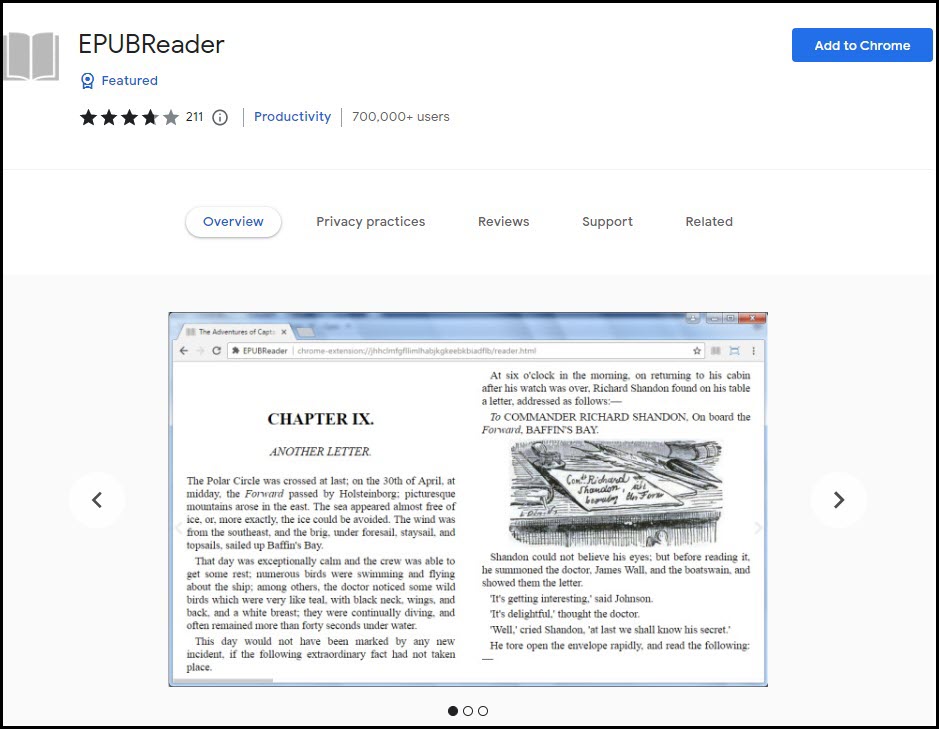 Advantages
EPUB reader is compatible with Windows 11, 10, 8.1.
The interface is user-friendly and simple with a good reading experience.
Large customization features like – font size, font style, color, and spacing.
Dis-advantages
Sometimes takes time to load.
Readium is an open-source Chrome extension EPUB reader for the user.
You can access it without installing the app. Just install the add-ons in your browser.
You can also allow uploading books to read the book via extension.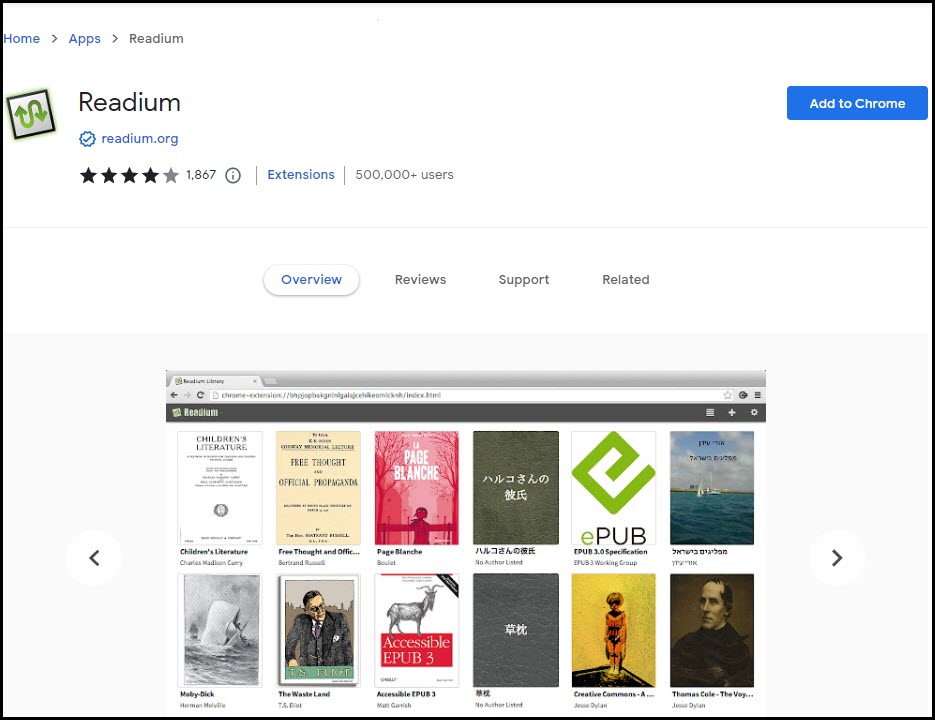 Advantages
Readium supports Chrome, Mozilla Firefox, and Microsoft Edge.
The UI is basic and simple and gives a good reading experience.
No need to download any additional app as you can use Readium as a Chrome Extension.
Dis-advantages
Google deprecated Chrome apps, so it won't receive any updates.
Adobe Digital editions have a large number of stock for every kind of users.
Using EPUB 3 standard gives an enriching reading experience with the features like – right to left reading, high clarity, text or image resizing and others.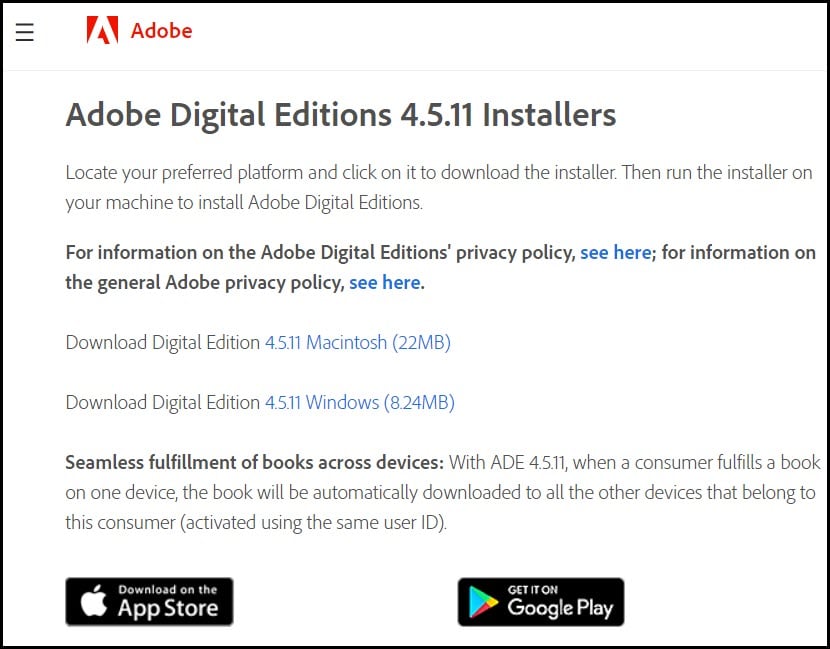 Advantages
Adobe provides the best reading experience with easy UI.
Sync books across other devices.
The organizing features of the application is so high.
Compatible with Windows 11, 10, 8, 8.1, 7, and Vista.
Adobe Digital Editions support highlighting features, bookmarks, etc.
Dis-advantages
Sometimes lagging in loading when you have a large library.
The reading mode is not user-friendly.
Need an Adobe account to use it.
Frequently Asked Questions [FAQs]
1. What is the best EPUB Reader for Windows 10?
Some of the best EPUB Readers are – Calibre, Adobe Digital Editions, NeatReader, Nook, Bibliovore, Readium, Kobo, and Icecream Epub Reader.
2. How can I read EPUB files on my PC?
To read EPUB files on your PC, open Adobe Digital Editions and click on File> Add to Library.
Locate the PDF or EPUB file on your device and then double-click on eBook.
Closing Up
If you have any further queries, feel free to ask us in the comments section provided below.