The hard drive is an important part of the computer. It holds all the saved data, including the OS of your computer. If the hard drive is slow, then your computer will work as fast as a snail.
Even if your CPU is high-end and super-fast, your computer will still lag because of your slow hard drive. But how will you know the speed of your hard drive? There are many hard drive benchmark software available on the internet, which can measure the speed of your hard drive.
But then another question arises, which software should you use? Well, in this article we have listed the top 7 best hard drive benchmark applications currently available.
We have shown a VIDEO walk through at the end of the post for optimizing slow hard drives.
List Of Top 7 Hard Drive Benchmark Software
Before we start the list it's important that you realize that the order in which the following applications are listed does not signify ranking. All the 7 applications are considered as the best out there.
1) ATTO Disk Benchmark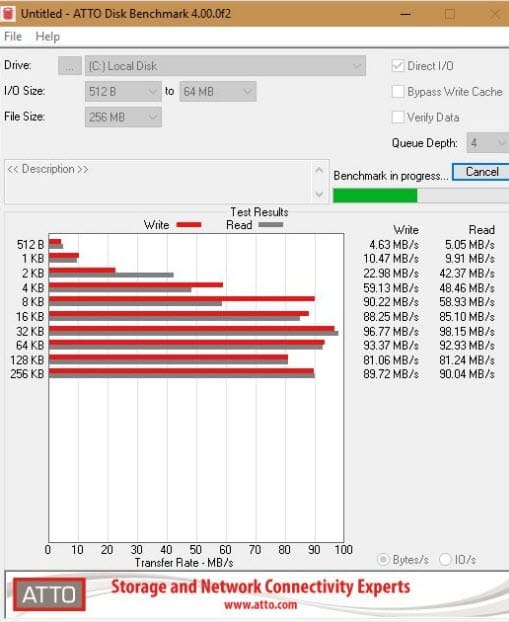 ATTO Disk Benchmark is probably the most popular hard drive benchmark software on this list. This software is fairly easy to use with a basic UI. Some of its notable features are:
The transfer sizes available in this software is from 512B to 64MB.
The Transfer lengths available are from 64KB to 32GB.
This software also supports overlapped I/O.
ATTO Disk Benchmark can also do I/O comparisons with various different test patterns.
There is also a Timed mode, which can be used for continuous testing.
ATTO Disk Benchmark is also recommended by many manufacturers for testing the speed of the SSD drives. Overall, ATTO Disk Benchmark is a quality benchmark software. Download the ATTO Benchmark from the ATTO official website.
2) HD Tach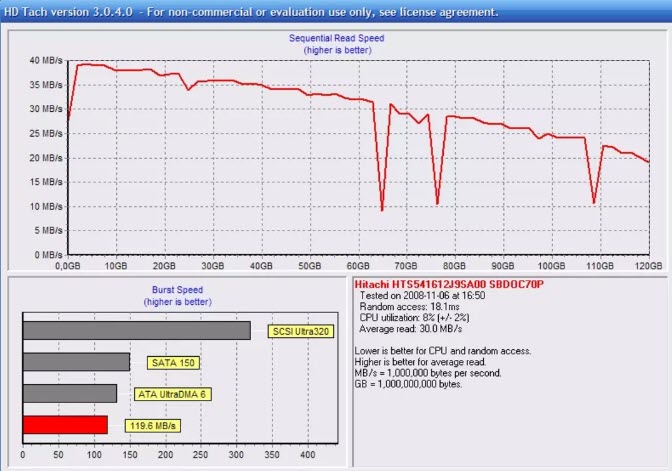 HD Tach is the oldest developed software on this list. It was made in 2004 and users are still using it, which shows how much the software can be relied upon. This application has always shown good results since the day it was first developed.
Although the HD Tach official support ended in 2011 and it can only run in XP compatibility mode for the Windows versions after Vista, it's still a great HDD benchmark software.
Some notable features of HD Tach that we found are:
Fairly easy and basic UI that should be helpful for new users.
It has good processing speed and only takes 1-2 minutes to finish the test.
HD Tach shows the test results as a graph and a chart, which makes the result easy to understand.
The read speeds are logged to a text file that can be loaded in a spreadsheet.
It also tests the drive's random access time and sequential reads.
HD Tach also conducts long and short block tests.
It can also be made portable.
Overall, HD Tach is a good benchmark software for hard drives.
3) Anvil's Storage Utilities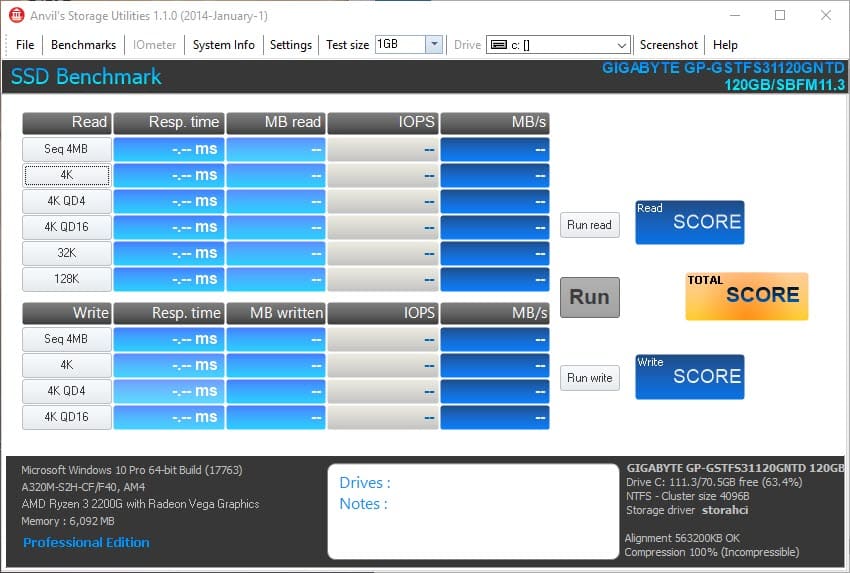 Anvil's Storage Utilities is another old SSD and HDD benchmark software. This software is still relevant even though its old, which shows how good it is. It is a portable application, which makes it easier to use on the get-go without installing.
Some other notable features we found are:
It monitors and tests both the read and write speeds of the hard drive.
This software also provides information from the Windows Management Instrumentation (WMI), which reports the basic information of the disk and its limitations.
It creates a detailed report from the information collected by implementing I/O operations, random read and writes and integrity tests.
There is also an endurance mode, which provides the life expectancy of the SSD drives depending on how it operates.
Anvil's Storage Utilities is overall a great benchmark software that you can use for hard drive speed test.
Download Anvil's Storage Utilities.
4) Crystal Disk Mark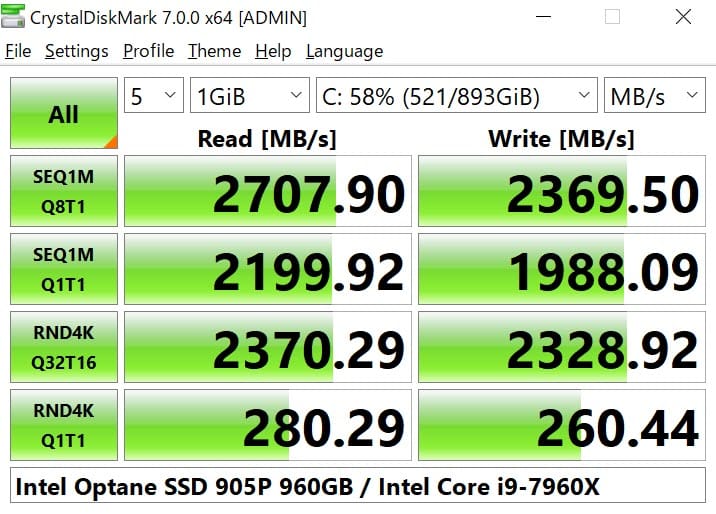 Crystal Disk Mark is a very popular tool for benchmarking drives. It has been generating good results for a long time, which is exactly why it's popular among users. The UI of this software is orderly and simple, so new users shouldn't have trouble using it.
Some other important features that we found are:
It works for basically any storage devices like from USB drives to RAM, SSD drives to Mechanical hard drives so you won't need separate applications for benchmarking them.
This software also measures the sequential read and write speeds.
It can also measure random 512KB, 4KB, 4KB (Queue Depth=32) read and write speeds.
Crystal Disk Mark supports multiple-languages, which is always a nice feature to have.
You can download the Crystal Disk Mark software from the official website.
5) HD Tune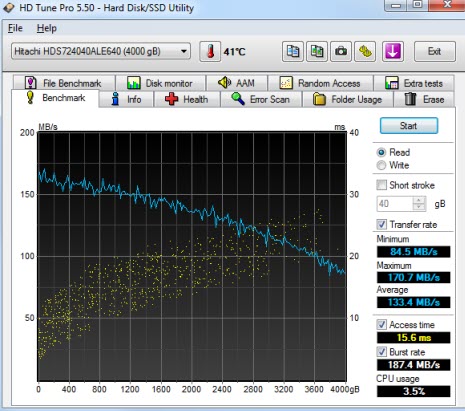 HD Tune is another popular SSD and HDD benchmark software, which has been showing consistently good results for some time. It has a free version that is quite old now and also a premium version HD Tune Pro.
The free version is good enough for benchmarking, and you can use the pro version for some extra features also. Some of the notable features of this software are:
It performs the sequential read and write tests like all the other applications on this list.
It also measures the average access time that is displayed in milliseconds.
This software can also measure the Burst Rate or the highest speed at which the data can be transferred from the drive interface to the operating system.
HD Tune can also tell the health of your hard disk using the Self-Monitoring Analysis and Reporting Technology ( S. M. A. R. T).
The surface error scanning feature is also included within this app.
The newer HD Tune Pro also supports the Windows 10, transfer sizes of 128 KB to 2 MB and also improved support for the OCZ and Samsung SSDs among some other features.
You can download the HD tune software from their official website.
6) AS SSD Benchmark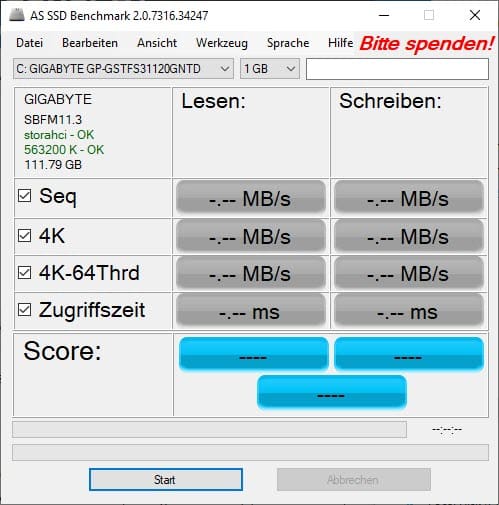 AS SSD Benchmark is mainly developed for benchmarking SSD drives. This software is also very popular among users and many hardware websites. It is also a portable software, which is always handy.
Some other notable features of this software are:
It can test the sequential or the random read and write performance of the SSD without using the cache.
This software can also determine the access time using the 1 or 64 threads.
It also supports the 4k test, which is determined by the read and write performance at random 4k blocks.
7) Roadkil's Disk Speed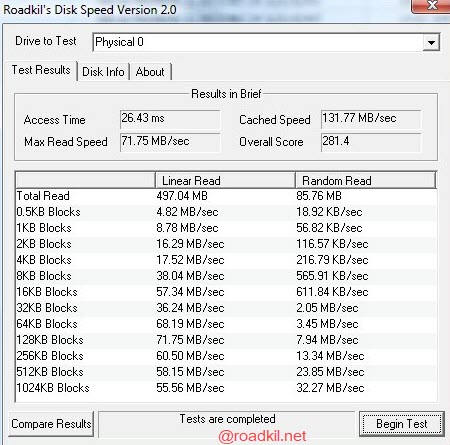 Roadkil's Disk Speed is a simple portable software made for beginners. It performs only the read speed tests and the score is ranged from 512 bytes to 1MB.
There is also a feature using which you can upload the test result to the developer's website for comparison. Overall, it's a nice app for beginners. You can download Roadkil's Disk Speed software from the official website.
Wrapping Up
So, these are the top 7 best hard drive benchmark applications available right now on the market. Hopefully, you will find the above applications useful benchmarking your HDDs and SSDs. As always, feel free to share your thoughts on this list in the comment section below.