The popular augmented reality game Pokémon Go has been a fan favorite since its release in 2016. The app has been downloaded more than 100 million times in the Google Play Store. The Niantic developed game has a unique game style never seen before. Pokémon Go made players travel real-life distances to catch new and unique Pokémon. This made a perfect union of healthy exercise and gaming.
But, not everyone wants to walk hundreds of miles to enjoy a simple game. This led to the introduction of various Pokémon Go hacks, most notably the joystick hack. In this article, I have discussed the best Pokémon Go hack on Android in 2023.
Best Pokémon Go Hack Android 2023
Hacking is an unethical way to play games and can lead to a permanent account ban. I strongly oppose trying to use hacks, as it destroys the enjoyment of the game. The hacks and cheats are against the terms and conditions you agree when you install Pokémon Go.
However, if you are aware of all these and still want to use hacks in Pokémon Go, I have given details on some of the best hacks and cheats available for Pokémon Go.
Spoofing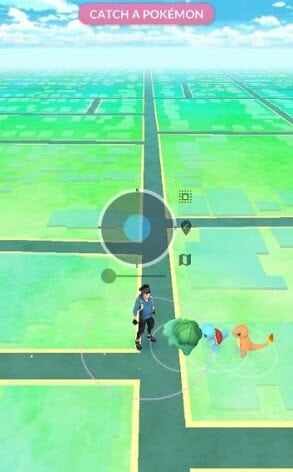 Spoofing is the most sought-after cheat in Pokémon Go. The game-style of Pokémon Go makes it hard for "unathletic players" to enjoy the game fully. It is hard to travel everywhere in search of the best Pokémon for everyone, that's where spoofing comes in.
By faking the GPS location on their Android, users can catch any Pokémon in the world or take on any Gym while sitting comfortably in their house. This also allows every user to participate in the region-specific event that is frequently launched by Niantic.
Spoofing also allows users to hatch their eggs quickly, without having to physically complete the steps required of the game. This obviously goes against the very principle of the game, play while exercising. But not everyone has subscribed to Niantic's version of playing the game.
How to spoof in Pokémon Go in 2023? Niantic has become very adamant in stopping players from spoofing. There have been any number of cases where accounts were banned for spoofing in 2023. That's why spoofing has become one of the most sought-after Pokémon Go hack on Android in 2023.
Even with Niantic on their toes, spoofing can still be done. I have given 2 ways to spoof in Android that you can use but, remember there is always a chance that Niantic will ban your account for doing this.
Method 1: Use Any VPN
Using a VPN is still the safest bet to pull off spoofing without getting banned for it. Connection to a VPN hides your IP and easily changes your location. VPNs encrypt your data, which should protect your account from getting banned.
First, install any working VPN on your Android like Express VPN or Private Internet Access from the Google Play Store. After you have done that, follow the steps given below:
Make sure that Pokémon Go is completely closed and not running in the background.
Next, open the VPN and connect to the server of the country you want to play. Most VPN apps provide the 7-day free trial, which you can sign up for to connect to the premium servers. Or to access the premium servers, you can just buy the subscription.
After the VPN has been connected and working, launch Pokémon Go.
Now, you should find yourself in the city/country you have connected to using the VPN.
Method 2: Use Fake GPS Apps
The fake GPS apps like the Fake GPS GO or Fake GPS Free are some applications you can use to spoof on Android. These apps work better on rooted smartphones, but it should also work on non-rooted phones.
In non-rooted phones, you will have to use the Developer options to unlock and enable the mock location feature in your Android. This should allow you to change your location in Pokémon Go without getting detected.
To do it, follow the steps given below:
First, download the fake GPS apps like Fake GPS Go from Google Play Store and install it on your Android.
Next, open the Settings in your phone and navigate to the About Phone option.
Open it and locate the listed Build number of your phone. Once you have found it, tap on it 7 times consecutively. This will unlock the developer options on your phone.
In settings, open Developer options and enable the Mock Location feature. Select the fake GPS app you have installed to allow it to change your device's location.
Launch the installed fake GPS app and set the location you want.
Open Pokémon Go and you should find yourself in the area you wanted.
The fake GPS go joystick app available on Google Play Store can be used to not only change the location but to also use a joystick to move around. This is a great Pokémon go walking hack. This, however, needs a rooted phone to work properly.
Botting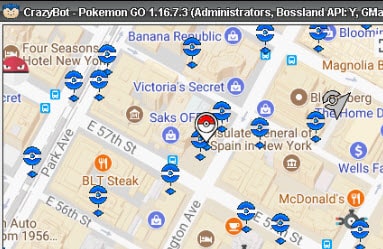 One of the popular Pokémon Go hack on Android in 2023 is botting. Botting is the hack or cheat, which uses multiple fake trainer accounts to capture all the Pokémons for the user automatically. It takes care of all the time-consuming mechanics of the game like capturing the same Pokémon multiple times to evolve it or to fill the Pokédex.
Botting is an effective way to skip a lot of the grinding involved in the game. But excessive use of bots can lead to a permanent ban on your Pokémon Go account. Some of the popular Bots available that you can use are listed below.
1) Pokébuddy
Pokébuddy is a GitHub based bot developed by a user named Finndev. This bot is specifically created to farm Pokéstops and evolving Pokémons. If you are looking to level up your Pokémons and your account using a Pokémon Go bot in 2023, Pokébuddy is an excellent choice.
However, there is always a chance that your account may get banned for using it. If you want to use it or not is up to you to decide.
2) Insta-PokéGo
Insta-PokéGo bot is developed by the engineers from Dropbox and it has been very elusive of Niantic's scrutiny and has remained mostly ban free. This bot will carry out all your repetitive tasks in Pokémon Go like collecting different Pokémons. One downside of the bot is that it is only limited to Europe, Australia, Asia, and North America.
3) Necrobot
Necrobot is arguably one of the best bots for Pokémon Go bot in 2023. It takes care of collection Pokémons, farming Pokéstops, evolving Pokémons, and taking care of the duplicate captured Pokémons all at once. Necrobot even has geo-spoofing capabilities that truly makes it stand apart.
Another feature of Necrobot is that it can customize the walking speed in the game. Also, it is completely free to use. One downside of Necrobot is that it is hard to install for users without any computer knowledge.
Auto IV Checkers
IV is an important part of Pokémon Go. All the similar Pokémons that you have captured in Pokémon Go may look similar but are very different in terms of potential. Each Pokémon has an IV evaluation that shows how strong the Pokémon can become.
A maxed Pokémon with a high IV evaluation will always have more power than the same maxed out Pokémon with lower IV. This should tell you how important it is to dictate the battle between Pokémons. But, this is no longer a popular searched Pokémon Go hack on Android in 2020.
Before there where many Auto IV checker tools that trainers used to cheat the system and learn their captured Pokémons true potential. But in 2023, this is no longer relevant as the in-game appraisal system has been improved miles from what it was before. Now, trainers don't need auto IV checkers to appraise their Pokémons anymore.
Wrapping Up
So, there you have it. Now you know the best Pokémon Go hack on Android in 2023. Remember that using hacks or cheats can get your account banned and also it is far better to enjoy the game as it is without using such methods. If you have any questions regarding this article, ask them in the comment section below.