Before, playing games and making videos of the gameplay was a way to boast and have fun with your friends. However, now it has become a full-time profession for many people. Professional streamers nowadays are earning in millions in Twitch, YouTube and Mixer.
With professional streaming becoming a mainstream potential business, many new gamers want to join in. But sadly not everyone has the top grade PC to support the smooth gameplay as well as recording it in high quality.
For those who want to start streaming but have low-end PCs, here is the list of the Top 5 best streaming software for low-end PC available right now.
Top 5 Best Streaming Software For Low-End PC
The order in which the following software are listed does not imply any sort of rankings. All the 5 software are chosen as the best among all the other software currently available for low-end PCs. One might prefer this software over the other or some software may have different features, but they are all chosen as the best.
1) Open Broadcaster Software (OBS)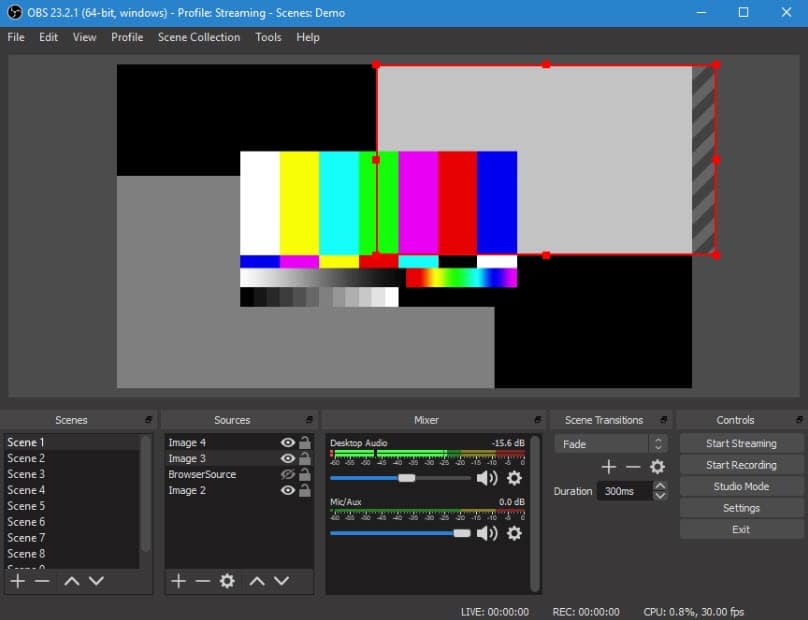 The OBS software is probably the most famous PC game recording software among the users right now. It is a free open source streaming software that has an abundance of different features that one needs for professional streaming.
The biggest plus side of this software is that it's very light compared to other software, which is why it runs great on low-end PCs. Some of the notable features of OBS are:
It can create scenes from multiple sources like capture cards, Windows, webcams, etc.
You can easily mix different audios together in OBS.
The ability to stream to multiple platforms all at once.
You can stream directly to YouTube, Twitch, Mixer or other platforms, which is always a helpful option to have.
It works in Windows, Linux, and macOS making it easier for everyone to use it.
It also has the noise suppressor feature that can come very handy for streamers.
Though OBS is great software, it can be a little hard for new users to use it as it hard to set up properly. But overall the features you get with OBS for free are truly exceptional and it's definitely one of the best streaming software for low-end PC. You can download OBS from their official website.
2) NVIDIA Shadowplay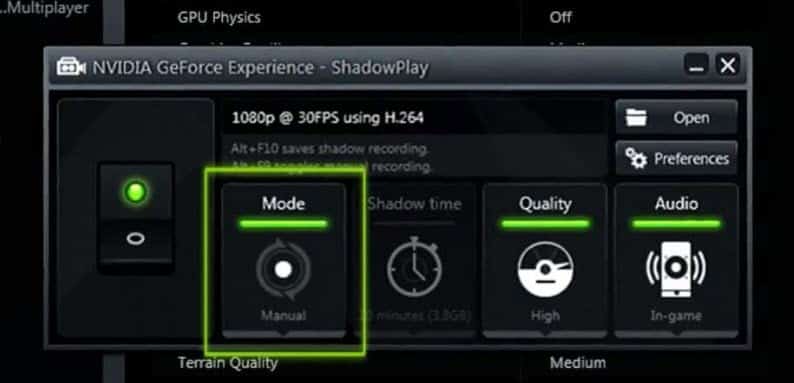 Nvidia Shadowplay is another great game recording software in PC that can easily stream from low-end PCs. It comes free with the GeForce graphics card and sadly only works for the Nvidia GPUs.
The most amazing feature of the Nvidia graphics card is that it uses the GPU rather than the CPU to encode, which basically means that it has barely any performance drop while streaming. This is why it is one of the best game recording software for PC with low-end specs.
Sadly, you can only stream the game with the Nvidia Shadowplay as it does not support any overlays or multi-sources scenes.
3) Lightstream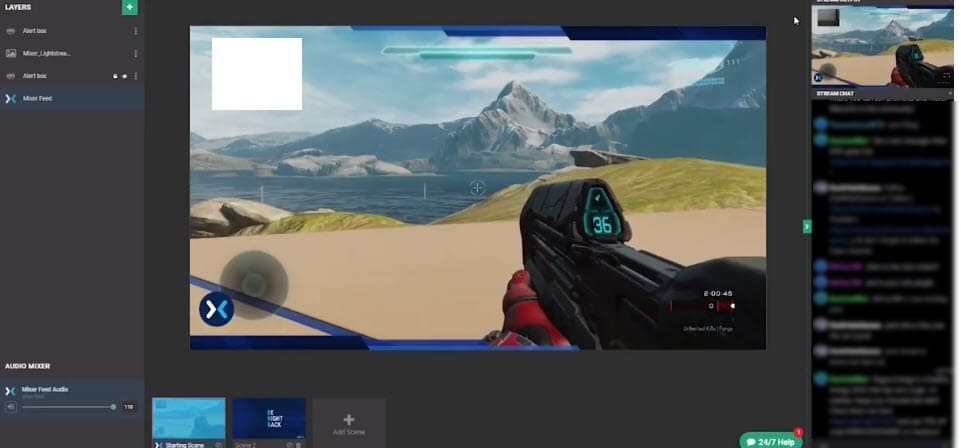 As you may have guessed from the name, Lightstream is good recording software for free that has been developed purely for the low-end PC streamers. You may ask, how are they so efficient with low-end PCs?
Well, it's because when you use Lightstream, your computer will only capture the video and everything else will be done by the Lightstreams' own servers. Though you will need a high-speed internet connection while using Lightspeed. Most of the work is done by the servers so it barely strains the CPU, thus the gameplay remains smooth.
Lightstream chooses the best encoding settings for your PC automatically and if you have sudden internet speed drops, then it will adjust the bitrate accordingly to accommodate.
Lightstream can only stream at max 720p, which is definitely a bummer and it supports only basic layouts and functions, but still for a low-end PC, this is a great streaming software. Stream directly using Lightstream from their official website.
4) Bandicam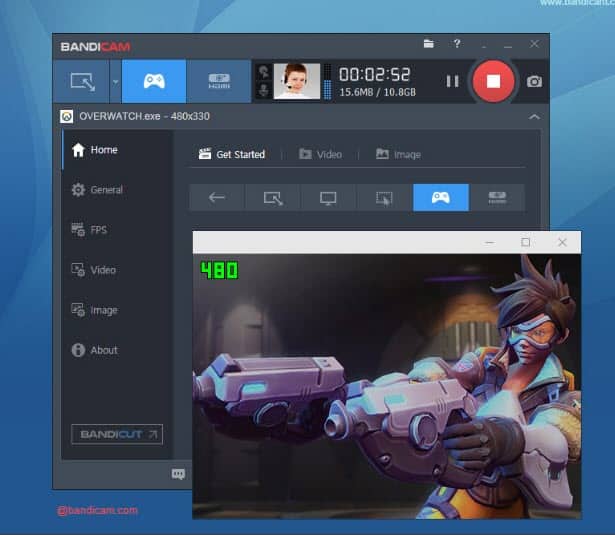 Bandicam is a PC game recording software that seems to have been on the internet for ages. Almost everyone who is connected with streaming knows about Bandicam. There is a reason that it has been on the market for so long, it's a great dependable software to use for new streamers.
Bandicam is great for the low-end PC users because it offers the customization options to change the recording resolution, codes and FPS by the users so that they can bring the best-optimized gameplay recording that their PC can handle.
Some notable features of Bandicam are:
It's a very lightweight tool that also supports games, which are based on DirectX, OpenGL, Vulkan graphics technologies.
Bandicam can record your gameplay in 1440p resolution with 120 FPS maximum.
It has the feature to record the game sound and your voice.
It also supports webcam overlay that is always a good feature for streaming.
Bandicam can record anything onscreen and not just games.
Bandicam has a free trial version that has limited features, or you can buy the premium license that is around $39. Download Bandicam from its official website.
5) D3DGear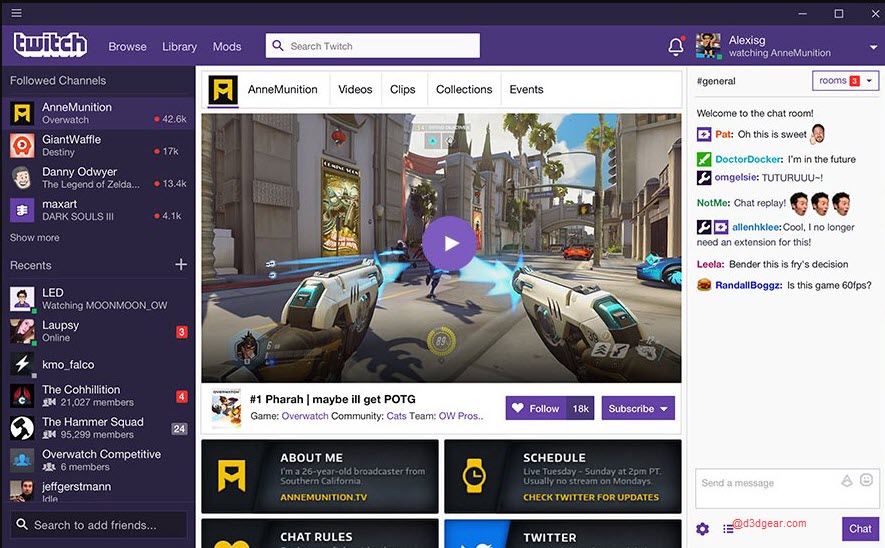 D3DGear is a very lightweight game recording software for PC. It is remarkably compatible with older versions of Windows like Vista and XP. Because of how lightweight it is, it can record and stream gameplay from low-end PC with very less performance drop.
The user interface is fairly simple, it doesn't seem that new users will have any problem finding their required settings. Some other notable features of D3DGear are:
It supports both internal and external audio.
The recorded gameplay can be of max 1440p and 120 FPS.
It can directly live stream on Facebook, YouTube, and Twitch.
D3DGear also supports webcam overlays.
D3DGear can be downloaded for a 15 days free trial and if you like it, then you can buy it for $29.85. You can download the trial version or buy it directly from their official website.
Wrapping Up
So, this is the list of the 5 best streaming software for low-end PC available right now. All the software above are extremely good, especially with low-end PCs. Hopefully, you have found your streaming software from this list. Feel free to leave your thoughts on this article in the comment section below.