The Google Chrome Tab Hover Cards is a feature that allows users to discern between multiple tabs that are open at the same time. Tab Hover Cards feature is enabled in Chrome by default. The feature is very useful, but some may not like it.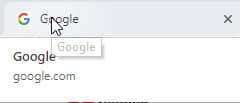 In this article, I have discussed how Tab Hover Cards feature works in Chrome and how to disable it.
Also read:
What Is Chrome Tab Hover Cards?
If you are using Chrome 78 or newer versions, you will notice that when you move your mouse cursor over the tabs, a small description on the web page opened in the tab pops up. In Chrome hover over tab description allows the user to discern between the different tabs. In simpler words, it is basically a larger preview box where the title and the URL of the webpage are shown.
How To Disable Tab Hover Cards In Chrome?
The tab hover cards in Chrome are enabled by default for the latest versions of Chrome. Not everyone may like this feature and if they want, they can disable it. To disable Tab Hover Cards in Chrome, follow the steps given below:
Type chrome://flags in the address bar of Chrome and press Enter. This will open the flags in Chrome.
Now, type tab hover cards in the search bar of Google Flags and press Enter.
The Tab Hover Cards flag will appear on your screen. Click on the menu beside it and select the Disabled option.

Finally, relaunch Chrome.
You can similarly enable the Tab hover cards by selecting the Enabled option from the Tab Hover Card flag.
Bonus Chrome Tips
Many users have asked in forums about how to hide tabs in Chrome and how to remove thumbnails from Chrome. Here I have given the simple steps for users to do it.
How To Hide Tabs In Chrome?
To hide tabs in Chrome, the easiest thing you can do is press the F11 key on your keyboard. This will make Chrome go full screen and thus the tabs will become hidden from view.
You can also use the panic button extension to hide tabs in Chrome. After installing the extension, click on the panic button beside the address bar to hide tabs in Chrome. Download the extension from the Chrome web store.
Removing Thumbnails From Chrome
Many users dislike the Thumbnails on the Chrome home page. For removing thumbnails from Chrome, follow the steps given below:
Open Chrome.
Hover the mouse over the preview image in the Chrome home page.
Select the 3 dot menu button and click on the Remove option.

This will remove the shortcut website from your home page also.
Wrapping Up
So, there you have it. Now you know what Chrome Tab Hover Cards are and how to disable them. If you have any questions regarding this topic, ask them in the comment section.