The Digital TV tuner device registration application is a part of the Windows Media Center. Its job is to receive and display a digital signal for your PC. The application is primarily used to watch digital cable channels provided by your local cable operators on your PC.
The Digital TV tuner registration application is known to slow down computers. It is also marked as threats from 3rd party antivirus software like Avast and McAfee. In this article, I shall explain in depth what Digital TV tuner application is, and should you remove it or not.
Also read:
What Is Digital TV Tuner Device Registration Application?
The Digital TV tuner device registration app is basically a scheduled task of Windows Media Center. Windows Media Center was a media player and digital video recorder created by Microsoft before it was discontinued in Windows 10.
This feature was present in Windows 8 pro and 8.1 as a paid add-on. You may also Find this in all the Windows 7 versions including the Home Premium and Ultimate editions.
Windows Media Center uses TV tuner devices, or in other words the Digital TV tuner application, to record TV shows and play it on PC.
The Digital TV tuner uses the executable file ehPrivJob.exe to search for digital cable tuners. The eh abbreviation stands for ehome. The ehPrivJob.exe executable file is stored in the Hard disk and runs automatically when you run Windows Media Center.
Should You Use The Digital TV Tuner Registration Application?
The Digital TV tuner application tends to slow the computer. It has been a common issue on Windows 8, 7 and Vista, which is probably why Microsoft discontinued it for Windows 10. So, the question remains whether you should use it.
It depends on how it is working on your PC. If you are noticing a slow-down in your PC's performance, then it can be caused by the Digital TV tuner. Avast and MacAfee clearly indicate that the Digital TV tuner app slows down computers. But it is best practice to check for it on your own PC.
To check it, follow the steps given below:
Press the Ctrl + Shift + Esc keys to open the Task Manager.
Select the Processes tab and check for the process ehPrivJob.exe.
Check if the ehprivjob.exe process is taking high CPU and memory usage.
The process ehprivjob.exe is the main issue of Digital TV tuner. It can become glitched anytime and consume large amounts of system resources. Not just that, it can even store a large amount of data on your HDD/SSD. This is probably what's causing your PC to slow down.
Other than slowing your PC, the app is not a security threat. Your privacy is safe with it. Now, it is for you to decide whether you should keep using it or not.
How To Remove Digital TV Tuner Device Registration App?
If you no longer want your PC to act as a TV and want the Digital TV tuner gone, then I have given the steps to do it below. To remove the Digital TV Tuner registration application, the Windows Media Player must be removed.
As I mentioned earlier, Digital TV tuner is only a scheduled task of Windows Media Player. So, it is required to remove it to get rid of the Digital TV Tuner application.
To uninstall Windows Media Player, follow the steps given below:
Press the Windows + R keys to open the Run utility.
Type appwiz.cpl and press Enter. This will open the Programs and features console.
On the left side of the console, locate the Turn Windows features on or off Click on it to open the Windows Features dialog.
Bonus: Windows Features is the place where you get access to the default Windows settings, like Hyper V(link), the Internet Information Services, and various other features. You can also disable Internet Explorer(link) from here.
Find the Media Features option and expand it.
Uncheck the box beside the Window Media Center Else, uncheck Windows Media Player box, which will disable Windows Media Center. Windows Media Center is dependent on Windows Media Player. Without Media Player, Media Center can't work.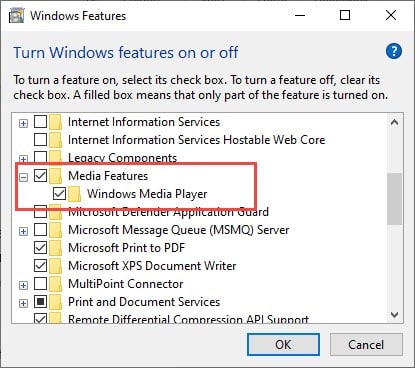 Select Yes on the confirmation prompt.
Finally, click on OK to save the changes. Windows will take some time to enforce the changes done in the Windows Features, so you may want to
That's it. Now you can check and find that ehprivjob.exe is no longer hogging your system.
Wrapping Up
Digital TV Tuner device registration application is a nice feature for the cable TV lovers. But in this current age of internet TV, it is not a necessity anymore. With the additional drawbacks of it slowing your PC, its best to remove it. If you have any questions related to this article, ask them in the comment section below.