Google Chrome's Incognito Mode is a great feature that can be used to hide the user's activity on Chrome. This feature ensures privacy for users that don't want their browsing activities saved. But, did you know that you can disable the incognito mode in Chrome?
By disabling the incognito mode you can prevent other users from using it and hide their browsing activities. In this article, we have discussed how to disable Chrome incognito mode by applying a policy.
Also, check out this article on what to do when Chrome won't open.
We have shown a VIDEO walk through at the end of the post for easy solution.
What Is Incognito Mode?
Incognito mode is a Google Chrome feature that can be used to browse the internet without Chrome saving your history or storing the cache or the website cookies. Technically, Chrome does save your browsing data in Incognito mode, rather it deletes them after the Incognito tab is closed. To open the incognito tab you need to press the Ctrl + Shift + N keys on your keyboard.
There are also some shortcomings of Incognito mode like:
Your activities on the websites that you have visited can still be visible there. Like if you post a status on Facebook after logging in from incognito mode, then the post will still be visible on Facebook.
The person that is in charge of your network and your internet service provider can also see you see your activities.
If you bookmark any websites, then it will remain a bookmark in Chrome even after you close the incognito tab.
How To Disable Chrome Incognito?
Now, you may be wondering "How do I turn off incognito mode?". There is no option in Google Chrome's settings to disable the incognito mode. However, you can disable it by applying a policy or in other words by force.
To disable incognito mode, follow the steps given below:
Press the Windows + R keys to open the Run utility.
Type regedit and press Enter to open the Registry Editor on your screen.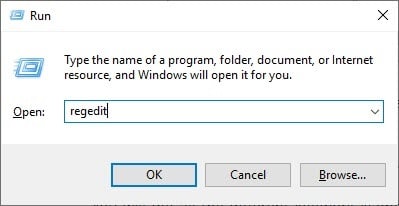 Browse to the following registry key:
HKEY_LOCAL_MACHINE\SOFTWARE\Policies\Google\Chrome
On the right pane create a new DWORD of 32 bit.
Enter IncognitoModeAvailability as the Value name.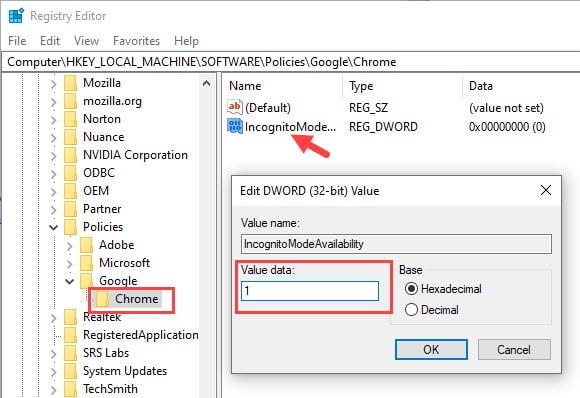 Now, set the value data to 1 and click on OK. This will disable the incognito mode in Chrome or technically no page will open in incognito mode.
Now, how to enable incognito mode back? To do it, simply change the value of the DWORD to 0. You can also set the value to 2, which will force every page to open in incognito mode only.
Wrapping Up
So, there you have it. Now you know how to disable Chrome incognito mode by yourself. Leave your comment below sharing your views on this article.