A good internet connection is essential in this current time of digitization. From personal use, like playing games or watching movies online, to large businesses and firms a good internet connection has become an utmost necessity.
No one wants and should live a life of buffering videos and laggy online games. A good internet connection basically means a good download and upload speeds. Yes, the internet speeds for uploading and downloading are different.
But what is a good download and upload speed? In this article, I have discussed this in detail, so that by the end of this article all your doubts about good internet speed will be cleared.
What Is Internet Speed?
You are most likely familiar with the term "Internet speed". It is not something that you can measure like the speed of a car. The internet speed is not how fast the data is traveling but the allocated bandwidth your ISP (Internet Service Provider) has provided.
In simpler words, it means the amount of data sent to you per second by your ISP. So, rather than measuring the speed of the car, it measures how many lanes are available on the road and how many cars can travel at the same time. For example, a 5mbps internet speed means 5 megabytes of data received per second.
Differentiating Download And Upload Speeds
Users tend to think that the internet speed is the same while uploading or downloading. This is not entirely correct. You will notice that if you download a video and later upload it, with the same internet speed, you will find that they generally take different times to complete.
Downloading means that the internet connection is getting the data from the server to you. While uploading means sending the data to the server.
Watching videos, surfing the internet, or listening to music online are all where the data is downloaded from a server to you. Playing online games, uploading media, sending emails all requires the data to be sent to a server.
Generally, download speed is faster than the upload speed as most users use downloading than uploading. This is different for big firms and companies as they have to constantly upload data to servers and require a higher upload speed.
What Is A Good Download And Upload Speed?
This question "What is a good download and upload speed?" has been a concern for many users. A good download or upload speed depends on what you will use them for. Good download and upload speed will be different for someone who simply looking to watch movies and someone who is working from home.
Also, depending on the work, the speed requirements will be different. So, what should my download and upload speed be?
Below I have categorized many normal online activities and how much internet speed is required to conduct it. Read them over and see which category you fit and that should be a good download and upload speed for you.
How To Check Internet Speed?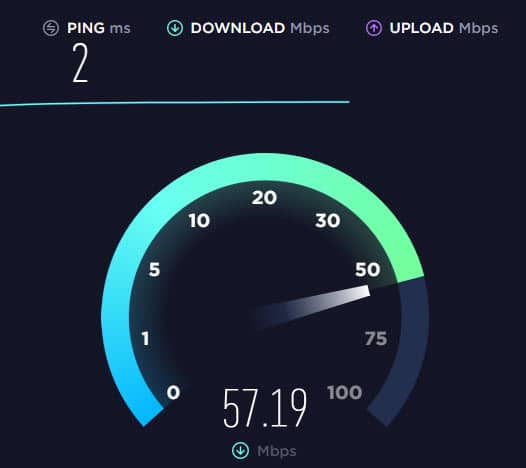 Before you read which activity requires how much internet speed, you will need to know what your internet connection's speed is in the first place. To know how fast your internet is, you can take an online speed test that is conducted by many sites online.
A few recommended online speed test sites are:
It is best to test with a wired connection as your device is directly connected to the modem, so the result will be more accurate. Getting bad results conducted over a wireless connection can mean that the Wi-Fi speed is low and not the internet speed provided by your IPS.
How Much Internet Speed Do I Need For Streaming Videos?
The most common query from users is what speed do they need to watch a buffering free video. The general speed requirement for streaming videos online in full HD is around 5 Mbps for a single user. This speed requirement changes with video quality and the number of users.
For Netflix and other video streaming platforms (per user):
SD quality videos require 3 Mbps download speed.
HD quality videos require 5 Mbps download speed.
Ultra HD and 4k quality videos require at least 25Mbps download speed.
Fore using online conferencing apps like Skype (download/ upload) :
Normal calling requires 100 kbps/100 kbps.
Good quality video calling requires 300 kbps/ 300 kbps.
High-quality video calling requires 500 kbps/500 kbps.
HD quality video calling requires 1.5 Mbps/1.5 Mbps.
Group video calling requires (up to 3 people) 2Mbps / 512 kbps.
How Much Internet Speed Do I Need For Playing Games Online?
Everyone becomes frustrated when games lag due to poor internet connections. No one wants to lose an online competitive over a simple internet issue. A good internet connection becomes paramount for such users, but how fast should their download and upload speeds be?
Playing online games smoothly depends on good internet upload speed. A good speed can be different for the type of game you are playing. Fast-paced games, like competitive shooting games, requires much more bandwidth than turn-based games, like a card game.
The recommended speed for playing turn-based games is around 5-7 Mbps. Anything less than this can lead to lags or disconnection for some games.
This speed is also adequate to run fast-paced competitive games, but for a better and smoother the recommended speed is 25 Mbps. But if you are a competitive esports player, then you may require around 50Mbps of upload speed to fully utilize your gaming potentials.
Another thing that is important for playing games online is the Ping and Latency. They are very important for competitive online games.
Ping And Latency
Every serious gamer should familiarize themselves with what Ping and Latency are and why it is important. Ping is basically the measured response time of your internet connection. The time for a response to come from after you have sent a request is called Ping.
For a fast-paced competitive game, especially shooting games, response time becomes of utmost importance. Whatever the response time of your internet connection is will be added to your own natural response time of aiming. So, be very careful to choose an internet connection with a good ping.
Latency is the delay of the internet connection. Latency is what you notice when your ping is high. You may find your games fluctuating when ping is high, that's what latency means.
What To Do If Internet Connection Is Slow?
A slow internet connection is a worry that many users have to face. Even if you have subscribed to a faster internet connection, there are times when it can become slow. In such situations, you can only try the following troubleshooting methods:
Try restarting your device.
You can also try unplugging and plugging the wired internet connection to your PC.
If you are using modem or routers, try the classic "switching off for 10 seconds" trick.
Modems have light indicators that show if it has a proper connection. Check if the indicator lights are showing poor connection.
Contact your ISP and tell them about the issue.
Wrapping Up
So, there you have it. Now you know what is a good download and upload speed. Generally, if you are looking for normally playing games, listening to music, or watching movies for a household of 1-3 people, 25Mbps is adequate. But, playing competitive games or playing 4k video requires much more bandwidth. If you have any further questions regarding this topic, ask them in the comment section below.