When comparing between the two tools for creating bootable USB. Most users rank Rufus as first with Etcher coming second. Both of these software are reliable and easy to use. Rufus is open-source software that is completely free to use; it has different functionalities and features that make it the number one choice for many users.
Etcher on the other hand is also an open-source tool that has many more features and functionalities. The major difference is that some features are limited to the Pro version and users are required to upgrade to be able to access these features.
Here we look at a detailed comparison between the two software so that you can make an informed decision on the best software to choose from if you want to create a bootable USB drive.
Etcher
Etcher is software that allows for the creation of bootable live USB drives. It is cross-platform and you can download it on different operating systems and will run smoothly and effectively. Etcher is open-source software making it free to download and use, however, there are additional features on the Pro version that you can upgrade to.
Etcher's interface is very basic and easy to use and understand. It provides a variety of options like the ability to create a bootable Clonezilla drive. You can also create live versions of DRBL, GParted, and Tux2live on the USB. There is no doubt, Etcher is the best rufus alternative.

Key Features
Ability to create a bootable USB drive.
Able to install live CD versions of Clonezilla, DRBL, Tux2live, or GParted.
Multi-OS.
Pros
Cross-platform: supports different OS like Linux, Windows and Mac.
Polished GUI: the GUI is appealing to the eye and is easy to navigate and use.
Open Source: free to use and modify and download.
Fast: it is able to flash images relatively fast.
User Friendly: it is straight-forward and its interface is very user-friendly.
Cons
Limited settings: compared to other bootable tools in the market, the software tries to keep the interface user-friendly and this limits the ability to tweak the software more.
Sending data to balena by default: to disable this feature you have to dig into the settings and turn it off manually.
Larger in size: compared to Rufus Etcher is larger.
Rufus
Rufus is a lightweight bootable USB utility that allows you to create a bootable disc image or ISO. Rufus is marginally faster compared to Etcher. It is open-source software that is free to use, distribute, and modify.
Rufus does not require installation, once downloaded the software only asks for permission to check for online updates. If you wish to turn this feature off then you can do so on the settings tab. It is simple to use boot creator and can hand down be used by any inexperienced and experienced users.
The software is lightweight and puts no strain on the computer's performance. The in-built drive formatting means you do not need to perform this task manually.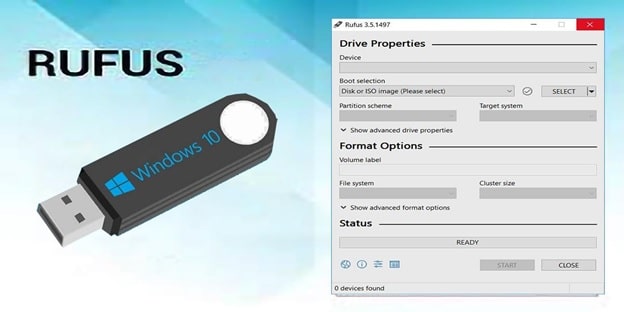 Key Features
Creation of a bootable drive using an ISO image
Can create a non-bootable BIOS or UEFI device with MBR, GPT, or Super Floppy Disk partition scheme.
Ability to format USB devices as NTFS, UDF, FAT32, exFAT. Allows you to set the clutter size and edit the volume label.
Multilingual support of over 38 different languages.
Pros
Automatic detection of USB: Rufus can automatically find your USB drive. This ensures that you cannot accidentally format your computer hard drive.
Lightweight but advanced: Rufus is extremely lightweight; it offers a variety of options and features and is extremely reliable.
Open source: allows for the customization and tweaks by anybody. It is free to download and use. You can even use it in your projects if you want to.
Fast: Rufus ranks amongst the fastest utilities and can create a bootable USB faster than most tools.
Safe: do not worry about messing up as Rufus will have you covered.
Multi-language support: offers a variety of different languages, over 38 languages are available for use.
Cons
Runs only on Windows: the software has only a Windows version meaning Linux and Mac users are left out.
Can install only one ISO file: it is still not possible to install more than one ISO file on a single USB.
Wrapping Up
In conclusion, both of these software are good and work effectively. It will all narrow down to exactly the kind of functionality you are looking for. If you want a faster, lightweight, and safer utility to perform the task at hand then Rufus might be the ideal choice. If you are running on Mac or Linux then Etcher will be the better choice since Rufus is available only on Windows.