Free sports streaming sites are hard to find nowadays. Even when you get one, either the stream doesn't work, or it plays the video in low quality. Finding good sports streaming sites takes time and effort.
That is why we have compiled this list of 10 best sports streaming sites that are free to watch and provide great video quality.
Also, check out this article on 5 best streaming software for low-end PC.
List Of 10 Best Free Sports Streaming Sites
For every sports fanatic out there, we have compiled this list of sites where you can watch different sports events for free. Some sites in this list stream specific sports only, while others stream all popular sports.
The sites listed below are chosen as per the video quality, and that has minimum ads. Also, the sites that only stream a specific sport are chosen considering its popularity or viewer base.
The order of the sites does not mean ranking. I consider all the sites as great, so the order is random.
1) WatchESPN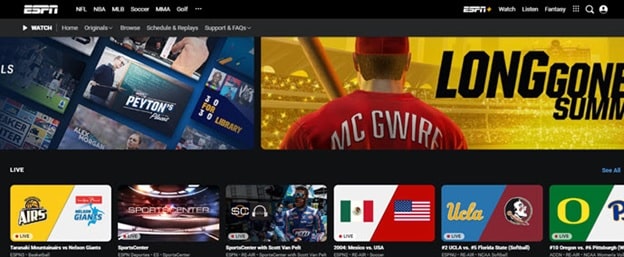 WatchESPN is a great sports streaming site where you can find information about almost every sport that is played globally. It also has an official app for Android and IOS, which makes it much easier to use. You can watch boxing, NBA, NFL, Soccer, cricket, rugby, and many other popular sports.
Overall, it's a great site, and anyone who loves sports and always wants to be updated on their favorite team and sport, then WatchESPN is a great place.
2) Facebook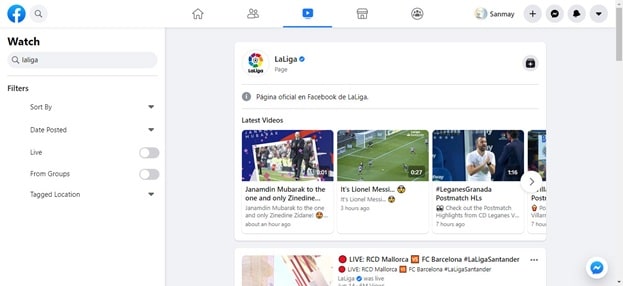 Facebook has incorporated many ideas over the years, however, streaming certain sports for free is probably the best decision they took. It has purchased rights to stream various sports leagues and competitions, including La Liga (Spanish football league) and English Premier League. They also stream Major league baseball on their platform.
The quality of the stream is top-notch, as expected from Facebook. They also allow live discussion using live chat, which is a unique feature that sports fanatics will definitely like.
3) Sony Liv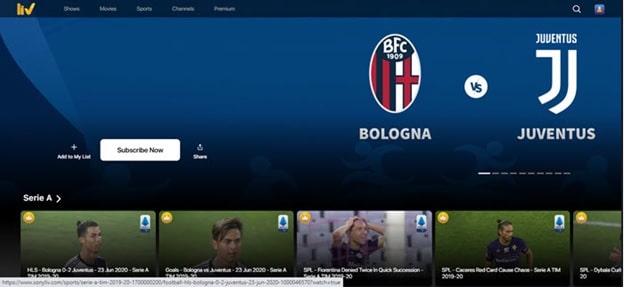 Sony Liv is another great free sports streaming site. It is primarily known for the football streams; however, they also stream UFC, WWE, Tennis, and various other known sports. The best thing about Sony Liv is that it also streams in HD.
If you reside in India, you can watch the streams for free with a 5 min delay. Others can use VPNs and connect to any Indian server to benefit from this feature.
4) Cricfree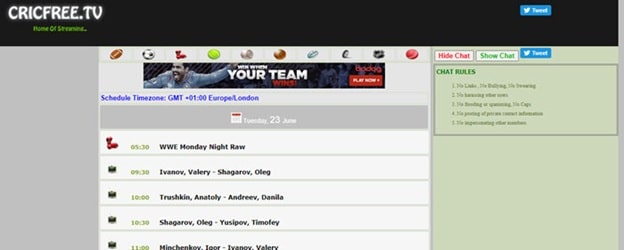 Stream2Watch is a popular free streaming website that has a 40% user base from the USA. It has been around for some years and has already made a name for itself among sports enthusiasts, especially in the USA.
Like Cricfree, Stream2Watch also has an issue with ads. So, keep that in mind before using it. Other than that, it is an optimal option for those users that live in the USA, Canada, UK, Italy, Germany, Russia, Spain, and other European countries.
6) Laola 1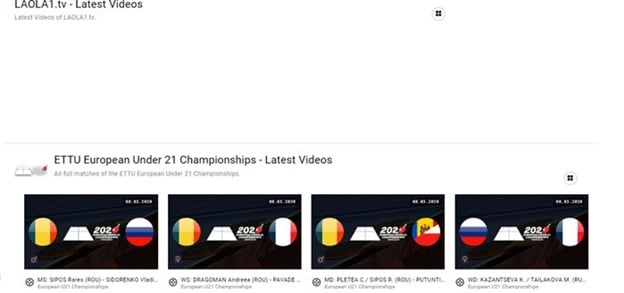 Laola 1 is also a well-known streaming site. It is based in Austria, but they stream sports events or matches from all over the world. You will find a wide array of sports here, like volleyball, badminton, table tennis or even motorsports.
It has a clean interface that is easy to navigate and the video quality
is good. It's a great choice to watch sport streams on even among those on this list.
7) Crackstreams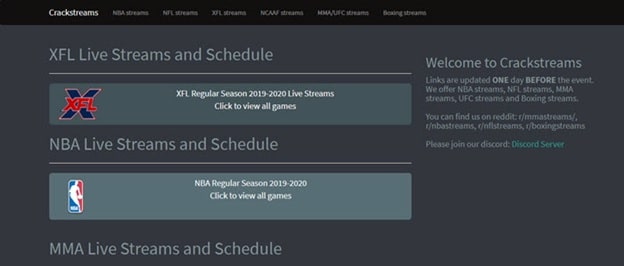 Crackstreams is the place for all martial arts sports' fans. It is a free website that streams MMA, UFC, boxing events, and matches. You also find streams of NFL and NBA on Crackstreams.
The video quality is great, and the servers are good enough. There is also a live chat section for users to discuss their thoughts with other enthusiasts. Overall, it's a good site to watch free sports streams.
8) Reddit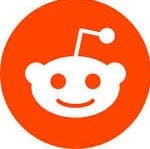 Reddit doesn't stream sports events or matches on their platform, however, the community that runs Reddit opens various feeds where several sports events are streamed live.
When you want to search for any particular sports stream on Reddit, simply type about it in Google and then add "Reddit" in the end. Example: La Liga live Reddit. This would show you the feed where it is being streamed.
9) Streamwink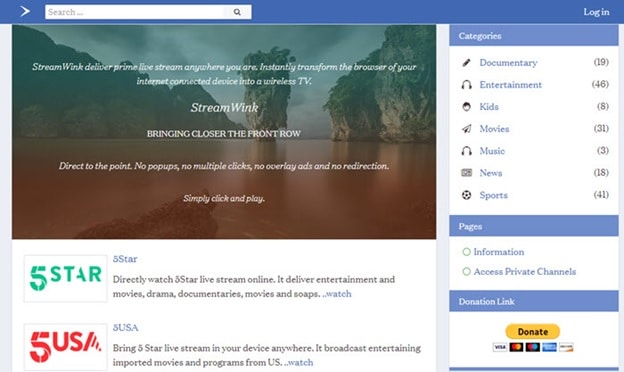 For the users that don't want pop-up ads, Streamwink is a great option. It streams channels, rather than events, so if you want to watch a sport even that is airing on ESPN 2, then you can just open ESPN 2 and through Streamwink and watch it for free.
It has a nice layout, which is easy to navigate. Overall, it's a good site to watch free sports streams.
10) StreamWoop
The last entry on this list is StreamWoop, which like most of the other sites works by gathering and indexing a variety of links from different sources so that you can watch them live.
It streams a variety of sports like football, golf, cricket, tennis, and many, among others. The interface is considerably basic, but it is not too difficult to navigate.
Wrapping Up
So, there you have it. Now you know the 10 best free sports streaming sites in 2020. We hope now you can enjoy watching sports online for free without any issue. If you have any questions regarding this article, then don't forget to ask it in the comment section below.