In this data dominated world, it's getting harder every day to manage all of our data. In these times, using syncing software has become a must. But there are many syncing software available for Windows, which one should you use?
You no longer need to worry as we have done the research for you. After using countless free sync software, we have finally come up with the top 7.
Here Are The Top 7 Free Sync Software For Your Files
So, these are the best 7 free sync software available right now and you definitely will enjoy using them.
Keep in mind that the orders in which the software are presented, have been given randomly. The order does not signify ranking, all the 7 software are chosen as the best for use.
1) SyncBack Free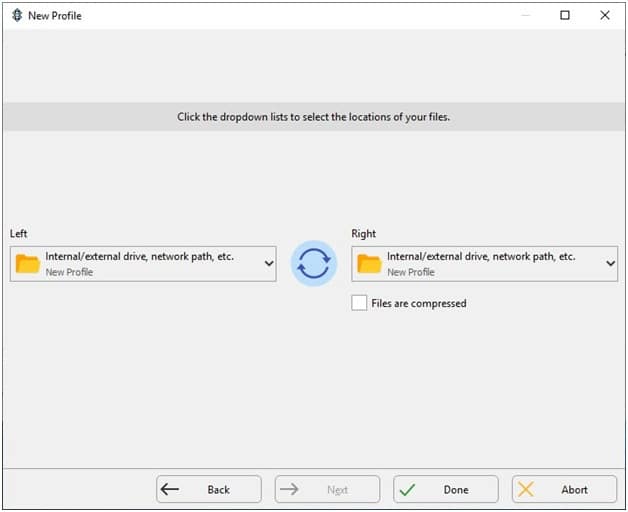 So, the very first entry in our top 7 list is also the most popular among the users. SyncBackFree is loved among the users because of the easy interface that also has a depth of complex features.
When we first used it, the very first thing we noticed was how intuitive the options were. To start the process, you just have to press New and a simple tab will ask you to enter your profile name, and then a tab will open up directly asking if you want to Synchronize, Backup or Mirror your files.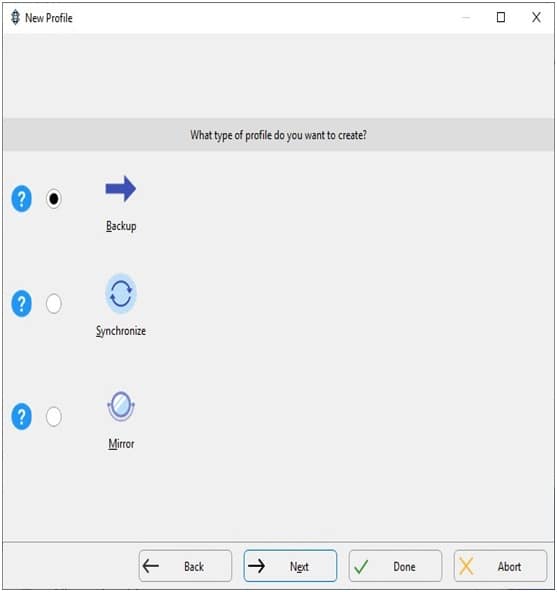 This would help the new users get their job done easily without much problem.
Some of its other features that we also liked are:
It supports separate profiles for the different tasks that you want to do.
It also supports scheduled backups, which is very helpful for time management.
Unicode enabled for non-English filenames (Very useful) so, that you don't have any trouble over files that are named in different languages.
The feature to choose between simple and advanced modes is very helpful.
It can process unlimited filename lengths.
Overall, it's extremely useful and among the hundreds of sync software available, it definitely stands apart. You can download SyncBack free from their official website.
2) Create Synchronicity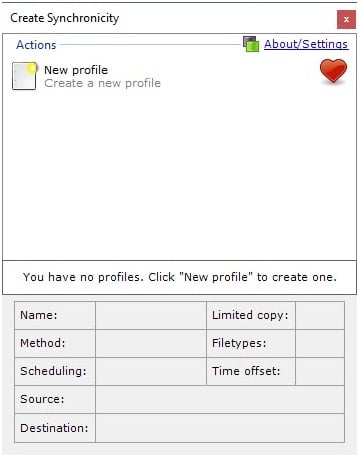 In Windows sync your folders easily using Create Synchronicity. It is fully portable for Windows, supports 3 ways synchronization, is easy to use and it can do automatic folder synchronization, although you can also select the location manually if you want.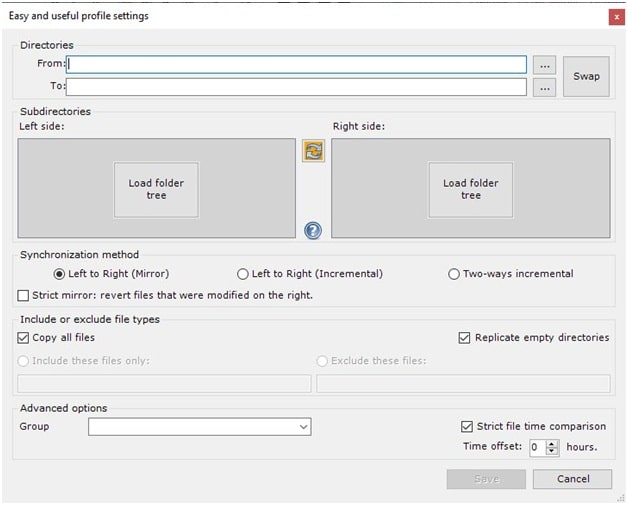 It also supports a huge range of languages other than English. There is also a support for multiple profiles. Some other features that we liked:
This app has the network backup (LAN backup) feature, using this you can easily back up the data in your Local Area Network.
It also has the expert mode feature that is very helpful for those who have used sync software before.
This software also supports Extensive logging (txt or Html).
Integrity checks (MD5, checksums) to see if the file is corrupted or not.
Overall, it's amazing to use and is among the best we found out there. You can download Create Synchronicity from their official website.
3) Good Sync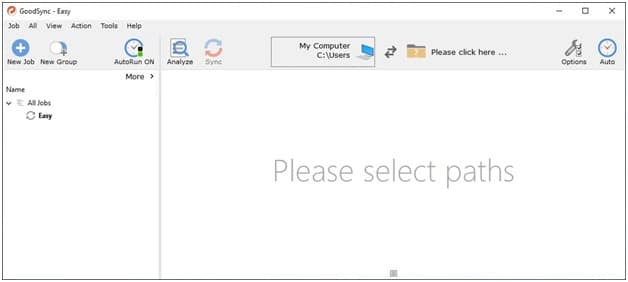 Good sync is a very flexible syncing software that can easily be customized to suit your team. It's easy to use and very intuitive.
When you open the app, you are directly asked whether you want to back up or synchronize, which makes it easy to use for new users.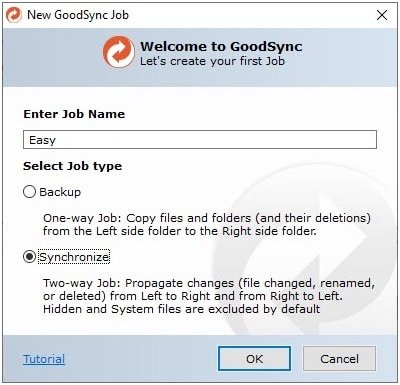 The notable feature in Good Sync, that we liked are:
Connecting your Windows with your Smartphone or tablet.
It supports Real-time data transfer which is a big help for users.
It also provides end to end encryption to keep your files safe.
You can Copy locked files in this software, which definitely makes the work easy.
Download GoodSync for free from their official website.
4) Free File Sync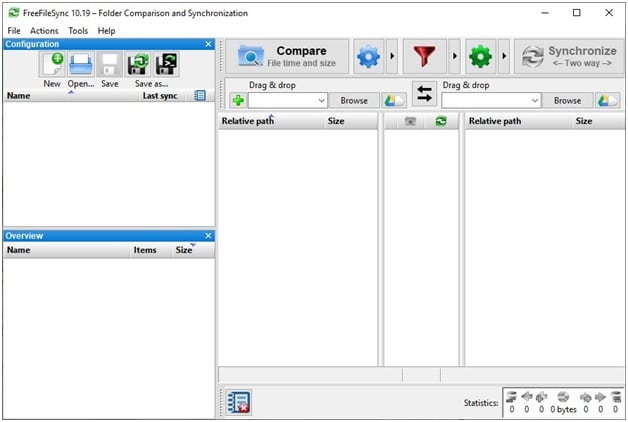 Freefilesync is also very popular among users. It has some easy to use interface which is very user-friendly. The thing we loved about Freefilesync is that it has no limitation on the number of synced files. Some notable features of the Freefilesync software are:
It also supports two-way sync, which means it can identify and propagate changes on both sides.
The choice to send deleted files to Recycle bin or delete permanently during Synchronization.
It is also a portable app that has no need for admin rights.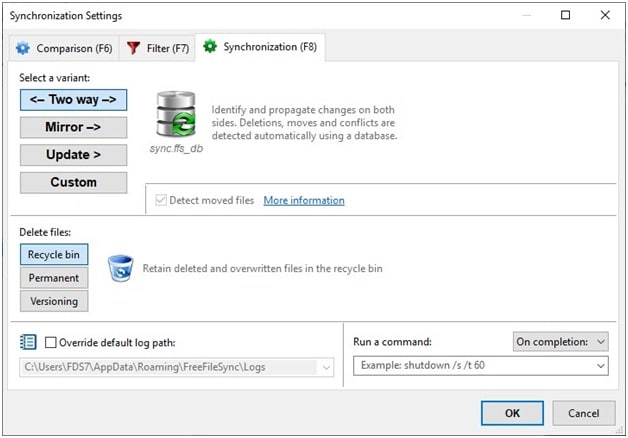 Download FreeFileSync from their official website.
5) Synchredible
Synchredible is a wonderful folder synchronizer for Windows that can synchronize both one-way and two-way, with just a few clicks. One of its useful features is that it only syncs the changed files and not all the files.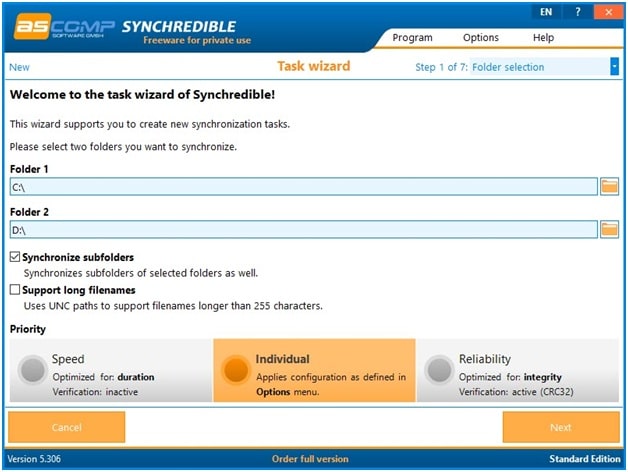 A few other notable features are:
With syncing it also has the feature to back up your data.
Sending deleted files while syncing to recycle bin so that it can be restored later,
It has a distinct feature that allows it to schedule the activities before and after the syncing.
The Archive bit sync feature is available in this software.
We can assure you, it's great for synchronizing folders and you would surely like to use it. Download Synchredible easily from their official website.
6) Pure Sync
Pure sync is another useful software that automatically synchronizes your files in the background without troubling you.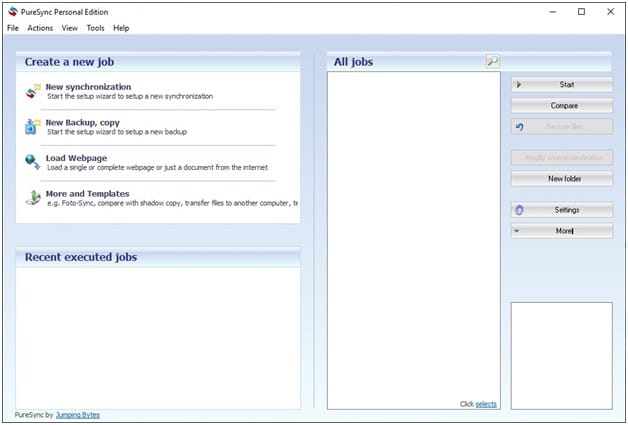 Like most of the other software in this list, pure sync is also very user-friendly. Some of its notable features include:
It supports FTP or File transfer protocol. FTP allows easy file transfer or exchange over web pages with a host server.
It can also synchronize/backup with another user.
It has the ability to copy open and locked files.
You can download PureSync from their official website.
7) Allway Sync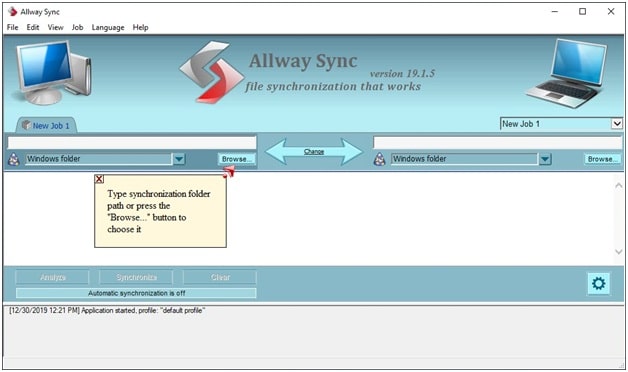 Allway sync is also popular among users. It is fairly easy to use for new users, and the options are intuitive. It consists of various useful features which include:
Bi-directional and n-way file and folder synchronization are available in this software.
Ability to sync between your PC, tablet, smartphone, and laptop is also provided.
This software also supports FTP, which is always a good feature for these apps.
Automatic folder synchronization is also available in this software.
You can schedule your syncing in this app, which useful for time management.
Download Allway Sync from their official website.
Wrapping Up
So, here is the list for the top 7 best free sync software available right now. These 7 were chosen because of their easy user interface and various useful features as mentioned above. Hopefully, you have found your software for syncing by reading this article. Feel free to leave your thoughts down below in the comment section.