Does your keyboard make a clicking noise on Windows 10 when you use it? Is your keyboard not working properly? In Windows 10, many keyboard specific features are there to help users type in a better way.
However, these accessibility features have caused issues for some users, especially if they were enabled unintentionally.
The keyboard clicking sound and it not working properly are probably caused by these above-mentioned features.
In this article, I have discussed how to stop the keyboard clicking noise. Follow the steps given below and hopefully, your keyboard won't make click sounds in the future.
Also, check out this article on what to do if mouse is clicking on its own.
How To Stop keyboard Clicking Sound?
The first thing you need to confirm when you see this issue is, where is the sound coming from. Is it your PC speakers making the click sounds or is it coming from your keyboard?
If your keyboard clicks on pressing a key, then you can't do much to stop it other than buying a new noise-free keyboard, which is quite expensive.
In case you are using a laptop, and the sound is coming from inside it, then read this article right now.
Now, if the sound is coming from the PC speakers, then it is most likely due to the toggle keys feature getting enabled.
Disable Toggle Keys Feature
If you have unknowingly enabled the Toggle keys, then each time you press Caps Lock, Num Lock, or Scroll Lock you will hear a click sound.
This feature was added so that users can know without looking if they have pressed those keys.
To disable this feature, follow the steps given below:
Press the Windows + I keys to open the Settings app on your screen.
Click on the Ease of Access option.
Next, select the Keyboard option.
Now, locate the Use Toggle Keys section.
Turn off the Play a sound whenever you press Caps Lock, Num Lock, Scroll Lock toggle to disable this feature.
Also, uncheck the Allow the shortcut to start Toggle Keys box. When this box is checked, the Toggle Keys will enable after you hold the Num Lock key for 5 seconds.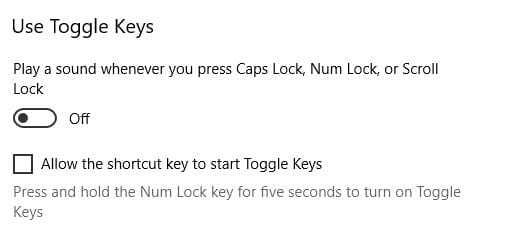 After completing the above steps, check if the keyboard still makes click sounds. If the sounds have stopped, then it was definitely due to Toggle Keys feature.
Disable Filter Keys
If your keyboard is acting weird and not correctly responding, it might be due to the Filter Keys feature.
Filter keys is an accessibility feature, which ignores the repeated keystrokes on your keyboard. If enabled unintentionally, this can be very confusing as you will see your computer ignore your input.
To disable Filter keys, follow the steps given below:
Open the Keyboard settings again, just like above.
Scroll down and locate the Use Filter Keys section.
Turn off the Ignore brief or repeated keystrokes and change keyboard repeat rates toggle to disable Filter keys.
Also, uncheck the Allow the shortcut key to start Filter Keys box, so that you don't unknowingly enable Filter keys by holding the Shift key for 8 seconds.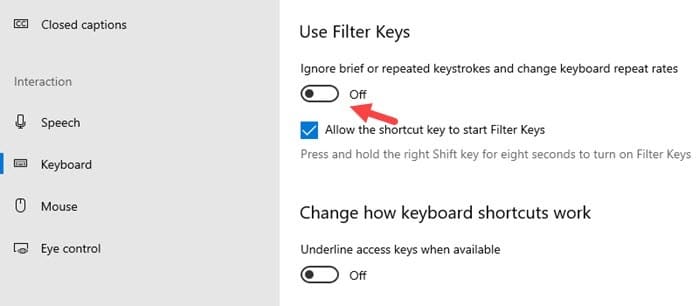 Wrapping Up
So, there you have it. Now you know how to stop the keyboard clicking sounds in Windows 10.
Follow the steps given above and the keyboard click sound should go away. If you have any questions related to this topic, ask them in the comment section below.