Using extensions in Chrome simplifies working with PDFs online, as there are specialized extensions available for reading, editing or downloading the entire web page in PDF format.
With these various extensions available, you won't need to visit websites to get the job done as you will be directly able to do it. But with extensions, a question does come to mind, which one should we use?
There are so many extensions available and we know how much trouble one corrupted extension can cause. That's why in this article, we are going to discuss the 5 best Google Chrome PDF editors available right now in the Chrome Web Store.
The List Of Top 5 Best Chrome PDF Editor Extension
Before you see the list, you will need to remember one thing that the order in which we have placed the PDF editor for Chrome does not mean ranking in any way.
The list has been compiled as the 5 best Chrome PDF Editor and so all the apps and extensions in the list are considered to be the best available right now. Some may have different features than others, but overall all these 5 are considered to be the best. Now, let's move on to the list.
1) Kami Extension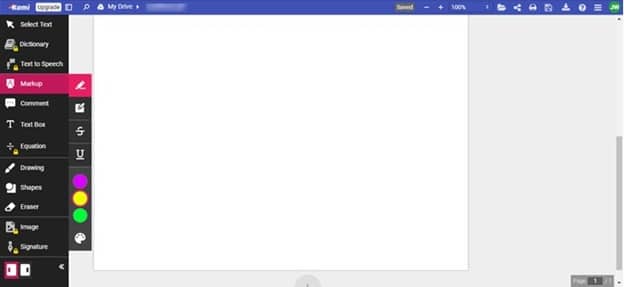 Kami is an amazing Chrome extension PDF editor to use. It has a lot of features including splitting and merging PDFs and running OCR for scanned PDFs.
The editing tool is also great to use and comes with a feature called Comment, using which you can leave a comment marking a part of the PDF. When someone edits this PDF the comment will pop-up for that person.
Some other notable features we found are as follows:
You can highlight the texts that you want anywhere on the page. It also supports different colors for highlighting, which is quite useful.
Features for drawing, creating shapes and text input are also available and always appreciated.
Another nice feature we found was that you can strikethrough and underline the texts.
It also supports features like inputting image, digital signature, text to speech and a handy dictionary but these are premium features.
We found this extension very helpful and hope you also do so. You can use Kami for free, but some features are only provided for premium users. You can subscribe to the premium version for around $5/month. Kami can be directly added to your Google Chrome from the Chrome Web Store.
2) PDF Buddy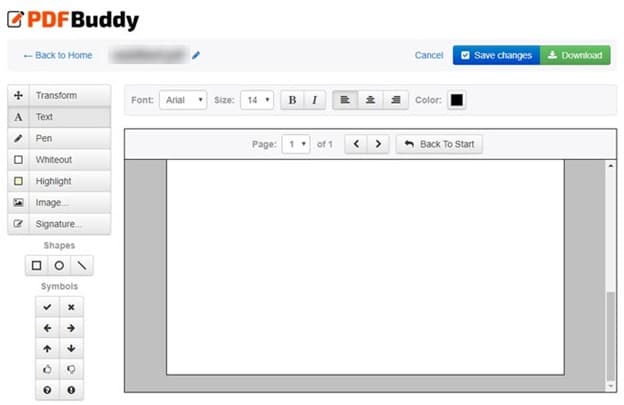 PDF Buddy is a very powerful PDF editor for Google Chrome. It's very easy to use, you just have to drag the PDF to the edit section or choose the PDF from your computer. It also has some notable features such as:
Being able to highlight any section of the page you want.
Feature to input different shapes or just to draw freestyle. You also have different color choices for it.
Being able to backtrack what you have edited certainly helps if you make a mistake.
You can also input images from your computer.
It also has the ability to enter a digital signature, which is very important for a PDF editor.
Some inbuilt symbols are also available for use.
You can input texts wherever you want on the page.
You can also merge and split PDFs with this app.
Overall, it's a good PDF editor for Chrome and we will suggest you definitely give it a try. Download the app from the Chrome Web Store.
3) XODO PDF Viewer And Editor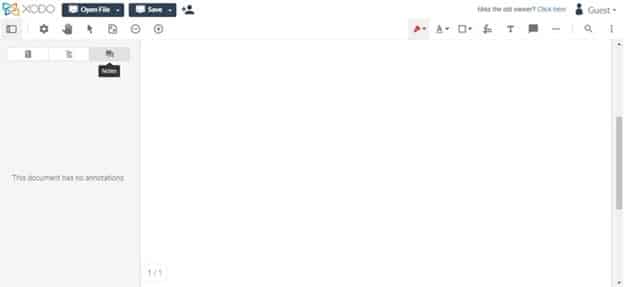 XODOPDF Viewer And Editor is also surprisingly a very good PDF editor. It has a very simple UI, which is why we didn't expect it to have such useful features and that also for free. XODO can merge PDFs as well as edit them.
Opening the PDF file is fairly simple, you can either drag it in, open it from your Google Drive or open it from your computer. Some of the features that stood out for us were:
Being able to comment on the edits, which can also be replied by other users of the PDF.
You can highlight different parts of the PDF. Highlight also comes with different colors.
Being able to input a digital signature, which is very useful to have in a PDF editor.
Creating different shapes or drawing freestyle, inputting text and also creating callouts are some other features.
XODO may have simple UI, but it has some very good features available for free. Hopefully, you would also like to use this extension. Add this extension from the Chrome Web Store.
4) PDF2Go Online PDF Editor
PDF2Go Online PDF Editor is simply said an extraordinary PDF editor even among those on this list. It can convert PDF to Doc, JPG, PowerPoint, Excel, and text as well as convert to PDF from these formats.
It can also compress, merge, split, edit, unlock, lock and repair PDF files. PDF2Go is truly a versatile extension when it comes to handling PDFs. We also found the UI very user-friendly.

Some other notable editing tools we found are:
Being able to highlight important lines.
You can also whiteout a section you don't like in the PDF.
Basic drawing and creating shape tools are also available.
Ability to Undo or Redo the changes you made is always helpful in an editing tool.
You can also input pictures in the PDF from your computer for free.
Overall, this is an amazing Chrome PDF editor, and we hope you also like using it. Add this extension from the Google Web Store.
5) Google Docs
Google Docs in many ways is the ultimate PDF editor for Chrome. Any PDF file you have uploaded to Google Drive can be edited in Google Docs. It gives you almost all the options you get in Microsoft Word.
Using Google Docs you will be able to use features such as:
Changing the font of the letters to suit your requirements.
Highlighting the lines that are important and needed to be noticed.
Insert images directly from your Google Drive or your computer.
Google Docs generally comes pre-installed with Google Chrome, but if you have removed it, then you can download it from the Chrome Web Store.
Wrapping Up
So, now you know the 5 best Chrome PDF editor available on the Chrome Web Store. Hopefully, you have found your favorite PDF editor from our list. Feel free to leave your thought about this list in the comment section.