Many users have trouble printing from Google Chrome. Whenever they try to print from Google Chrome, printing is too small to read. This occurs because of incorrect print scaling in Chrome.
In this article, we have discussed how to set print scaling correctly so that the printing doesn't become too small.
Also, check out this article if you can't print from Google Docs.
We have shown a VIDEO walk through at the end of the post for easy solution.
Fixing The Google Chrome Printing Too Small Issue
Generally, only the Chrome default print settings are set from the start, which is not suitable for printing every page. As mentioned above, to fix the small orienting issue in Chrome, proper print scaling needs to be set. But how do you set print scaling? Well, its quite easy to do and we have explained below how to do it.
Set Print Scaling In Google Chrome
To set the print scaling in Chrome, follow the steps given below:
Open Chrome browse to the page you want to print.
Press the Ctrl + P keys to open the print preview of Chrome. Now the page you want to print should be on the left of the screen while the print options are on the right.
Select the More settings option.
Now, next to the Scale option, click on the drop-down menu and select Custom.
Now, enter the number you want to set the scale at. As you increase or decrease the scale, the preview of the page on the left side will also change. This way you can set the proper scaling that you want.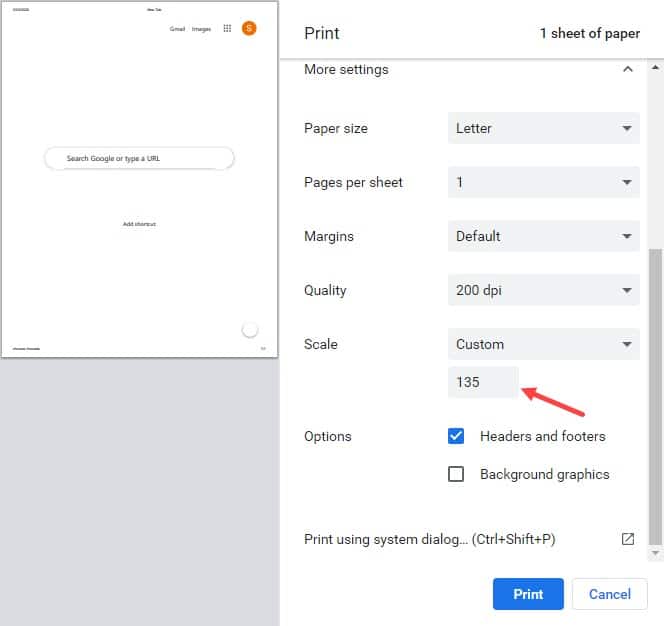 Finally, after making sure the other print options are as your desire, click on the Print option.
Now, the printing should be of appropriate size, not too small or too big. This solution should also fix the Google docs printing small issue as both use the same print preview.
Wrapping Up
So, there you have it. Now you know what to do if in Google Chrome printing is too small to read. Follow the above steps and you shouldn't have any problem. Leave your comments below expressing your views on this article.