Even though the size of the Reddit communities varies, each community has its own requirements regarding real-time communication.
Reddit chat has evolved in the last two years.
The help and feedback of Redditors around the world have made this possible.
This live chat platform is allowing Redditors to add texts to all posts.
Go through the write-up in detail and know more about this new and exciting feature.
How To Do A Live Chat?
After years of testing the subreddit and the one-to-one chat feature have been rolled out to all the users and communities.
These two features are likely to lessen the individual contribution and fasten up the response time.
Not only will this it play a great role in enhancing engagement among various Redditors inside the communities.
When the user wants to make a post, the user will come across an option named live chat.
Here is how you can start a live chat:
After selecting live chat, the users will be able to see real-time messages instead of replies and comments.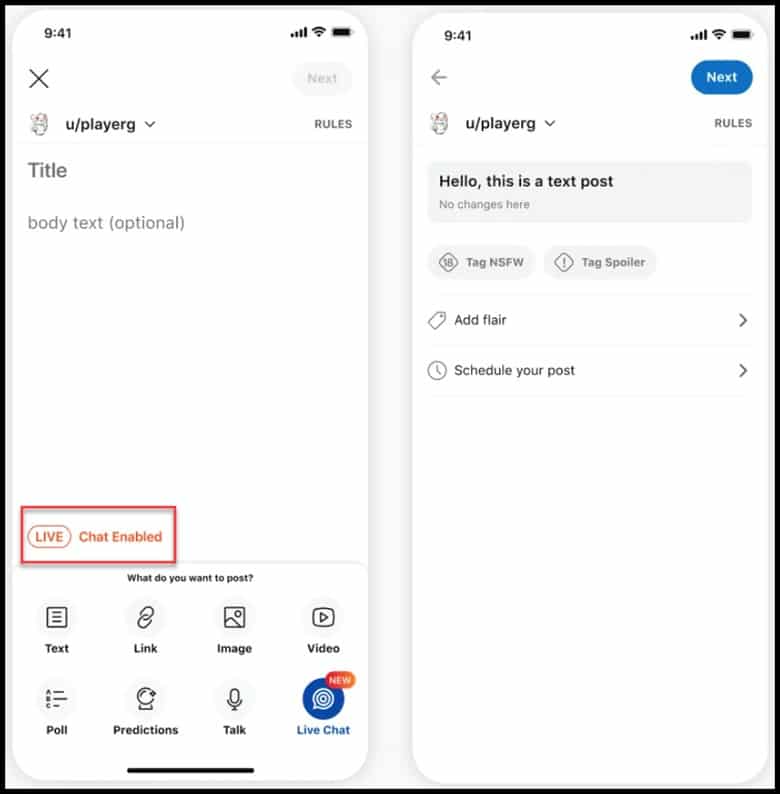 They can use u/ or @ to mention a specific user or even react to messages with emojis.
The current auto-moderator rules will get applied to live chat messages.
The live chats will get filtered and stay in a dedicated section under posts and comments in the mod queue.
Anyone can create a live chat by navigating to community settings and then clicking on posts and comments.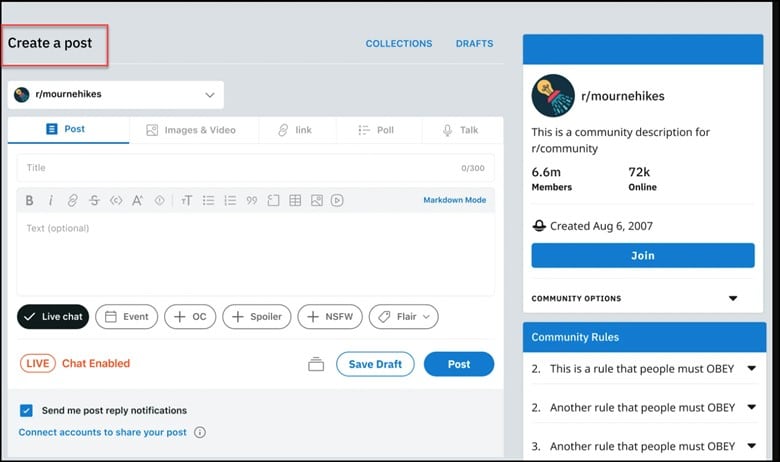 Note: Only mods can create live chat by default.
Presently, live chat posts are supported on Android, iOS, and new Reddit.
The live chat messages will appear as top-level comments sorted by new on non-supported platforms or old Reddit.
What Are The New Features To Refresh The Live Chat Experience?
Some new and exciting features were added to the live chat so that the users can have the pleasure of a hassle-free chat experience.
Redesigned Actions Menu
The action menu has been updated so that the users and moderators can interact with specific messages in the live chat.
Other inconsistencies were also fixed.
Users of iOS and Android can now easily tap anywhere on the message to activate the action menu.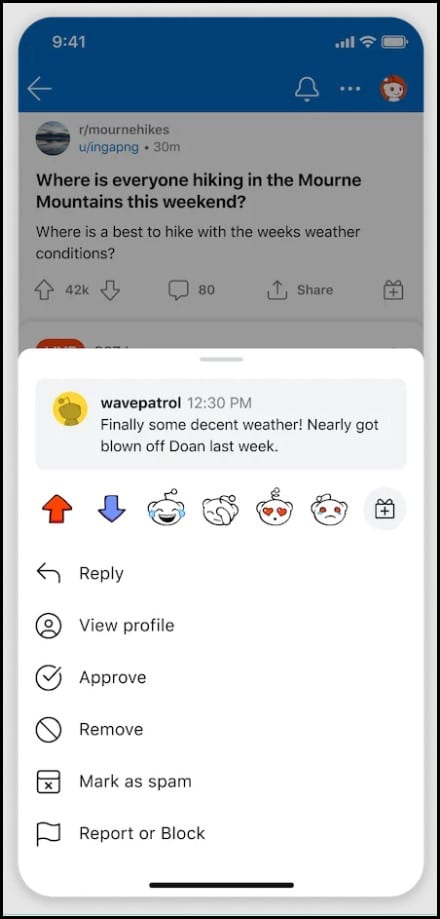 Mods have been entitled to the authority to moderate messages within the mod toolbox.
Live Chat Mod Permission Settings
Changes were also made to the mod role permissions for live chat.
"Create live chat" is a new option that has been rolled out and here the user will get the liberty or the authority to create a live chat in the community.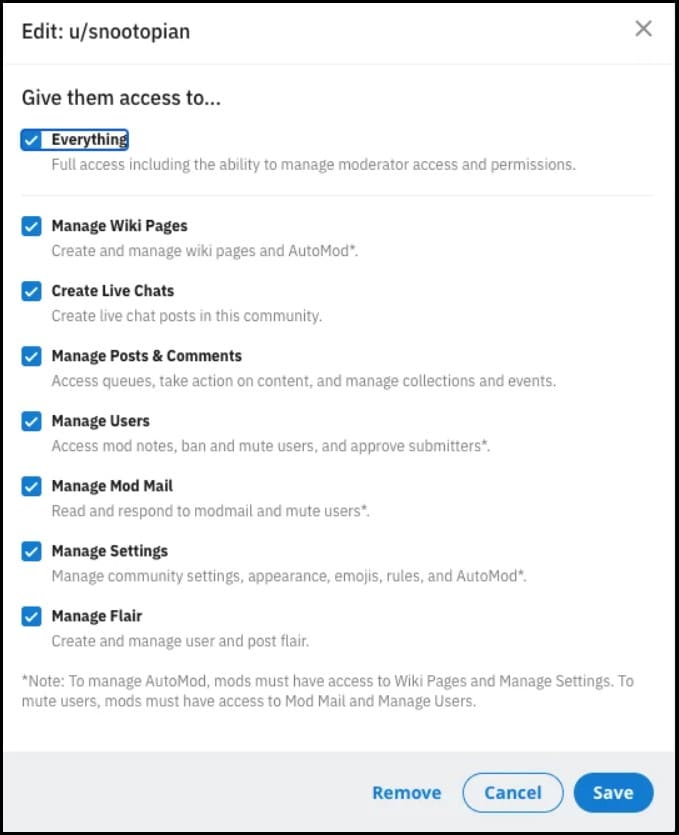 Selecting "manage posts and comments" will activate their mod tools and help the user to create and moderate a live chat.
Mod Queue Category For Live Chats
A specific section for live chat messages within the mod queue has been added.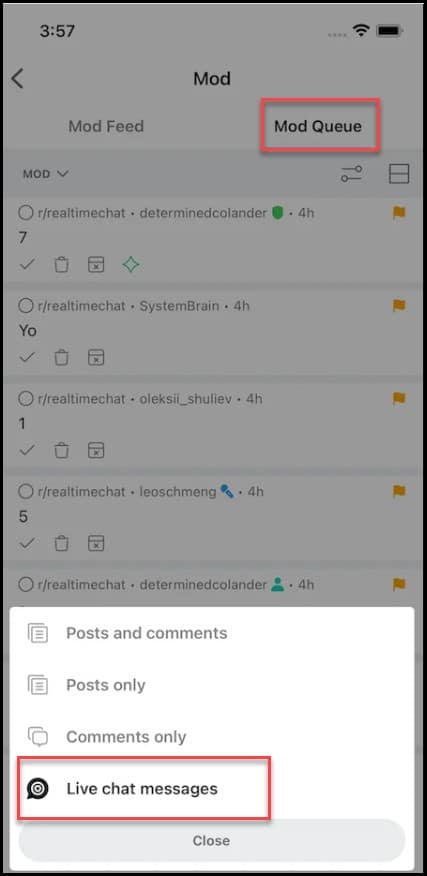 This will help the user to take action on certain specific messages for posts and comments.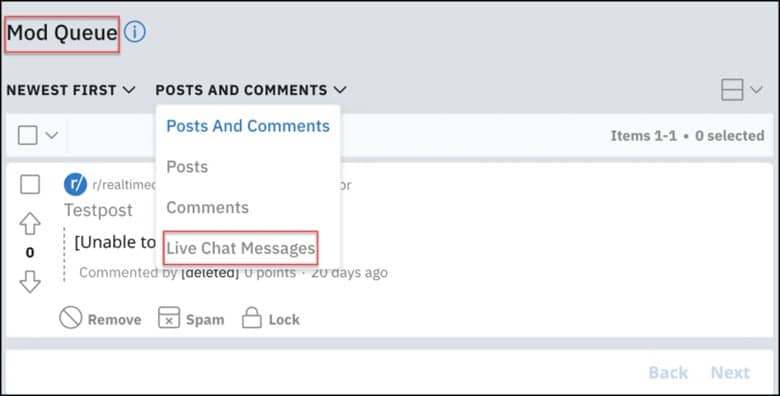 Reactions And Awards
Now users can easily express their approval or disapproval with the help of upvote and downvote reactions.
There is a variety of Snoomojis from which the users can easily choose.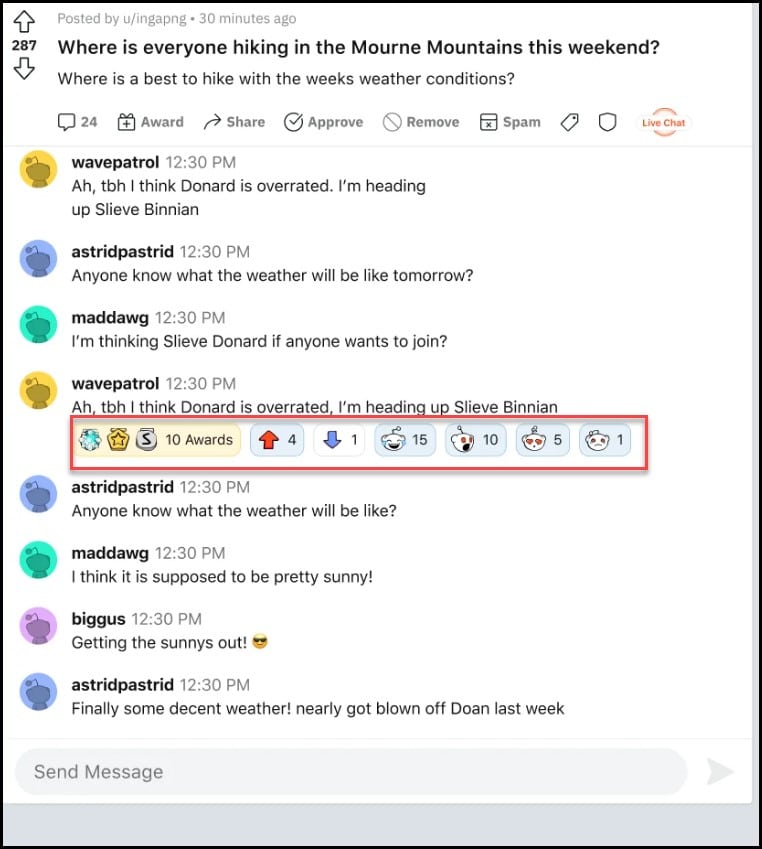 Not only this the most exciting part is that now they can also bestow an award to a specific message which according to them is a class apart.
Reddit is also exploring quite a few more features for enhancing the live chat experience.
These are:
Ending A Live Chat.
Scheduling And Reminding Upcoming Live Chats.
Ability For Mods To Distinguish Messages On The Native App.
Ability To Stick A Specific Message In Live Chat.
More UXImprovements.
What Are The Helpful Tips And Tricks For Live Chats?
1) Create An Event
Scheduling the event in advance with the help of the live chat feature will help you organize it much more efficiently.
2) Use Automated
The current auto-mod rule is also applicable to live chats.
Try using it and reap its benefits while you are on the live chat.
3) Set Rules And Expectations
Since the live chats are a completely different experience it is, therefore, necessary to set up certain rules, and regulations within the community for the upcoming life event so that it can happen smoothly and the members are prepared for it too.
4) Pin Your Chat Posts
Pinning your chat post will help in facilitating enough people from joining all at once.
5) Promote Your Chat Post
Promoting posts in turn helps in promoting the content of your community as well.
Promoting the content will drive a lot of people into the discussion.
6) Sticky Messages
The sticky messages are the most recent messages which the user can see just after joining.
After the new messages are sent the sticky messages will scroll away. You can use the sticky chat post for it to act like a chat room.
7) Lead By Example
Live discussions will be helpful for the community. It will also enable collaboration, support, and help.
This particular feature will be helpful in bringing forth new types of discussions within the community.
8) Creating A Lounge
All you can do is simply create a chat post named "lounge" and pin it on top of your community.
This will turn out to be a hang-out spot for the community members and will in turn give your community the same value without creating a chat room.
Frequently Asked Questions (FAQs)
What Happens To Your Reddit Chats When You Delete The Account?
If you delete the account, the messages and chats get removed from the Reddit account and can't be brought back.
2. Can People See Whom You Follow On Reddit?
Your follower list can't be seen by anyone else; it will only be viewable to you.
3. Does Reddit Track Search History?
Yes, Reddit tracks the search history and all the information related to you stays with them on their website unless you delete your chat history or your account.
Closure
The live chat feature is available to all the communities as well as the users.
So just send a fellow Redditor a friendly message and do let us know what you think.
We are looking forward to hearing from you.