In this day and age, using a laptop has become common for people everywhere. With everyone traveling more often, it's not possible to go without a PC. So, the laptop has become a must for this group of people.
But what if one day you notice that your laptop battery is not charging? We have received various reports from users about this problem. If you are also facing this issue, then don't worry as in this article we will discuss how you can diagnose and troubleshoot this problem.
Also check out:
Why Isn't My Laptop Charging?
First, let's understand the reasons why this problem is occurring before you troubleshoot it. Here are some reasons why your laptop isn't charging:
Problems with the hardware are generally the most common reason for it to happen.
If your Power Source is not able to supply adequate power to your laptop, then such problems can occur.
Overheating of your laptop is known to cause this problem, especially in the older models.
Outdated drivers are not a common reason for this, but it can still cause this problem.
If your Power supply settings are incorrect, then this type of charging related problems can occur.
Plugged in External Devices are known to slow up your charging speed causing the laptop battery not charging
Troubleshooting Laptop Battery Not Charging Issue
As mentioned above, there are various reasons why your laptop isn't charging. Now, it's time for you to troubleshoot them one by one.
Solution 1: Check The Hardware
First and foremost, you need to check all the hardware involved in charging your laptop. One by one we will go through all the hardware related to this problem.
A) Check If You Are Plugged In
Now, the first thing you need to do is, check if you are actually plugged in or not. Check, if the AC adapter and your laptop are firmly connected and make sure that the AC adapter brick and any removable cords are connected firmly.
Also, try connecting your power cord to other power outlets and check if the battery starts charging. If it still doesn't work, then try the other solutions.
B) Check The Battery
The laptop's battery malfunctioning can also be the reason for it not charging. In case of a removable battery, just take it out and hold the power button of your laptop for 15-20 seconds to drain the last bit of power.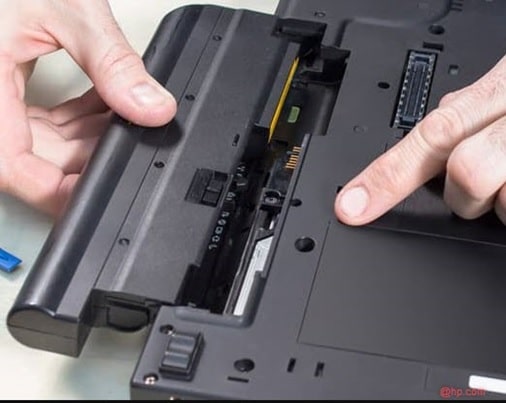 Plugin the laptop to the power source directly without the battery and see if it works or not. If your laptop is working fine, then your adaptor is not the problem. Now, reinstall the battery and see if it is charging or not. If it is charging, then previously the battery wasn't installed correctly.
However, if your laptop isn't charging, then the battery is probably faulty. If your laptop doesn't have a removable battery, then you will have to take it to a repair specialist.
C) Check The AC Adaptor
The next thing we need to check is if the adaptor is faulty or not. Check if there is any tearing or burns in the cable, it might be torn or burnt in some places. Check it thoroughly.
Try using a different adaptor and cable if you can and see whether your laptop is charges. If yes, then the problem was with your adaptor and now you can easily fix it by replacing it.
D) Check The Connector
Check if the connector on your laptop is dusty. If yes, then you may just have found your problem. A dusty connector will not provide a strong connection, which is probably why your laptop isn't charging. Use a small piece of dry cloth or toothpick to clean the connector thoroughly.
If the problem persists, check if the connector is firm or not. Is it wobbling when you move it? If that's the case, then your connector may well be broken. You will need to replace it either by going to a repair specialist or doing it by yourself (if you are qualified for doing it).
E) To Use The Right Port
If you are attempting to charge your laptop through the USB-C port, then there are various details you need to check over.
For some laptops, the USB-C ports are only for data transferring not charging. In case you are plugged into such a port your laptop won't be able to charge. Make sure you are using the right ports and if those ports are working correctly.
Solution 2: Check The Power Supply
If your new laptop battery is not charging, then the problem may not be of your laptop but rather of the power supply. Check, if the power is correctly working. Also, check all the power outlets and the power source whether they are stable and working correctly.
Solution 3: Over Heating Of Your Laptop
Does your laptop get heated quickly? Check if your laptop is hot or not. Overheating is a known reason for such a problem, especially for old laptops. If your laptop gets heated fast, then you should cut down the activity you do on your laptop or look for a replacement.
Solution 4: Troubleshoot Drivers
Outdated Drivers is not a common reason for this problem, but it can cause this problem. Updating drivers will solve this problem.
Press Windows + R to open the Run tab then write devmgmt.msc and press Enter to search. Device Manager will open up.
Update the drivers that are outdated by right-clicking on them and selecting the Update Driver option.
If still your laptop battery is not charging when plugged in, then try the next solution.
Solution 5: Check The Power Supply Settings
If your battery settings are incorrect, then this kind of problem can arise. To open the Power Supply Settings of your laptop, follow the steps given below:
Type Power & Sleep Settings in the Windows search bar and select the appropriate option.
Then, click on the Additional Power Settings option below the Related settings.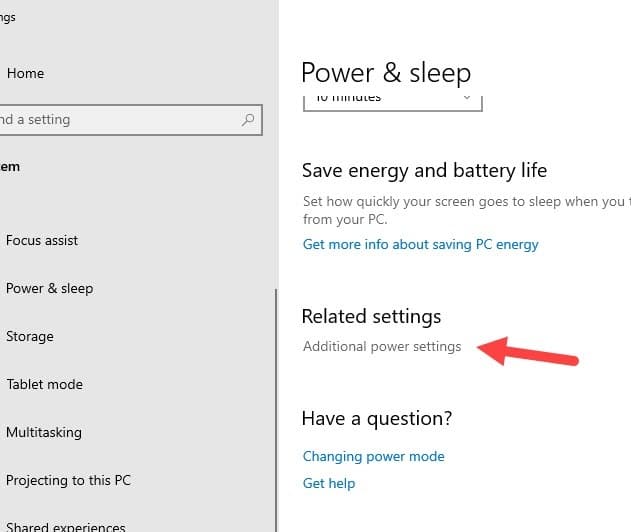 Next, click on the Change plan settings beside the Balanced (recommended) plan.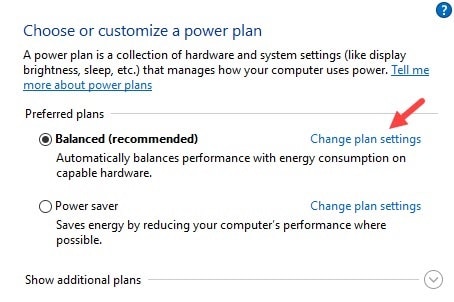 Check if there are any unusual or incorrect settings. Like, if your laptop is set to shut down at a high battery percentage. You should just restore to your original settings using the default restore option so that if any changes were made unknowingly, then they can be restored.
Now, check if your laptop battery is charging or not. This solution should fix this problem for you, but if it doesn't, then try the next solution.
Solution 6: External Plugged In Devices
It's known that charging the laptop while the external devices are plugged-in can slow down the charging speed. Remove all the external devices like the mouse, keyboard, or speakers and plug-in your charger. Leave it for a while to see if it is charging or not.
Solution 7: Take It To The Service Centre
At this stage, if none of the above solutions has worked for you, then the only option remaining is to take your laptop to the manufacturer's service center. They should be able to fix your laptop if it can be fixed.
Wrapping Up
So, there you have it. Hopefully, the above solutions will be able to help you with your problem. Now you won't need to worry if your laptop battery is not charging, just follow the steps given here and you should be able to troubleshoot this problem. As always, feel free to leave your thoughts on the article in the comment section below.