Laptop overheating is very common for laptop users. When you are stuffing all those small hardware components in that little space with barely any cooling space, then it's bound to happen. But that doesn't mean you can't do anything about it.
There can be various cautionary steps that one can take to when their laptop gets hot. In this article, we will discuss the various reasons that can cause your laptop to heat up, and also the various ways you can keep it cool.
We have shown a VIDEO walk through at the end of the post for easy solution.
Why Is My Computer Heating Up So Fast?
"Why does my laptop get so hot" is probably the first question on your mind right now. Laptops generally overheat faster than your desktop computer because of less airflow. But there are also various other reasons that can cause your laptop to heat up. First, let's see what can cause your laptop to overheat:
Every laptop has a cooling fan installed in it to control the heating issue, if this fan doesn't work correctly or stops working at all, then your laptop will heat up pretty fast.
As mentioned above, the cooling fan throws out the heat as hot air from the laptop to keep it cool, but where does this heat come out? There are exhaust ports, which solely is used to throw out the hot air.
But if these exhaust ports in your laptop get blocked due to dust or something else, then all the hot air thrown out of the fan will remain inside rather than coming out, which will cause your laptop to heat up further.
Faulty hardware can make the laptop use more resources, which will heat up the laptop further.
Every laptop has a heatsink with cooling fans. Between this heat sink and your CPU, there is the thermal grease. If this thermal grease gets degraded, then your laptop will definitely get hot.
If your laptop battery is hot, then your overall laptop will also heat up. Generally, overcharging the battery or working for long hours while the charger is connected, and the battery is 100% can cause it to heat up.
Most people don't really pay much attention to the room temperature, but it plays a crucial role in heating up the laptop. If it's summer, then make sure the room temperature has not exceeded 95° Fahrenheit or 35° Celsius.
What To Do When Laptop Gets Hot?
Now, we will discuss the various ways that you can use stop your laptop from overheating.
1) Give Your Laptop Some Rest
Working on the laptop for a long period of time can cause it to overheat. Give your laptop some rest to cool down for an hour or two between your work. Especially take care to rest your laptop if your work requires more resources.
2) Place Your Laptop On A Flat Surface
If you are using the laptop by placing it on your lap, then it can block the exhaust ports under the laptop, which will overheat the laptop. This can be taken care of by simply placing the laptop on a flat surface while using it.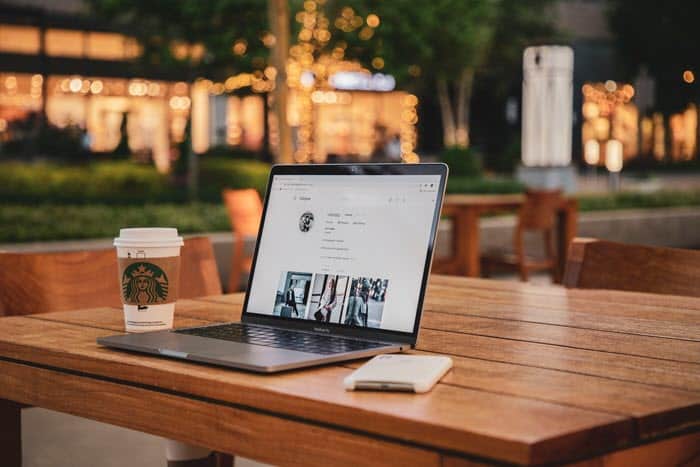 Most laptops have small rubber feet below that will keep it a little above the surface its placed on, so that the exhaust doesn't get blocked. Those feet become useless when you place the laptop on your lap.
3) Keep The Cooling Fan Clean
The cooling fan in your laptop plays a big part in keeping the temperature of your laptop low. These fans can get blocked by specks of dust if not cleaned periodically. That's why it's important to clean your laptop every once in a while, even if you are not using it.
We recommend that you take the laptop to a service center to get the cooling fan cleaned if you lack the required knowledge and skill for cleaning it without causing any harm to the laptop.
After cleaning the fans, check if still the laptop gets hot. If yes, then you should try the other methods.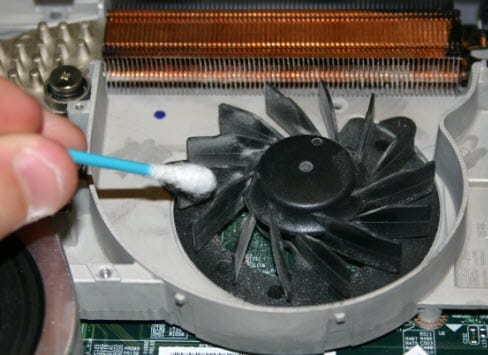 4) Use The Laptop In A Cool Surrounding
The room temperature plays a big part in determining the temperature of your laptop. If its summer, then its best to use the laptop in a room with air conditioner, or if you don't have it, then make sure to have a few fans working near the laptop to reduce the heat.
Also, don't keep the laptop directly under the sunlight and also use it as less as possible if the room temperature is more than 95° Fahrenheit or 35° Celsius.
5) Don't Overcharge Your Laptop
Generally, most people plug in their chargers and work for hours without unplugging the charger when the battery is full. This is a big mistake as it can heat up your battery and potentially break it as well.
When your laptop battery is hot, not only will it overheat the laptop but also damage it. Always make sure to unplug the charger after the power is full and also try to use the laptop without charging it at the same time as much as possible.
6) Get A Laptop Cooler
There are various laptop coolers that you can purchase. The laptop coolers basically blow cool air inside your laptop through the intake grills. Now, it is very important that you don't buy the wrong laptop cooler as it can then cause your laptop to heat up even more.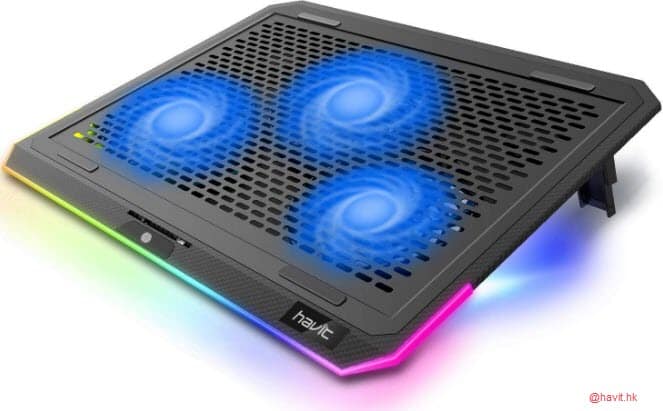 Before buying a laptop cooler, you need to understand where the exhausts are and where the intake grills are. Buying a laptop cooler that sucks away the air from your exhaust will only heat up the laptop faster.
Wrapping Up
So, now you know what to do when your laptop gets hot. Take the above precautions and your laptop should avoid getting overheated. Also, take special care to old laptops as they tend to overheat faster. As always, feel free to share your thoughts on this article in the comment section below.