This innovative feature allows you to hear your voice even in between your game audio and real-time communications.
With Mic Monitoring on Xbox, you will never miss any instructions from your teammates and can keep yourself fully engrossed in the gaming world.
Are you wondering what Mic Monitoring is all about on Xbox One? Go through this article to get a clear idea of the same.
Here, we will show the process of enabling it.
Also, read: How To Disable Xbox Game Bar On Windows 11
What Do You Mean By Mic Monitoring And How Is It Useful?
A headset where you can speak into the microphone and hear your voice with the help of the earpiece is known as a Mic Monitoring headset.
On PS4, Mic Monitoring is known as "sidetone."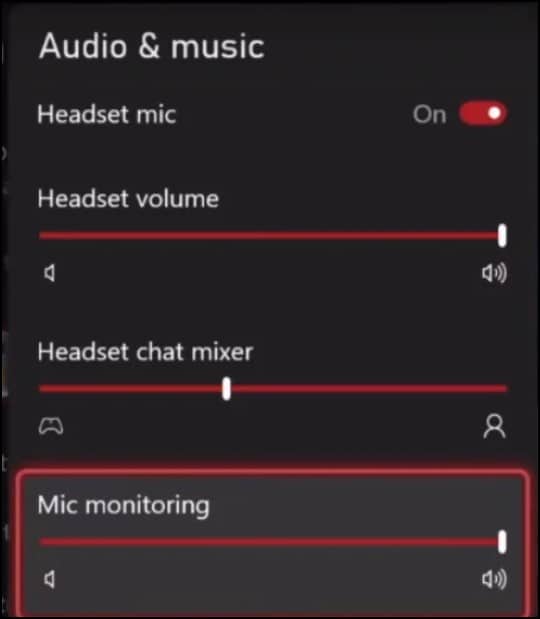 Xbox offers a wide range of features for enhancing the gaming experience, and "Mic Monitoring" is one such useful feature.
It will allow you to maintain a stable connection with the other players even in the midst of a battle.
Here, you are also allowed to hear your voice through your headset.
This, in turn, helps you monitor your voice and provides your mic input to your headsets.
This is a setup feature that enhances the voice or video interactions with other gamers whenever you are playing multiplayer games.
It is especially useful to online gamers who require clean and audible chat settings.
Mic Monitoring doesn't have an unwanted echo so you can check the proximity to the microphone.
You can also use it to check if it is picking up any background noise.
This feature is available on many headsets and certain devices that are compatible with these headsets, along with gaming consoles and personal computers.
Xbox One enables Mic Monitoring by default when a compatible headset is connected.
Here is a list of some headphones with Mic Monitoring:
Xbox Wireless Headset
JBL Quantum 400
Corsair Virtuoso RGB Wireless SE Gaming Headset
Turtle Beach Elite Pro2+ Superamp
Steelseries Arctics Pro Wireless Gaming Headset
ASTRO Gaming A50 Wireless Headset+ Base Station Gen 4
How To Enable Mic Monitoring On Xbox One?
If you are allowed to hear your voice through the headset, then it will be very easier for you to make the needed adjustments to your microphone's volume.
Turning on the Mic Monitoring feature on Xbox One involves a few steps, which are discussed below.
But before doing that, make sure your headset has got a Mic Monitoring feature.
First, on the home screen of the Xbox One, press the Xbox switch on the controller.
Navigate to the "System" and select "Audio."
Next, go to the slider that is labeled "Mic Monitoring."
Now, adjust the slider as per requirement.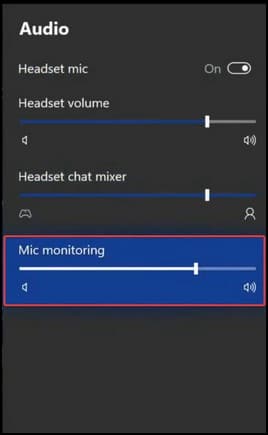 How To Disable Mic Monitoring On Xbox One?
The actual method for turning off the Mic Monitoring depends on the system that you are using.
But generally, you must turn down the "Mic Monitoring" or "Sidetone" slider on your console.
This is how it can be done:
First, go to the Xbox One's home screen and press the Xbox button.
Choose the "System" tab and then select "Audio."
Now, move the slider as required and turn the volume to zero.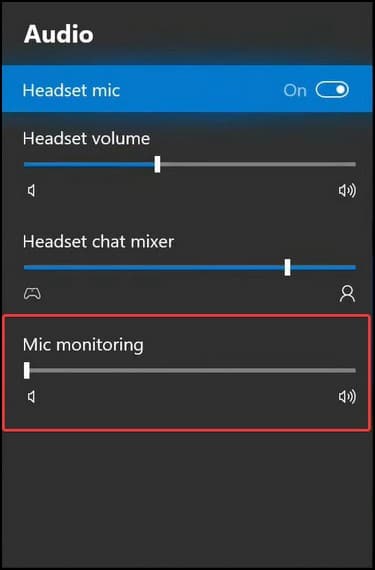 After you have disabled Mic Monitoring successfully, you will not be able to hear your voice on your headset.
What Are The Advantages And Disadvantages Of Mic Monitoring?
Mic Monitoring offers a lot of advantages, and those are:
Allows real-time troubleshooting
Better communication within the team
Crystal clear sound while gaming
Balances out noises and voices
Solves the problem of people talking too loudly
Helpful on programs and platforms like Skype, Zoom, and Google Voice
Personalized experience
Improved performance
Facilitates a sense of connection and collaboration among the players.
While Mic Monitoring offers numerous advantages, it also has a few potential disadvantages.
Those are listed below:
Compatibility limitations
If the Mic monitoring level is too high, it leads to an echo.
Since Mic Monitoring transmits and relays your voice, it raises a privacy concern for some individuals.
This leads to feedback loops or echoes if they aren't properly adjusted.
Constantly hearing your voice can lead to distraction.
What Are Some Common Mic Monitoring Issues On Xbox?
Using this feature, you can eliminate miscommunications due to the voice and tone.
It is also an excellent way of elevating your chat experience without struggling.
There are some common Mic Monitoring issues on Xbox that you can encounter while you are using the feature on Xbox One:
1) Mic Monitoring On Xbox One Is Greyed Out
You will generally encounter this issue if you are using an adapter instead of a 3.5mm jack pin or if your wireless headset isn't connected properly.
To fix it, you need to unplug the headset, clean the jack and port on both ends and then reconnect the headset or adapter to the controller.
2) Mic Monitoring On Xbox One Is Not Working
If your Mic Monitoring on Xbox One isn't working, then follow these steps:
First, press the Xbox switch on the controller and open the menu.
Navigate to the Profile and System on the right and then select Settings.
Select "Volume and Audio Output" on the right in the General tab.
Click on the "Party chat output" option and select Headsets and Speakers or "Headsets" from the options.
3) Mic Monitoring Not Showing On Xbox One
If the Mic monitoring isn't showing on Xbox One, it is generally due to an issue with the console.
Resetting it will fix the issue, but before doing that connect another headset to verify whether the problem actually lies with the console settings or the headset is at fault.
Ensure the headset is properly connected. If it isn't, then the Mic Monitoring option is greyed out.
Frequently Asked Questions(FAQs)
How Does Mic Monitoring Enhance The Gaming Experience?
Mic Monitoring is known to enhance the gaming experience as it helps you to hear the important instructions, call-outs, and conversations by keeping you fully engaged in the action.
Can I Disable Mic Monitoring If I Don't Want To Use It?
Yes, Mic Monitoring can be enabled or disabled based on your personal preference.
Can Mic Monitoring Be Used In All Multiplayer Games?
Yes, Mic Monitoring can be used in most multiplayer games that support voice chat on the Xbox.
Does Mic Monitoring Require Any Additional Accessories?
No, Mic Monitoring doesn't need any additional accessories, but you should check your headset's specifications to ensure that it has Mic Monitoring capabilities.
Wrapping Up
That's all for Mic Monitoring on Xbox One. Mic Monitoring on Xbox elevates your gaming adventures to new heights and empowers you to fine-tune your communication style.
For any further assistance, let us know in the comment section below. We will revert at the earliest.