Firefox is a well-known browser and it has its loyal users. The browser may not be as popular as Chrome but in terms of usage share, it is still one of the most popular alternatives to Chrome. One feature that is particularly useful for fast surfing is the search suggestions.
However, even though the search suggestion feature is useful, some users find it annoying. "How to remove search suggestions in Firefox" is a commonly asked question in various Firefox related forums. In Firefox disable search suggestions can be a tricky thing for those who want to remove the search suggestions but don't know how to do it.
Seeing the confusion among the users for such a simple thing, we have written this article citing all the ways in which Firefox search suggestions can be disabled.
Also, check out this article on how to enable HTML5 on Firefox.
Why Remove Search Suggestions?
Search suggestions is an especially useful feature and I am certain most users find it helpful. However, some users also find it annoying because of how distracting it can become. This annoyance arises when the search suggestions are not what the user is searching for.
This creates a distraction for the user and slows them down. Some people have also raised concerned over the predictions being immoral, offensive, and controversial, as Google has been under constant criticism for the same. So, some users prefer to not use search suggestions to increase their surfing speed and productivity.
Different Type Of Search Suggestions In Firefox
In Firefox, you will find 3 different types of search suggestions. Search suggestions –
in the address bar from the previous address bar results.
from the bookmarks and history saved in your browser.
in the search engine that you are using.
To disable all the above types of search suggestions, you may need to try out a few different methods. These methods are given below, try them out one by one until you turn off search suggestions.
Firefox Disable Search Suggestions
Now coming to the main topic on how to remove search suggestions in Firefox. There are several methods to do it, try them all and it should be turned off.
Method 1: Turn Off From The Options Menu
The first method you should use is to turn off search suggestions from the settings of Firefox or the Options menu. This method is quite simple and should disable all the search suggestions you get in Firefox. To disable search suggestions from Firefox, follow the steps given below:
Open Mozilla Firefox and click on the menu button (it's the 3 horizontal bars icon on the upper right corner of the screen).
Click on the Options to open the settings of Firefox.
Now, there will be a search bar in the upper right corner. Type Search Suggestions in it. This will open the Search Suggestions menu directly.
Uncheck the Provide search suggestions box.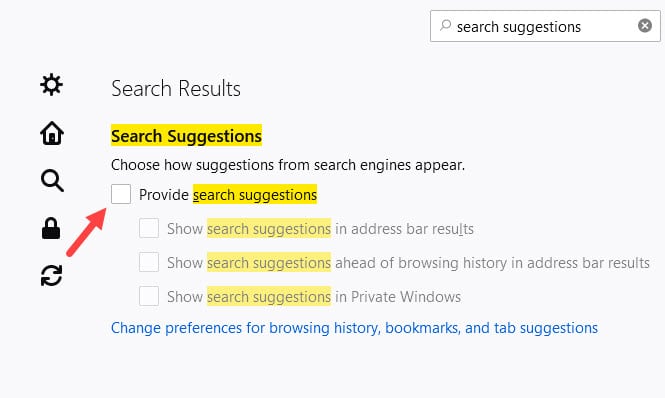 You can also disable specific types of search suggestions while keeping the others turned on from this menu. Example: if you want to disable search suggestions in address bar results, then uncheck only that box.
Now, this method should disable search suggestions from Firefox, but we know of some cases where users still get search suggestions after turning it off from settings. If you are also one of those rare cases, then try the next method.
Method 2: Disable From The About:Config
This method should be used only if the first method doesn't work for you. In this method, you will have to disable the search suggestions in the About:Config editor. To do it, follow the steps given below:
Open Firefox again and type about:config in the address bar and press Enter.
You will be greeted with a warning to take caution, as changing the advanced configuration performances without knowledge can lead to a performance or security threat.
Check the box and select the I Accept the Risk and Continue option.
Now, you will see that there is a new search bar on the page. Type urlbar.suggest.searches in it and press Enter.
The search result will show the parameter urlbar.suggest.searches with the value true. Change the value to false to remove search suggestions.

Finally, reopen Firefox and now search suggestions will no longer annoy you. This is how to remove search suggestions in Firefox.
Wrapping Up
So, there you have it. In Firefox disable search suggestions using the 2 methods given above. Also, if you are wondering how to turn on search suggestions after disabling it, just rollback the steps you have taken above, and it should be done. Don't forget to leave your views on this article in the comment section and also to discuss any issues you may face while using the above methods.