Nvidia has maintained its reputation as one of the best GPU manufacturers in the current date. Nvidia GPUs come with the GeForce Experience control panel that users can use to manage various graphics-related settings. The Nvidia Capture Server Proxy is a service that comes included when you download the GeForce Experience.
Many Nvidia card users get worried after seeing the Nvidia Capture Proxy process running in the Task Manager, as they were unaware of its existence. In this article, I have discussed what this service does and how you can disable it.
What Is Nvidia Capture Server Proxy?
At any moment, Nvidia will have multiple processes running in the background. These can be checked easily by opening the Task Manager (press Ctrl + Shift+ Esc) and checking the background processes.
You will likely see the following services processes running in the background:
Nvidia Network Service (NvNetworkService.exe): This feature comes with the GeForce Experience and is important for the update feature to work.
Nvidia streamer service: This service has been created to stream games from PC to Nvidia Shield devices.
Nvidia backend (NvBackend.exe): This is another service that is part of GeForce Experience.
Nvidia User Experience Driver Component (nvxdsync.exe): Some sources say that this service is used for 3D functions.
Nvidia GeForce Experience Service (GfExperienceService.exe): This is the main GeForce Experience service.
Nvidia Web Helper: The Nvidia Web Helper service is used to automatically download new drivers and install them.
The Nvidia Server Proxy service is associated with the Nvidia streamer service and Nvidia streamer agent. These services are required to stream games from PC to Nvidia Shield devices. If you have no intention of doing that, then you may want to disable it. Leaving the service as it is will lead to useless consumption of memory. Disabling them should free up some memory and help run your game better.
How To Disable Nvidia Capture Server Proxy Startup?
If you have made up your mind to disable the Nvidia server proxy service, then follow the steps given below to do it:
Open the Task Manager by pressing the Ctrl + Shift + Esc keys on your keyboard.
Select the Startup tab and right-click on the Nvidia Capture Server Proxy option.
Click on Disable from the pop-up menu.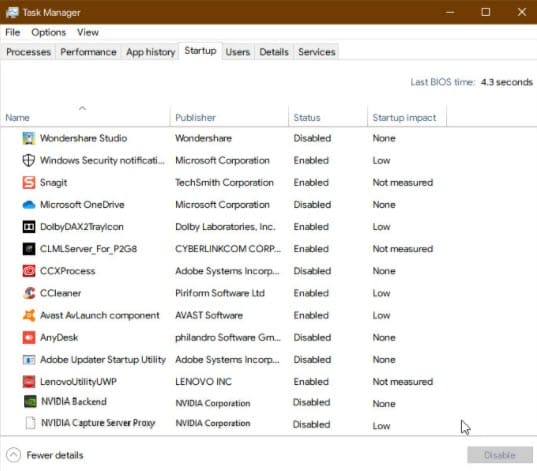 Now, press the Windows + R keys to open the Run utility.
Type services.msc and press Enter to open the Services app.
Locate the Nvidia streamer and Nvidia streamer user agent services.
Open them one by one and change the Startup type to Disabled. This will completely disable the Nvidia Server Proxy service.
Extra Tip: Disable Nvidia Web Helper
The web helper service can go rogue sometimes and disrupt other computer processes. If you are facing this issue, then you can disable Nvidia Web Helper service to fix it. To do it, follow the steps given below:
Open the Services app again.
Locate the Nvidia Networkservice Container and open it.
Change the Startup type to Disabled.
Wrapping Up
So, there you have it. Now you know what Nvidia Capture Server Proxy is and how to disable it. if you have any questions related to this topic, ask them in the comment section below.