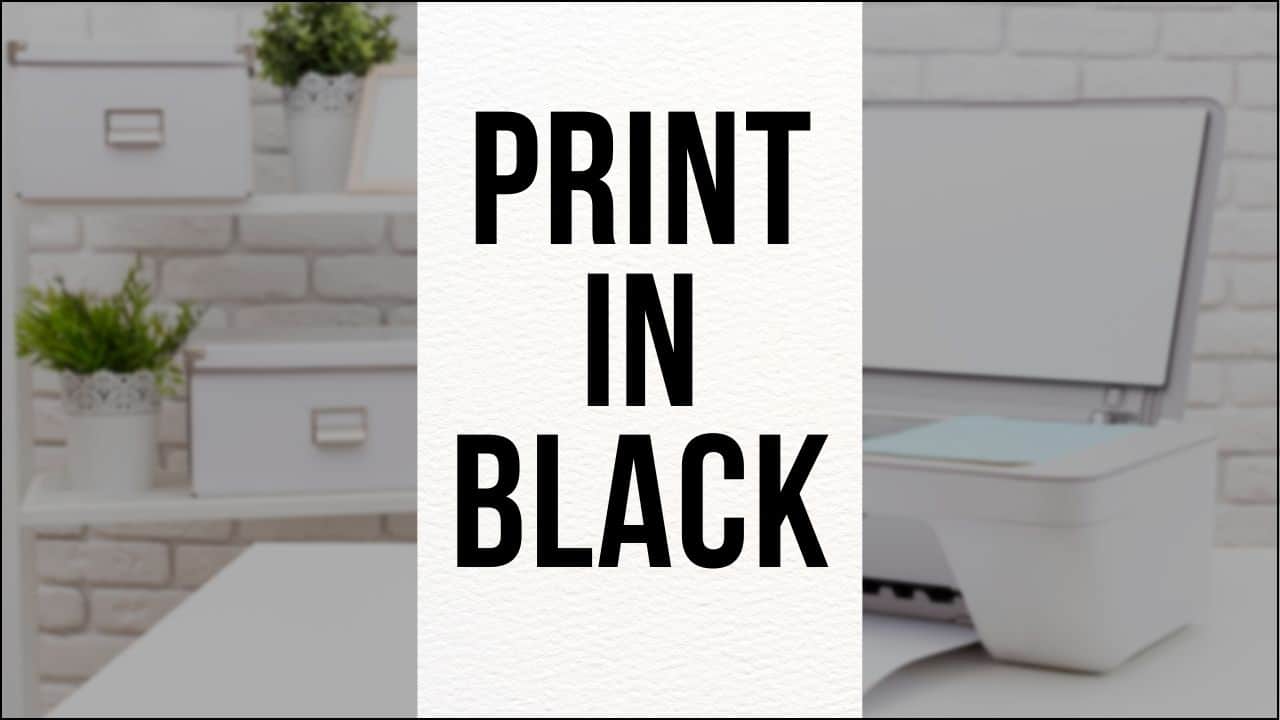 Sometimes you may want to print in black & white despite having a color printer.
This can happen in 2 different situations –
i. Color cartridge is empty,
ii. Color cartridge is full, but you want a black & white printout.
To know how to do it, go through this article.
Also read: How To Find Cost Per Page To Print [2022]
How To Print With One Cartridge When It's Empty?
By tweaking some settings, you can easily print documents with one cartridge.
Some modern HP printers have an in-built feature to prevent printing with an empty cartridge. Here are the techniques to print with an empty cartridge on your HP printer.
HP Printers That Can Print With An Empty Cartridge
There are certain HP printers which can print documents with empty or less cartridges.
178,364, 564, 655, 862, 902-920, 934, 935 ink cartridges allow you to print with one or more empty cartridges but also notifies you every time to replace the cartridge.
932, 933, 950,951-959, 962-969 ink cartridges do not allow to print with an empty cartridge.
21,22,27, 28, 56-67, 61/301, 63/ 302, 64/303, 65/304, 74,75, 92-98, 304, 305,901 ink cartridges allow users to use this feature.
But whenever you remove a cartridge, the printer will show a message that you are using a Single cartridge. Tap on Ok.
How To Print Black & White On An HP Printer?
To enable printing while the cartridge is not empty, follow the instructions given below:
Tap on the Menu button from the printer's control panel.
Select Service using the Navigation buttons and hit the Enter key.
Tap on the Restore Defaults option and hit the Enter key again.
This will reset the printer to its factory settings.
Now, follow the instructions to print only in black & white with a color printer while the cartridge is not empty.
Window:
Open the document you want to print and click on the Print option. Next open Print Properties.
Select the Color tab option and choose to Print in grayscale.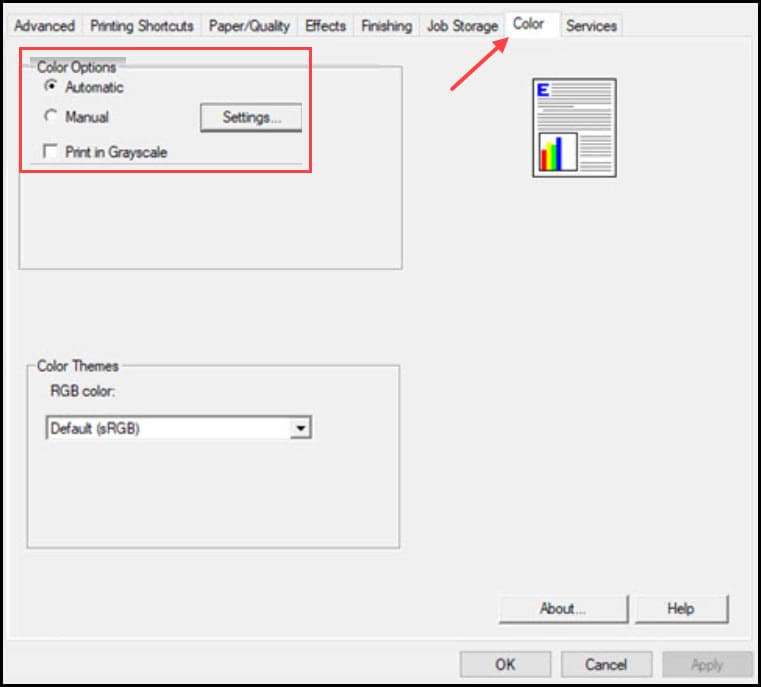 Click on the Apply and OK buttons to save the changes and close the window. Start printing!
Mac:
Open the file you want to print.
Choose the Print option or press Command + P keys open the printing tab.
Click on Show Details to access all the advance settings.
Select the Preset drop down box and from the list, click on the Black & White / Black & White – Draft option.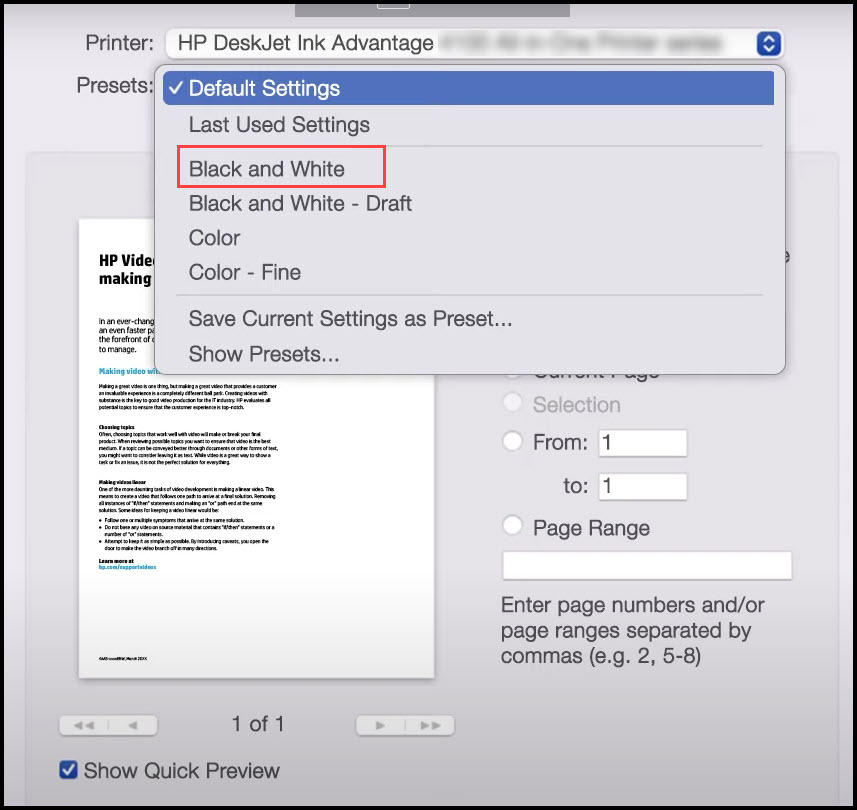 Now click on TextEdit drop down box and select the Paper Type/ Quality.
Expand the Color Options menu.
Select Color and click on the Grayscale option.
Choose the Grayscale Mode for high quality (high quality printing) & black cartridges only (basic printing only).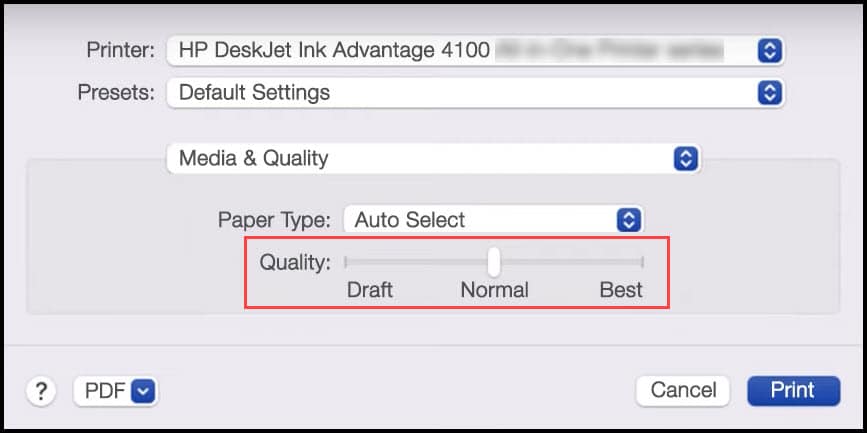 Again go to the Preset menu and expand the list. Click on Save the preset and name it.
If you are using multiple printers, then apply these settings for all printers from the menu and click on Apply.
Frequently Asked Questions [FAQs]
1. Will Printer Print In Black If Color Cartridges Are Empty?
Yes, you can print black or grayscale document even if the color cartridges are empty.
2. Can I Use My HP Printer With Only Black Ink?
Certain HP printer can allow users to print with only black link by tweaking some settings.
3. Can I Print In Black And White If I Have No Colored Ink HP?
Certain HP printers allow you to print with or one or more empty cartridges, but you can also change some settings in the device to enable only grayscale printing.
Final Words
There you are! Now you know how to print with black ink only when color is empty on HP printer.
If you still have any queries regarding the issue, ask us in the comments section below.