Facebook has become hugely popular over the years with millions of daily users logging in. With social media platforms, such as Facebook, we all share important or heartfelt messages with our contacts on Facebook Messenger. If these messages get deleted, it can become quite troublesome.
Recovering permanently deleted messages on Facebook can be quite tricky. There is no hundred percent way for recovering your deleted messages. However, there are many things you can try to achieve it.
In this article I have discussed how to recover permanently deleted messages on Facebook messenger.
Also read:
How To Recover Permanently Deleted Messages On Facebook Messenger?
If you want to recover your permanently deleted messages, then it can be done with the following methods. However, remember that there is no sure shot method for achieving, these methods can get you the data if they fulfill their clauses. However, trying is all you can do at this point.
Method 1: Check Archive
The first thing you can check is whether your messages has been archived. If the message has been archived, it will merely vanish from your inbox but it is not deleted. There is always a possibility that you chose the Hide Chat (for iOS) or Archive (for Android) option while trying to delete it.
To check your archived messages, follow the steps given below:
Open Facebook Messenger and tap on the Chats option.
Search the person, whose DMs you are trying to recover, on the search messenger box.
If you find the name of the person pops up, it means the messages were simply archived. Tap on the person's account and send any message to unarchive it.
Method 2: Try Downloading Your Facebook Data
It is known that Facebook tends to keep deleted messages on their servers for an unspecified amount of time. After a certain time period, the messages are removed from their servers and becomes unrecoverable.
Try downloading your Facebook data from their servers and then check if the DMs are still recoverable. To download your Facebook data, follow the steps given below:
Open Facebook and log into your account.
Click on the arrow icon present next to your profile name on the upper right-corner of the screen.
Select the Settings and Privacy option.
Click on the Settings option next. This will open your Facebook settings.
Select the Your Facebook Information option located on the left side.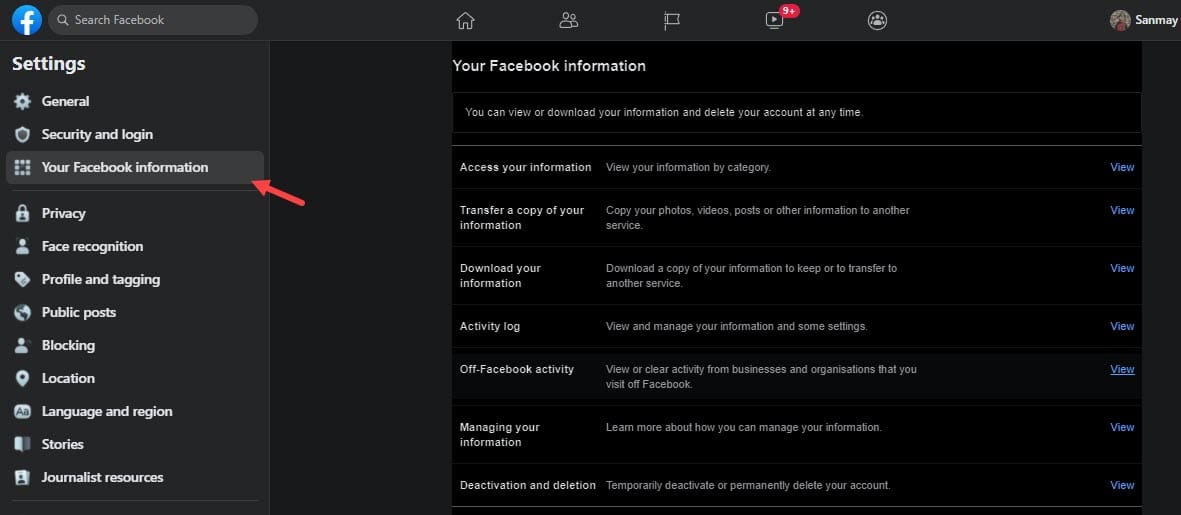 Click on the Download Your Information option.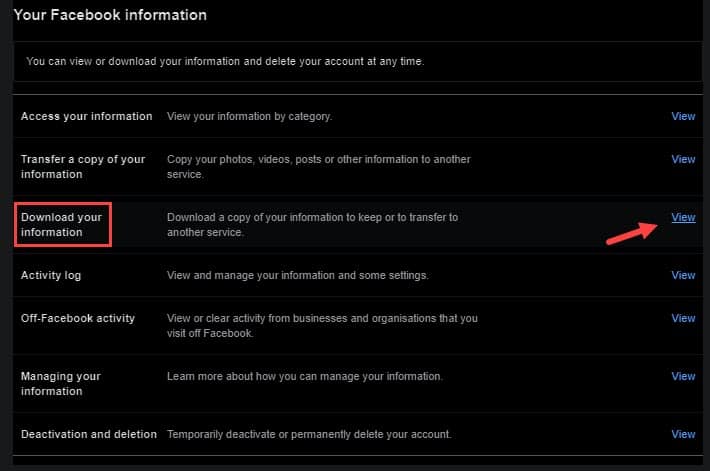 In the Data Range, select the date before you deleted the messages. Change the Format to HTML and set the Media Quality as you wish.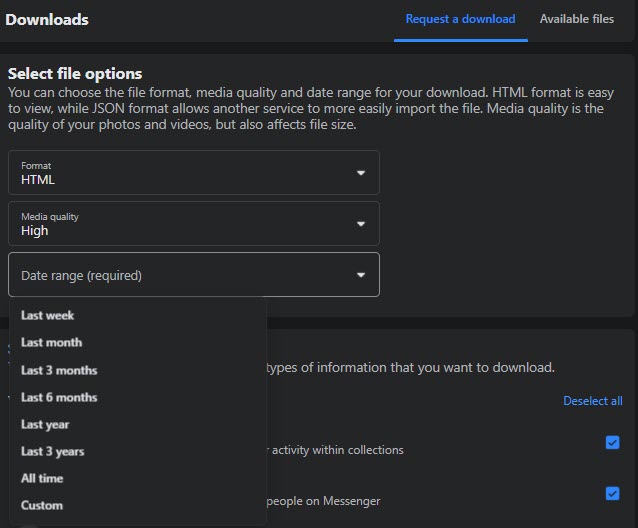 Make sure Messages are checked in the Your Information section.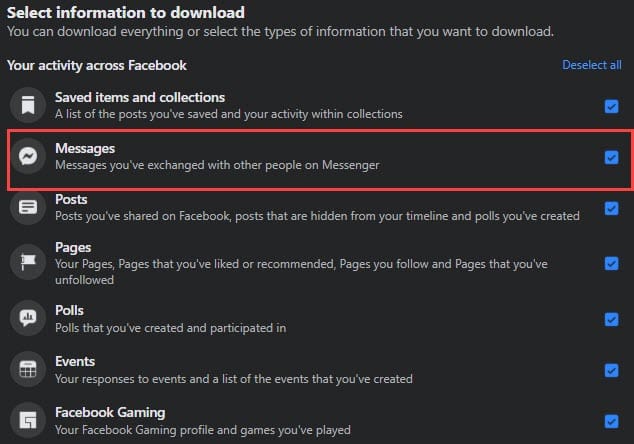 Uncheck anything that you don't want downloaded from the list.
Click on the Create File option.
A copy of your file will be made. The query will be in pending until Facebook accumulates your requested data for you to download.
Click on the Available Copies option and wait for the download link to become available.
Download it once available.
Method 3: Recover Facebook Data From Phone Cache
Another possible method you can try is recovering the deleted messages from your phone cache. Facebook messenger requires internet to function, and keeps its data on the Facebook servers. However, for easy data transaction, it also keeps a cache on your smartphone.
You can potentially retrieve deleted Facebook messages from the cache. To do it, follow the steps given below:
Disconnect from the internet.
Open the File Manager on your smartphone.
Navigate to the internal storage of your phone.
Locate the Android folder and open it.
Open the Data folder next and then open the Cache Folder.
Look for any fb_temp folder or something similar.
Copy this file to a separate part of your phone's memory.
Try looking through its data to check for your deleted messages.
Wrapping Up
So, there you have it. Now you know how to recover permanently deleted messages on Facebook messenger. If you have any questions related to this topic, ask them in the comment section below.