Steam for a long time didn't have strong privacy settings. With it rapidly growing in popularity and becoming a gaming community as much as a game distributing platform, they had to provide better security settings.
As the Steam community became more popular, it introduced better privacy settings to safeguard the users' accounts. In this article, I have discussed how you can access Steam privacy settings and change them as per your requirements.
Also checkout:
Details On Steam Privacy Settings
With the introduction of the Privacy Settings on Steam, users can now choose the visibility of their profiles, game details, and inventory. Here are the privacy settings that users can change on Steam:
You can change the visibility of your Steam profile.
The game details can now be hidden by changing the privacy settings of Steam. This includes making your total playtime private.
You can also change the visibility of your friends list.
Changing the visibility settings of your inventory is also possible now. This includes the feature to keep Steam Gifts private.
You can even decide who can read your posted comments.
Now, let's understand how changing the privacy settings of your profile, game details, friend list, and inventory will affect your user account.
My Profile: Changing the profile settings will change the profile summary, friends list, group memberships, Steam level, comments, showcases, and badges.
Game Details: This setting will change the visibility of all your purchased games, wish-listed games, playtime, achievements, and in-game status.
Friends List: This will change the visibility of your friends list, or in other words change who can view your friends.
Inventory: Changing the Inventory settings will change the visibility of whatever items you may have on your inventory, including the Steam Gifts.
Now that you have understood the various privacy details, let's see how to change privacy settings on Steam.
How To Change Steam Privacy Settings?
In Steam change privacy settings using the following steps:
Open the Steam app on your PC.
Login to your account if you are not logged in.
Click on your Profile name located on the upper right corner of the screen and select the View My Profile option.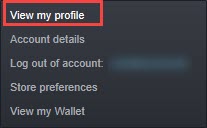 Now, select the Edit Profile option, located just below your Steam level.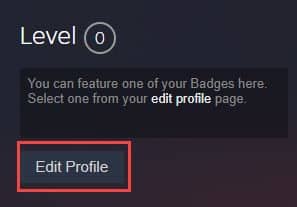 Click on the Privacy settings from the left panel.

Now you can change the Steam privacy settings as you want.
Wrapping Up
So, there you have it. Now you know how to change the Steam Privacy settings. If you have any other questions related to this article, ask them in the comment section below.