Steam, the game distributing giant, has remained one of the first choice for most gamers. It has its own community and the thousands of reviews makes choosing a game much easier.
But, there can always be mistakes with buying a game, maybe you bought it on the fly and later started regretting it, may be the game went on sale the next day, or you simply run into some cash issues and the newly bought game on Steam no longer looks appetizing.
Whichever be the case, the game can be easily refunded on Steam, if the correct rules are followed. Here I have discussed how to apply for Steam refund and what are the underlying rules you need to follow for getting a return.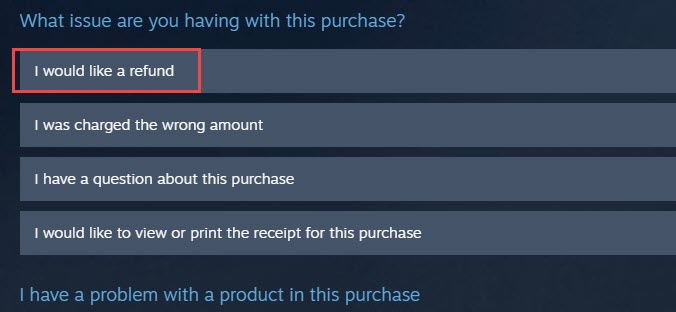 We have shown a VIDEO walk through at the end of the post for easy solution.
Also check out:
Steam Refund
Steam has laid down some clear cut rules on its return policy, which I have given a gist for easy reading below. However, Steam also promises that the user can ask refund for any game, even if they break the Steam refund policy.
This promise basically means that they will listen to you and may allow a return in a special case if your reason is compelling enough. Most of the time, Steam will follow its return policy, but there can always be an exception for your case.
Now, lets first learn the relevant parts of the return policy that you will need to know for refunding games on Steam. If you don't want to do that, simply skip to the end of the article to learn the steps for refunding games on Steam.
A Gist Of Steam Return Policy
This is a gist of Steam return policy. I have skipped some parts to only keep the relevant or important sections here. You can read the Steam Return policy to its entirety here if you want.
What Is The Steam Refund Time Limit After Purchasing Something?
Steam allows refunding of its products within 14 days of purchase. This applies to any game and software purchased from Steam store. Also, the game or app needs to have less than 2 hours of playtime.
What Is Steam's DLC Refund Policy? [Downloadable Content Policy]
Any DLC purchased from Steam can be refunded, as long as the game developer allows the DLC refunds for their games. In other words, refunding DLCs differ from game to game.
Other than that, the same rule of Steam refund time limit applies here as only DLCs purchased within 14 days, and the underlying title is played less than 2 hours of the DLC purchase (not the game purchase). Also, the DLC content must not be consumed, modified, or transferred, otherwise it will no longer be eligible for refund.
How Does Refunds On In-Game Purchases Work?
For any in-game purchase from within any Valve-developed games, Steam will offer a refund within 48 hours of purchase, as long as the in-game item has not been consumed, transferred, or modified.
For third party developers, the in-game items can be refunded for the same rules mentioned above if the developers enable it. Steam will mention whether the developer of the game you are purchasing the item has opted for refunds for the item you are buying.
Other than that, all in-game purchases from non-vac games are non-refundable through Steam.
What Is The Steam Refund Policy For Pre-Purchased Titles?
If you have pre-purchased a title and want to refund it, you cannot ask for a refund until the game has released. The standard Steam refund time limit will also apply here, which will start from the release date of the title.
How Long Does It Take To Get A Refund From Steam?
After asking for a refund, it will go into approval. From  the date of approval, the full refund of the purchase will be issued within a week.
How Will You Get The Refund?
Steam will issue the refund using the initial payment the user made. In case Steam is unable to refund using the initial payment method, the entire value will be refunded to the user's Steam wallet. Also, the user may ask for a refund on their Steam wallet, which "unofficially" seems to have a better chance of acceptance when it comes to refunds outside the Steam policy.
What Is The Refund Policy For Renewable Subscriptions On Steam?
If you are using any renewable subscriptions on Steam, which may provide periodic content or services, Steam offers periodic access with recurring payments, then you can request for a refund within 48 hours of any automatic renewal of the recurring charges or initial purchase, as long as the content of the renewable subscription has not been used during the current billing cycle.
The renewable subscription's content will be considered used if the user plays any of the games during the refund in question's billing cycle, or in case of renewable services, any benefits of the service, even discounts, has been used, consumed, modified or transferred.
Also, remember that any active renewable subscription can be terminated from Steam Account Details. After the renewable subscription is canceled, the user can use or benefit from the subscription until the last payment's billing cycle ends.
How To Get Refunds On Bundles Purchased From Steam?
Steam will give a full refund for bundles that are purchased from the Steam store, only if the items of the bundles have not been transferred or the usage time of the combined bundle is less than 2 hours.
If the bundle includes non-refundable in-game items and DLCs, Steam will notify during the purchase of the bundle on whether the entirety of the bundle is refundable. So, pay attention while purchasing from Steam.
Will Steam Refund For Purchases Made Outside Of Steam?
No, Valve cannot/will not provide refund for any purchase made outside of Steam. Even for CD keys or Steam Wallet cards bought from third parties will not be refundable from Steam.
How To Get Steam Wallet Refunds?
If you have added money on Steam wallet and want a refund, then you can request a refund within 14 days of the purchase, only if they were made on Steam and if the funds have not been used.
How Does VAC Ban Affect Steam Refunds?
Any game that you have been VAC banned from, cannot be refunded. Even if all the refund policies are followed, you still lose the right to refund the game when your account is VAC banned.
What Is The Video Content Refund Policy On Steam?
Steam cannot provide a refund for any video content purchased from its store, like movies, shorts, series, episodes, and tutorials, unless the video is part of a bundle with other refundable content (non-video).
Can I Get Steam Refunds On Gifts?
Yes, gifts can be refunded on Steam. If the gift remains unredeemed, it can be refunded with the Steam refund time limit in mind. If the gift has been redeemed, then the same time limit will apply for the refund, when initiated from the gift recipient's side. The full amount will be refunded to the original buyer in both the circumstances.
Can I Get A Refund For An Item Purchased Right Before It Went To Sale?
If you want to refund an item after purchasing it, because it went into sell after your purchase, it can be done as long as the Steam refund guidelines are followed. Steam does not consider this type of refunds as abuse.
Consequences For Abusing Steam Refunds
Steam explicitly mentions that Steam Refunds are for removing the risk from purchasing titles on Steam and not a way to get some free games. If Steam considers your action as abusing its policies, it can revoke your right to refund in its entirety.
How To Apply For Steam Refund?
Here I have discussed the steps for applying Steam refunds on your purchases. This includes how to refund DLC on Steam. Remember you can apply for a refund even if you don't meet the above Steam policy. You request getting accepted or rejected is another matter, but you can still ask for refund.
How To Apply For Steam Refund For Purchased Steam Game?
If you want to apply Steam refund for a purchased game, follow the steps mentioned here:
Visit this link.
Log into your Steam account.
After you have logged in your account, click on the Purchases option.
Select the purchase you want to refund.
Click on the I would like a refund option.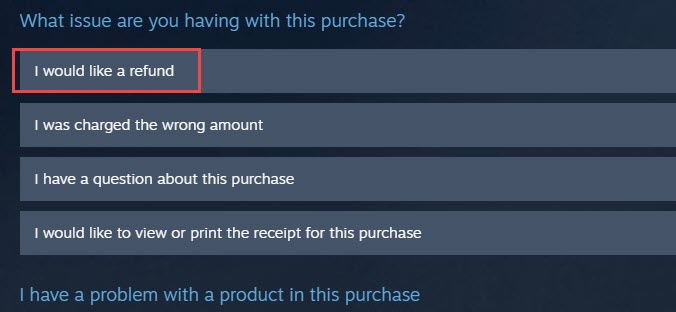 Next, select the I'd like to request a refund option.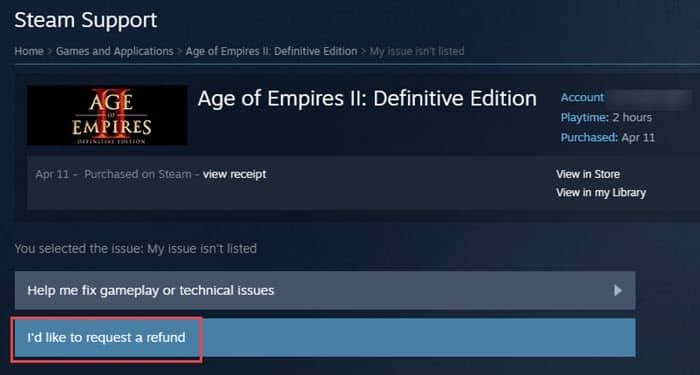 Finally, select the issue you are facing and fill the notes describing your reason for the refund.
Click on Submit request to send your refund request to Steam.

So, how to refund DLC on Steam? Use the same steps mentioned above and simply select the DLC from the purchase menu.
Wrapping Up
There you have it. Now you know how to apply for Steam Refund and when you can apply for a Steam refund. If you have any questions regarding this topic, ask them in the comment section below.