Twitch is a great source of entertainment for many across the world. Millions tune in each day to watch their favorite streamers. What if you are unable to watch Twitch one day? Horrifying? Well, many Firefox users are facing this issue.
Many have reported that Twitch not loading on Firefox. Twitch is supported on Firefox, so this is likely a bug that these users are facing. If you are also facing this issue on Twitch, then don't worry as in this article, I have discussed what to do when Twitch not working on Firefox.
Why Twitch Video Not Loading On Firefox?
There can be various reasons for Twitch to not load on Firefox. Here are some potential causes of this error:
Corrupted cache: One of the likely causes of this issue is corrupted Firefox cache. A corrupted cache can lead to multiple browser-related issues and errors, including Twitch not loading.
HTML5 is disabled on Firefox: If you are unable to play HTML5 videos like YouTube or Twitch, it says that the HTML5 player is disabled in Firefox.
Hardware acceleration: Some users have reported that having Hardware acceleration enabled on Firefox prevents Twitch videos from loading.
Corrupted installation files: Firefox installation files may have become corrupted, which is not loading all websites.
Twitch is blocked on Firefox: If Twitch is in the list of blocked websites on Firefox, then you will be unable to load it.
Check your internet connection: If Twitch videos are not loading on Firefox, then it can be related to your internet connection. To stream high-quality videos on Twitch, you need good internet speed and a stable internet connection.
What To Do When Twitch Not Loading On Firefox?
Now that you know the potential causes of Twitch not working on Firefox, it is time to troubleshoot it. Follow the troubleshooting procedure provided below to fix this issue.
Solution 1: Check Your Internet Connection
If Twitch is opening but you are unable to load any videos, then the first thing you must check is the internet speed and stability. To do that, open one of the websites provided here and run the test:
Once you have checked your internet speed, read this article to learn whether it is sufficient to stream Twitch videos.
Once you have checked your internet speed, read this article [Include Link] to learn whether it is sufficient to stream Twitch videos.
Solution 2: Check Twitch Servers
This issue may not be the fault of Firefox but of the Twitch servers. The Twitch servers can be down, and it won't matter whether you use Firefox, Chrome, or even the Twitch app, as until the servers are back online Twitch won't load. To check whether Twitch servers are down, check Twitch's social media pages like on Facebook and Twitter.
Solution 3: Clear Browsing Cache
The next thing you can try is clearing the cache data on Firefox. The corrupted cache can lead to several browser related errors. To clear the browser cache on Firefox, follow the steps given below:
Open Firefox.
Press Ctrl + Shift + Delete keys to open the Clear Recent History prompt.
Check the Cookies and Cache boxes in the prompt.
Change the Time range to clear menu to Everything.
Click on the OK to clear it.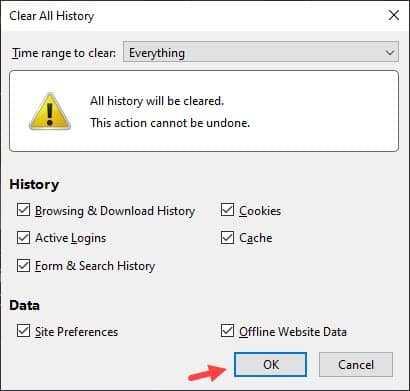 Now, try opening Twitch and load videos. The issue should be resolved if it was caused by a corrupted browser cache.
Solution 4: Check If HTML5 Is Enabled On Firefox
If you are unable to play any videos on YouTube, Twitch, or other HTML5 videos in Firefox, then HTML5 may not be enabled on Firefox. To enable HTML5 on Firefox, check this article (here). After you have enabled HTML5, Twitch should load on Firefox.
Solution 5: Check Extensions
The addons that are installed in your Firefox can be triggering this issue. There are extensions that can block websites and there are also extensions that are corrupted or faulty, which hampers the functionality of the browser. Check the extensions installed in Firefox and disable all of them. See whether this allows Firefox to load Twitch. To disable extensions in Firefox, follow the steps given below:
Open Firefox and click on the menu button (3 horizontal lines) located in the upper right corner of the screen.
Click on the Add-ons option from the menu.
In the Manage Extensions section, you will find all the installed extensions listed.
Click on the toggle beside each of the extensions to disable them.

After you have disabled all the extensions, restart Firefox. Now try loading Twitch. If Twitch loads without any issue and you can stream videos, then one or more of the extensions were instigating this problem. Enable the extensions one by one and each time check if Twitch is loading. This way you will be able to pinpoint the extensions causing this issue. Once you know the problematic extensions, remove them from Firefox.
To remove the extensions, click on the 3 dot button beside the extensions in the Add-ons menu and select the Remove option. After the problematic extensions are removed, this issue should be resolved.
Solution 6: Disable Hardware Acceleration
Another solution that worked for some users is disabling the hardware acceleration in Firefox. You can also try doing it if still Twitch not working on Firefox. To disable hardware acceleration, follow the steps given below:
Open Firefox and click on the menu button.
Select the Options button from the menu.
Scroll down to the Performance section.
Uncheck the Use recommended performance settings box. The hardware acceleration option will get unlocked.
Uncheck the Use hardware acceleration when available box.
Restart Firefox.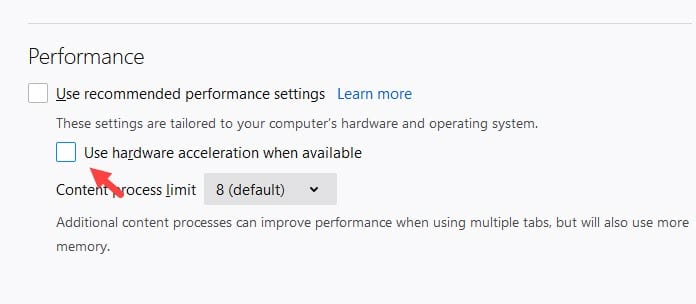 Now, try opening Twitch and loading videos. Check if still Twitch video not loading Firefox.
Solution 7: Reinstall Firefox
If none of the above solutions work, try reinstalling Firefox. To do it, follow the steps given below:
Press the Windows + R keys to open the Run utility.
Type appwiz.cpl and press Enter to open the Programs and Features window.
Right-click on the Firefox option and select the Uninstall option.
Follow the on-screen instructions to complete the process.
After Firefox has been uninstalled, visit the following link (here) and download the latest version of Firefox.
Install Firefox and see if Twitch loads.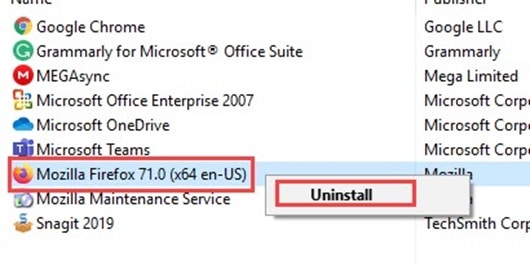 Solution 8: Use The Twitch App Or Other Browsers
If reinstalling Firefox also didn't fix this issue, reconsider using another browser. Also, you can use the Twitch app to stream Twitch content. If this issue is happening for all browsers, then try taking a look at the host file. Twitch may be blocked from access in the host file. You can read this article to find out more.
Wrapping Up
So, there you have it. Now you know what to do when Twitch not loading on Firefox. The above solutions should help you diagnose and troubleshoot this issue. If you have any questions related to this topic, ask them in the comment section below.