Microsoft developed its new web browser Edge to compete with other internet browsing applications like Chrome and Firefox. They stopped updating Internet Explorer and put all their efforts behind Edge as the new default browser for Windows 10.
They included many new features to enhance user experience and it also runs very well on low-spec PCs. But it still lacks in comparison to the other top browsers like Chrome and Firefox. Many users who don't use Edge want to uninstall it. In this article, I have discussed how to uninstall Microsoft Edge from Windows 10.
Also, check out this article on how to uninstall Notepad on Windows 10.
We have shown a VIDEO walk through at the end of the post for easy solution.
How To Uninstall Microsoft Edge?
So far, we only know of 2 methods to remove Edge from Windows 10. The 1st method can disable Edge while the 2nd one can uninstall it. However, Microsoft keeps updating Windows to make it harder for users to uninstall Edge. So, by the time you are reading this article, it is possible that they may have stopped working.
Method 1: Rename Edge's SystemApps Folder
You can use this method to disable Edge. To do it, login as an administrator and follow the steps given below:
Press Windows + E keys to open the Windows File Explorer.
Navigate to the following location:
C\:Windows\SystemApps, where C: is the system drive.
Locate the Microsoft.MicrosoftEdge_8wekyb3d8bbwe folder and right-click on it.
Select the Rename option from the pop-up menu and change it to Microsoft.MicrosoftEdge_8wekyb3d8bbwedisable. Renaming anything is fine, but this will make it easier to rename it back when you want to enable it again.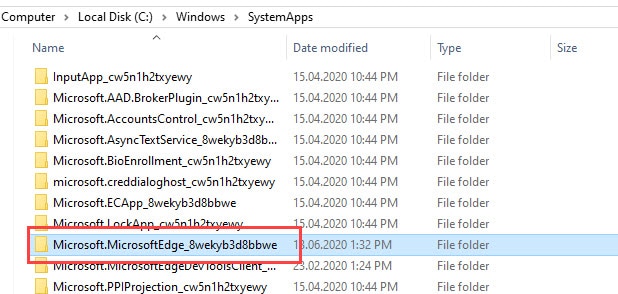 Confirm the pop-up prompt and Edge should now be disabled.
Method 2: Use PowerShell To Uninstall Edge
This method for now, is the only known way to uninstall Edge from Windows 10. However, future Windows 10 updates can even restrict PowerShell to uninstall Edge. If this method doesn't work for you, then Microsoft has probably already done it.
Anyway, follow the steps given below to uninstall Edge browser from Windows 10:
Press the Windows + X keys and then click on the Windows PowerShell (Admin) option from the pop-up menu to open PowerShell with administrator privileges.
Type Get-AppxPackage | Select Name, PackageFullName in the PowerShell, and press Enter. This command will show all the Microsoft Package details on your screen. Copy the Edge package name.

Now, type Get-AppxPackage <PackageFullName> | Remove-AppxPackage and enter the actual package name of Edge that you copied in <PackageFullName> place and press Enter.

After the command finishes running, PowerShell should uninstall Edge browser.
Wrapping Up
So, there you have it. Now you know how to uninstall Microsoft Edge on Windows 10. Remember, it is possible that the above methods won't work when you are reading this article. If you have any questions related to this article, then ask them in the comment section below.