The look of your desktop plays an important role in creating a good working ambiance. It reflects your personality and preferences.
Windows operating system offers you several customizable options to change the appearance of your desktop.
Each new version of Windows is released with more configurable options.
Despite being more customizable than other OS, the options are still limited. You can only change a few wallpapers and theme colors.
Here, you need to use third-party applications like Rainmeter to add a zing to your desktop.
What Makes Rainmeter Popular?
Rainmeter does not provide only static photos and art. It is a free, open-source program to customize and adorn the desktop background.
The Rainmeter skins are aesthetically pleasing and there is almost nothing you cannot customize with Rainmeter.
Besides creating custom widgets for your Windows, you can also use it as an alternative to conventional taskbar icons.
One can easily organize clock faces, weather forecasts, music controls, calendars, system information, battery life, game scores, and more using Rainmeter.
Besides customizing and modifying a single skin, you can keep on experimenting with innumerable skins available to refresh your desktop anytime and every time.
Rainmeter Skins Are Highly Customizable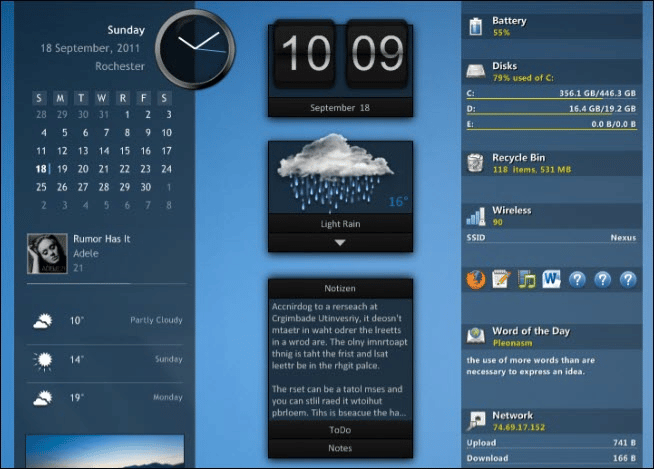 Rainmeter skins come in a wide variety of ranges. The skins are designed keeping in mind the choice and preferences of every user.
Some people want to keep it minimal and elegant while some love to be funky and innovative.
Whatever look you prefer for your Windows, you will get plenty of options to choose from.
You can use the Rainmeter skins along with your wallpapers and customize the icons.
To well organize the apps, quick settings toggle, music controls, CPU, RAM storage widget, date & time widget, and Rainmeter skins are a must-have.
The avid gamers will also get options to launch many gaming tools at a single click using Rainmeters.
There are plenty of themes to suite your taste, ranging from spectacular landscapes, spicy city life, and vintage themes to your favorite anime or superheroes.
Some skins include large suites and have their own tools to customize their appearance & form.
Each skin works differently and you have plenty of customizable options to tweak the look and function of your Rainmeter skin.
There is no limit to modify a Rainmeter skin. One can keep on experimenting. The choice is up to the user.
Is Rainmeter Safe To Use?
If you are wondering if Rainmeter skins are safe to use, then the answer is yes.
Rainmeter itself is free from any virus or malware and has been tested by the leading antivirus programs.
But make sure to download a Rainmeter skin from its official website.
Sometimes your antivirus program or Firewall may give false alerts as they might interfere with the Rainmeter add-ons.
But keep in mind that the more skins you load the more it will drain the battery usage.
Does Rainmeter Skin Eat Up Your RAM?
Rainmeter uses little resources and is compatible with the Windows operating system, from Windows 7 to 11.
It depends upon the skins you are loading. Some skins use more resources than others.
So, make sure not to load too many Rainmeter skins and turn off the animations if they seem too heavy.
Closing Up
So, keep experimenting with Rainmeter skins to reorganize and monitor your desktop in a cool way.
For any further information, ask us in the comments section below and we shall revert soon.