After Windows 10 was released, many users who were using the older versions noticed that their Windows 10 product key was not working. This problem sadly is still met by many users who try to update from previous Windows versions to Windows 10.
This is a serious problem and can be very distressing for the users. That's why in this article we have discussed the various ways in which one can diagnose and troubleshoot this problem.
Solving The Windows 10 Product Key Not Working Issue
This problem can be caused by various different reasons. Users can face different errors that basically lead to the Windows 10 activation key not working.
First, we have discussed some of the errors that can cause this problem and also how you can troubleshoot them. After that, we have discussed some other causes and their fixes.
Solution 1: Troubleshooting Error 0xC004F061
This is the most common error that users get when their Windows activation fails. This error indicates that you have upgraded to Windows 10 but the previous Windows (the Windows version your key is from) is not installed.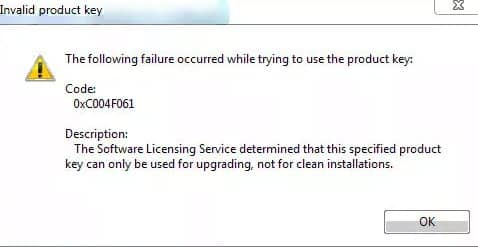 You would need to install the previous Windows of which you have the activation key, then update to Windows 10 and then use your key. Otherwise, your key will fail to activate Windows 10.
You will have to do this each time you format or replace your hard disk, as the key is from a previous Windows version, so directly installing Windows 10 may not work.
Solution 2: Troubleshooting Error 0xC004C008
If you get the 0xC004C008 error when your Windows 10 product key doesn't work, then it basically means that there is already another copy of this Windows installed on other computers and it has exceeded the number of PCs the Microsoft Software License Terms has allowed for this license.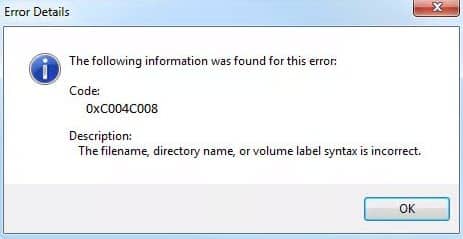 As you may not know, the Microsoft Software License Terms only allow a specific number of computers to have the Windows installed using the product key, as per the license bought by the user.
Check if you have used this product key on computers more than what the Microsoft Software License Terms allow. If yes, then you will have to buy a new product key if you want to install Windows 10 in more computers. Or you can unregister Windows from one of the other computers to install in the new one.
Solution 3: Check If A Different Product Key Was Used During The Repair Of Your Computer
If you are facing this problem after you got back your PC from a repair shop, then it is very likely that a different version of Windows has been installed by those in the repair shop while they were repairing your computer.
A different activation key can also be used rather than a different Windows version in this case. You can try reinstalling Windows and then try your activation key and see if it works.
Solution 4: Check If You Are Using Counterfeit Windows
If still the Windows 10 activation key not working, then you should check if your Windows is genuine. You won't be able to activate counterfeit Windows as Microsoft will not be able to establish a match between the computer's hardware and the activation key.
To check if your Windows is counterfeit, visit this Microsoft page to check if the licensing is correct or download and run this MGADiag.exe tool.
If you find that the Windows you have bought is a counterfeit software, then you should report it to Microsoft by going to this page.
Solution 5: Check Your Internet Connection
If you have directly bought Windows 10 rather than any previous Windows, then you definitely didn't get any product key with it. In Windows 10 the activation is conducted directly through the internet, and that's why the users who buy Windows 10 don't get the DVD activation key like the previous Windows versions.
This is a great change as now users don't need to fear that they will lose the product key, which obviously can put anyone in stress. But not everything is great with this change, as the activation is done completely online, so the Microsoft servers have to take a lot of strain.
Sometimes the Microsoft servers can be overloaded, thus causing this problem. If your Windows 10 product key doesn't work, then try using it after some time (a couple of hours at least) as the Microsoft servers can be down for that moment.
Also, your internet connection speed may be slow or unstable. Check if your internet connection is running smoothly. Do a speed test and also a stability test of your internet connection. If you find any problem, then report them to your network provider. Once the internet connection is working correctly, try again to activate your Windows.
Solution 6: Check If You Are Trying To Activate The Correct Windows 10 Version
Many users have reported that they faced this error due to a simple mistake that is they tried to use the activation key of Windows 10 Home on Windows 10 Pro.
Windows 10 has two versions Home and Pro and if you have bought the product key of Windows 10 Home, then it won't work on the Pro version and vice versa. It's a simple mistake, but it can cause serious confusion in users.
Solution 7: Reset Your License Status
If the activation process gets glitched somehow because of which Windows 10 key is not working, then it should get solved after resetting the license status.
To reset the license status, follow the steps given below:
Open the Run utility by pressing the Windows + R keys on your keyboard.
Type cmd and press the Ctrl + Shift + Enter keys to open an elevated Command Prompt on your screen.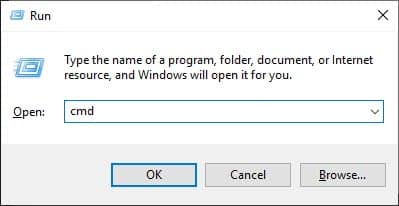 Type the command: slmgr.vbs -rearm and press Enter.
After the command runs, close the Command Prompt and restart your computer.

Now, try to activate Windows. This solution should resolve the Windows 10 product key not working issue.
Solution 8: Force The Activation Using Command Prompt
If none of the above solutions could solve this problem, then you can try forcing the activation process. There is a command that you can use to force the activation of Windows, to use it follow the steps given below:
Open the elevated Command Prompt again by following the Solution 6.
Type the command: slmgr.vbs -ato and press the Enter key.

Once the command is executed, the Windows 10 key not working issue should be resolved.
Wrapping Up
So, now you know what to do if your Windows 10 product key is not working. If you are facing any errors during the activation process, then make sure to check the Solutions 1 and 2. The above solutions should fix this issue. As always, don't forget to comment below if you have any thoughts to share about this article.