Windows 10 shutdown log is an effective way to check how your computer shut down. If your computer shuts down automatically and you have no idea why it does, you can check the Windows shutdown logs and see why it happened.
Every event related to Shutdown can be revealed by the Shutdown log. In this article, I have discussed how to view shutdown logs in Windows 10, as well as what the shutdown event Id means.
Also, check out:
What Are Shutdown Event ID?
The event viewer tool in the shutdown log tells us all the events related to the shutdown of the computer. The Event Viewer shows certain shutdown event IDs to indicate certain events leading to the shutdown. Some of the shutdown event IDs are:
Event ID 1074: This ID will show when the PC restarts or shuts down properly by the user or if any app causes it.
Event ID 6006: This shows that the PC was shutdown cleanly.
Event ID 6008: This event ID tells that the PC was rebooted without cleanly shutting down first. This can occur if the system shuts down due to system failure or power loss.
How To View Windows 10 Shutdown Log?
Now, how can we view the Windows shutdown logs to check details on the previous shutdown? You can easily do it using the Event Viewer. Here are the steps to do it:
Press the Windows + R keys on your keyboard to open the Run utility.
Type eventvwr.msc and press Enter to open the Event viewer on your screen.
Navigate to the following location:
Windows Logs > System
Now, click on the Filter Current Log option in the right panel.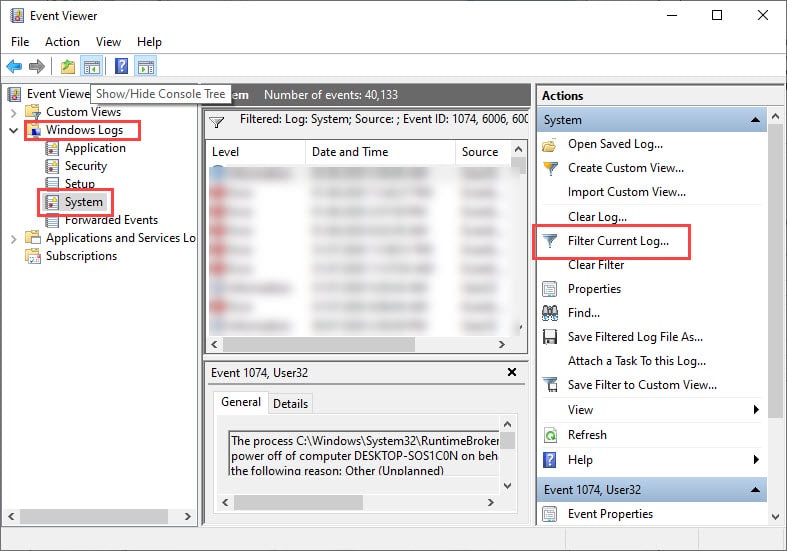 Type 1074, 6006, 6008 in the Includes/Excludes Event IDs section and click on OK.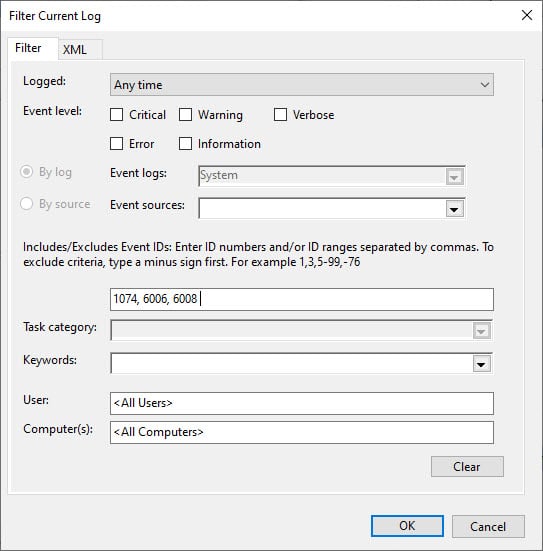 The Event Viewer will now display the event related to the shutdown. Now you can check the previous shutdown logs.
Wrapping Up
So, there you have it. Now you know how Windows 10 Shutdown logs can be viewed on your PC. If you have any questions related to this article, ask them in the comment section.