YouTube is a free video streaming platform, which is used by millions across the world. It is loved by the users because of the large variety of content like music, dance, news, games, movies and many other categories that are available on the platform.
Many YouTube users tend to play a playlist and do their work while watching videos or listening to music. That's why it is very annoying for users when the video just pauses suddenly without any reason.
There have been a lot of reports regarding how the videos on YouTube keeps pausing automatically. And we understand how annoying it can be for users to get up and resume the video all the time.
In this article, we will discuss on what can cause this problem and also how it can be fixed.
We have shown a VIDEO walk through at the end of the post for easy solution.
Why Does My YouTube Keep Pausing Itself?
"Why does YouTube keep pausing?" is probably the first question that pops in your mind when you face this problem. There can be various reasons for YouTube pausing videos automatically. Let's take a look at the different causes of this problem:
YouTube has introduced a feature that stops the video on its own if the user has not interacted with it for a given period of time.
This problem can also happen if your internet connection is slow and you are watching the video at higher resolutions.
The internet browser you are using can also be the culprit of this problem.
Solving The 'YouTube Keeps Pausing' Issue
As mentioned above, there are various different causes of this problem. Now, it's time to troubleshoot them one by one.
Solution 1: Use The YouTube Non-Stop Extension
YouTube can stop your videos if you have not interacted with YouTube for a specific amount of time, this feature was introduced in 2019 specifically for those users that listen to music in a loop on YouTube.
These users would generally play songs in the background from playlists for hours, and as it would be played in the background the users won't watch any ads. So, when the user doesn't watch any ads, then YouTube doesn't earn any profit from it.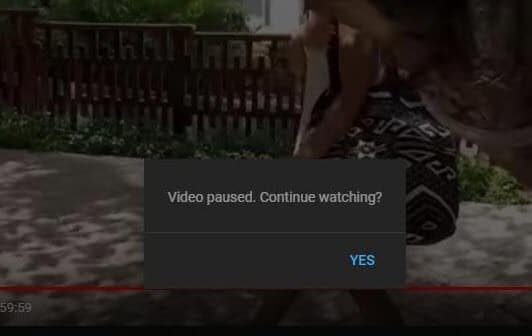 To stop this they introduced this auto pausing feature, which pauses the video after a specific period of inactivity and then asks you to press OK or YES to play the video again. This might help YouTube earn their profit but definitely annoys the users a lot.
There is a simple way you can bypass this feature using the YouTube Nonstop extension that is available for both Mozilla Firefox and Google Chrome. This extension would not stop YouTube pausing videos, but rather select the OK button automatically when it appears.
Solution 2: Check Your Internet Connection
If the video is pausing frequently, then the video is probably just buffering rather than pausing. Buffering can happen when the internet connection is slow, and the video is being played at a high resolution.
Make sure to run a speed test to assess the speed of your internet connection. Also, try watching the video in a lower resolution and check if this problem gets resolved. If you do find any problem with the internet speed, then contact your internet service provider and inform them about it.
Solution 3: Free Up Your Bandwidth
If your internet connection is fast enough to play the video without buffering, but still this problem is bothering you, then there is a possibility that the bandwidth is getting used up.
Check, if any download is happening in the background when you face this problem, also check if Windows is updating itself. If you have a router, check if there are any unknown devices connected to it.
Turn off the router and modem and restart it after some time. Now, check if still YouTube is pausing videos.
Solution 4: Troubleshoot Your Browser
If none of the above solutions worked for you, then the problem may be of the browser. Check if your browser is up to date, if not then update it and see if the problem persists.
Also, try using a different browser to see if this problem is occurring or not. You can also download the YouTube app for Windows and check if this problem also occurs there.
Wrapping Up
So, now you know what to do if YouTube keeps pausing the videos you play. The troubleshooting methods given above should help you with this problem so read and execute them carefully. Don't forget to share your thoughts on this article in the comment section below.