Twitch is one of the most popular streaming platforms on the internet. Millions of users tune in to Twitch every day to watch their favorite streamers.
Twitch runs ads on its streams to earn profit from the platform.
These ads are important as they are providing profit for the platform to keep running as well as support the content creators.
However, some ads can be very annoying, and many users prefer to block them.
Till 2020, Adblock blocked Twitch ads without any issues. Since then, users have complained that Adblock is not working on Twitch.
In this article, I have discussed how to block twitch ads in detail.
How To Block Twitch Ads?
Here are some methods to block Twitch ads. Read all the solutions given below carefully before executing them.
Solution 1: Update Adblock
Most users have Adblock for blocking ads on Twitch. But Twitch ads has been tricky lately and users have found that AdBlock is not working on Twitch.
To fight the changes, AdBlock also updates itself to find ways to block ads. If your Adblock is outdated, try updating it and see if that lets it block ads on Twitch.
To update Adblock on Chrome, follow the steps given below:
Open Chrome and click on the Menu button (3 dots icon).
Select the More tools option and click on the Extensions options.
In the Extensions menu, turn on the Developer mode toggle located on the upper right side of the screen. This will unlock some options on the top of the screen.
Click on the Update option to update all the installed extensions.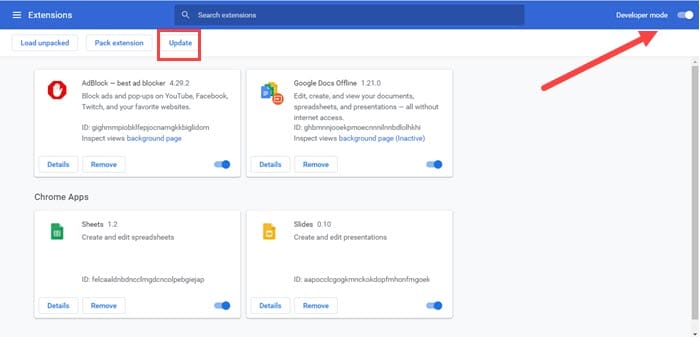 Now, restart Chrome and open Twitch to check if the Adblock is working.
The ads on Twitch should get blocked by AdBlock now. However, if still Twitch ads are not blocked, try the next solution.
Solution 2: Change Adblock Settings
Most AdBlock extensions start blocking ads the moment they are installed. However, many Adblock extensions require a manual change in settings before they start blocking Twitch ads.
Here I have shown how you can change the settings of the Adblock extension on Chrome to make it block Twitch ads. Follow the steps given below to do it:
Open Chrome and click on the Adblock extension's icon beside the address bar.
Select the menu icon (3 dots icon) of the Adblock extension. Click on Options.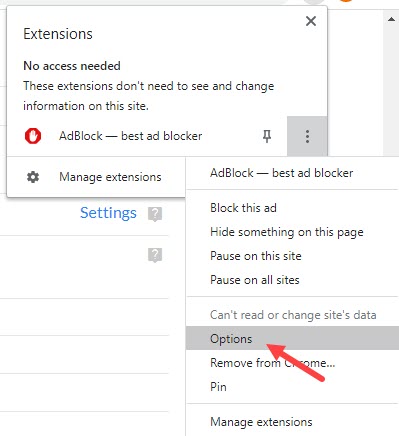 In the General tab, scroll down and uncheck the Allow ads on specific Twitch channels option.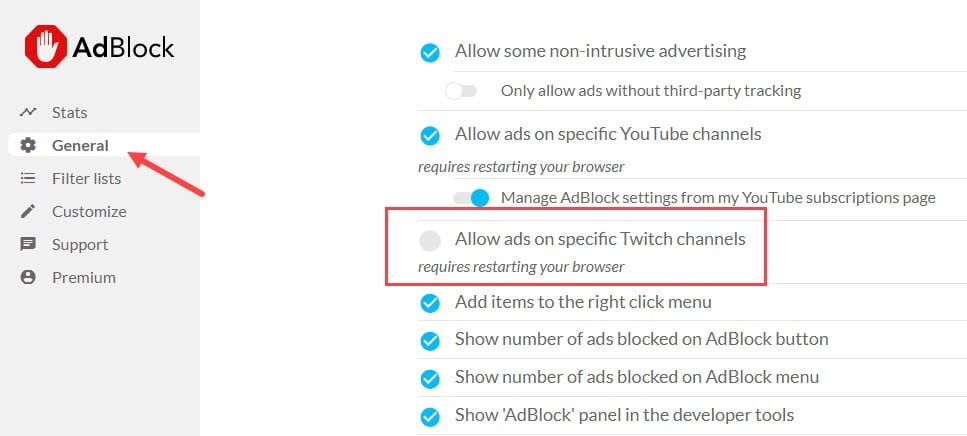 Restart Chrome and open Twitch.
Check if still Adblock is not working on Twitch. Changing the extension settings should make the AdBlock block twitch ads.
Solution 3: Change Advanced Chrome Settings
If Adblock is not working on Twitch when you are using Chrome, a little change in the advanced Chrome settings can fix it. To change Chrome advanced settings, follow the steps given below:
Open Chrome and type chrome://flags in the address bar. Press Enter to open Chrome Flags.
In the flags search bar, type Network Service and press Enter.
Disable the Runs network service in-process and Data reduction proxy with network service options that appear on your screen.
Save the changes before restarting Chrome.
Solution 4: Try Alternate Player
Alternate Player is an extension for Twitch that strips most of the ads from the live streams. This extension allows users to view the broadcasted live streams on another media player, like VLC Media player, MX player, etc.
You can add this extension on Chrome, Firefox, and Edge. Download and install this extension for the respective browser and be able to watch Twitch streams without the ads.
Solution 5: Skip Twitch Ads On Android
As you may know, Twitch has its android app. If you are using an Android device, you can watch the streams on the Twitch app rather than using the browser.
Using the Twitch app has may benefits, but here I am going to mention a benefit that is unintentional from Twitch. You can workaround Twitch ads while using the Twitch app on android by using a simple trick.
When an ad appears on the live stream in the Twitch app, simply press the Learn More option on the upper right corner of the media player. After doing that, immediately tap on the back button. This will skip the entire ad on the live stream.
If you want to use this trick on PC, then you will have to use Android emulators like Bluestacks to download the Twitch app on your PC. After that, you will be able to use this trick on the PC as well.
Solution 6: Get Twitch Turbo
If you dislike the Twitch ads and are not prepared to go through all the tedious process mentioned above, you can always buy the Twitch Turbo subscription. When you are subscribed to Twitch turbo, no ads will be played in the live streams that you watch. It is also a legal way of blocking Twitch ads.
Also checkout, 5 best streaming software for low end PCs.
Wrapping Up
So, there you have it. Now you know how to block Twitch ads. If Adblock is not working on Twitch, then the solution 1, 2, and 3 should be able to fix it for you. If you have any questions related to this article, ask them in the comment section below.