Internet is a vast space with infinite possibilities and threats. There have been many times when we come across a website where we want to use the service but are reluctant to give them our data or email address. In these situations, you can easily use a disposable email for a quick temporary use, without the need to worry about your privacy.
There are many disposable email services available that provide an email address in seconds, without requiring any of your personal info. Most of these services have temporary inbox. In this article, I have discussed the 10 best disposable email services that will provide you temporary email addresses in seconds.
Also read: 7 Best DNS Servers For Router – Complete Guide
Best Disposable Email Services
A disposable email service can come quite handy when making a temporary account on an unsafe website. Some disposable email services also provide temporary inboxes and some can send emails from the dummy account. Keeping all these various features in mind, I have compiled this list of best disposable emails that work.
1) Temp Mail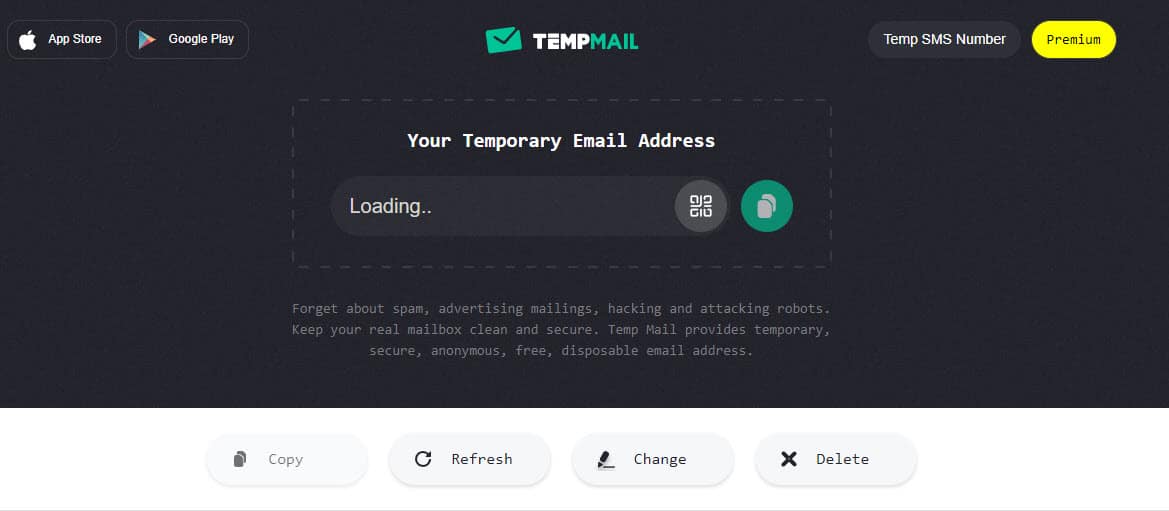 Temp Mail is the easiest and one of the most popular temporary email services out there. It is fast, free, easy to use and comes with a temporary mailbox. You can randomly generate email addresses after deleting the previous address, by clicking on the Delete option.
Many highly rated websites also allow logging in with a temporary email created with Temp Mail. One such example is Discord. The confirmation email will be sent to the temporary inbox which you can access easily from the Temp Mail website.
There is also a premium version that provides dedicated premium domains, up to 10 addresses at the same time, 100% private address with full ownership, email messages are stored for extended time, better privacy and security, no ads and premium support.
As a free temporary mail service, I have found Temp Mail to be the easiest to use with the most access.
Visit Temp Mail.
2) Email On Deck

Email on deck is one of the best temporary email services that provides quick throwaway emails for free. It also provides a free temporary inbox where you will receive any confirmation email for the duration of using the temporary account.
Getting a temporary email on EmailOnDeck is pretty simple. All it needs is a robot/human confirmation captcha and clicking on the Request Email option. The next page that opens will show you the temporary email with its inbox just below it. Also, I was able to create accounts on big platforms like Discord, without them blocking the temporary email address.
You can also send emails from this temporary email account. It also has a premium version that makes the website add free, allows the usage of 100+ emails at a time, adds feature to send anonymous emails, provides custom email addresses and adds exclusive domains.
Overall, EmailOnDeck is easily one of the best throwaway email that you can find on the market.
Visit EmailOnDeck.
3) Maildrop.cc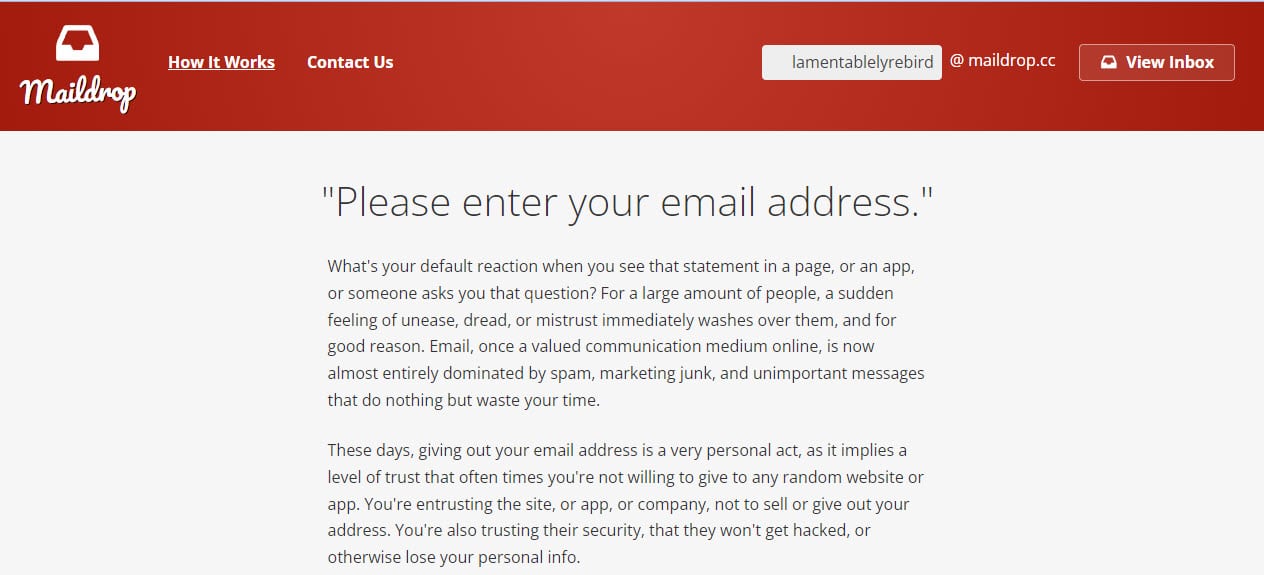 Another great throwaway email provider is Maildrop.cc. It comes with a stylish UI with a red backdrop and doesn't look like it was made in the 2010s, which is true for most of such sites. Other than looking pretty, it also serves it purpose well. It allows users to make custom email addresses for free and also provides a throwaway inbox with it.
There is also an option for randomly generating an email for quick usage. Maildrop is also strict about the content of the messages. It only allows plain text or HTML, and the email must be 500k in length. For security reasons, Maildrop removes any attachments on the email. Also, it clears any inbox that does not receive a message within 24 hours. An inbox can hold up to 10 messages.
Maildrop.cc is completely free to use. One downside I found was that some of the stricter websites may stop maildrop's email address from creating an account. Discord is one such example. Otherwise, for a throwaway email address, it definitely ranks among the top spots.
Visit Maildrop.cc.
4) Guerrillamail.com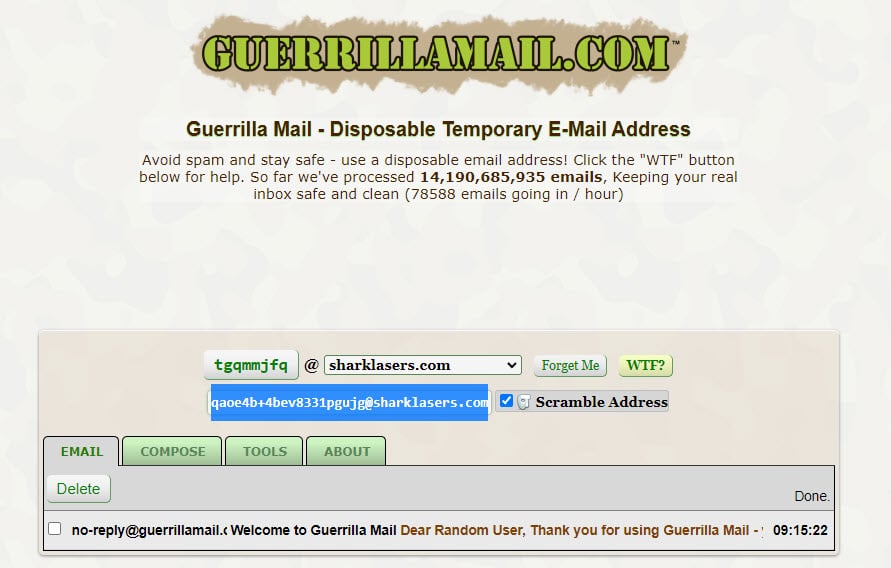 Guerrillamail is a popular disposable email provider that packs a lot more. Easily one of the best disposable email services out there, Guerrillamail does not require registration for using its resources. It is completely free to use.
With Guerrillamail, you can create a custom email address, with the choice of multiple email clients, provided by Guerrillamail. The ability to change the email clients seems unique to this email service, as I haven't found one on any other free disposable email services.
It also provides a throwaway email inbox that for receiving emails on the used address. The UI is simple with funny elements, like the "WTF" button that is basically a Help button. You can also send emails from Guerrillamail with attachments. There is also a password manager, which can be helpful for some.
Guerrillamail is also conscious of securing your temporary accounts, which is why it adds a scramble address option, so that others that know the email address are unable to access your inbox.
Visit Guerrillamail.
5) Burnermail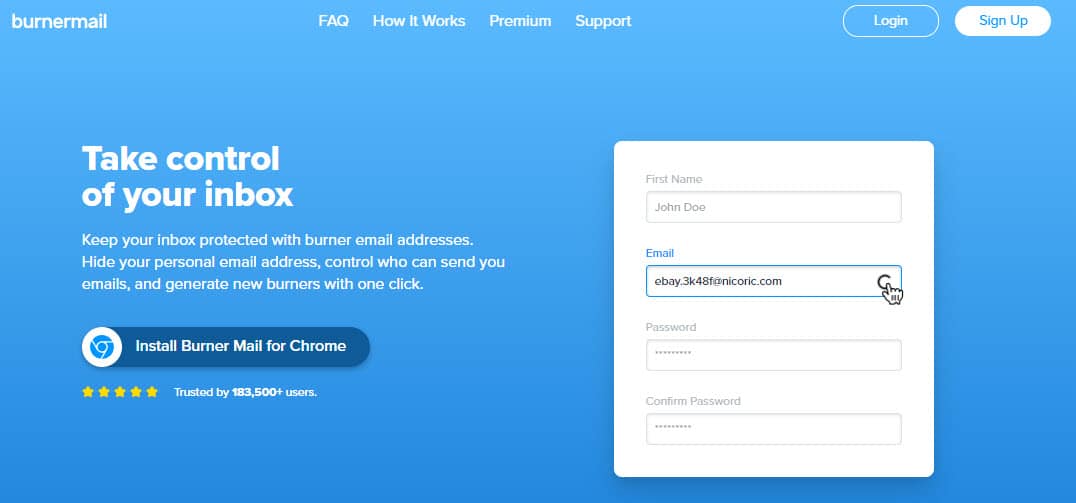 Another of the popular disposable emails that work services is Burnermail. Burnermail has many interesting features that are sadly only for the premium version. It does have a free version, which meets the basic requirements of throwaway email address services.
It allows creating of custom email addresses, up to 5 burner addresses, 1 mailbox and 7 days mail history for the free version. The premium version is where it really shines. For premium version, it provides priority customer support, priority email delivery, unlimited burner addresses, fully customized burner addresses, unlimited mailboxes, unlimited mailbox history, multiple domains, replying with burner addresses and multiple burner recipients.
If you are going to get a premium disposable email service, then you should definitely check out Burnermail. However, its free services seem to be lacking quite a bit. Also, you need to register in order to use the Burnermail services, which doesn't make sense for the free version. I also found the email client given in the free version to get blocked in bigger platforms like Discord.
Visit Burnermail.
6) 33Mail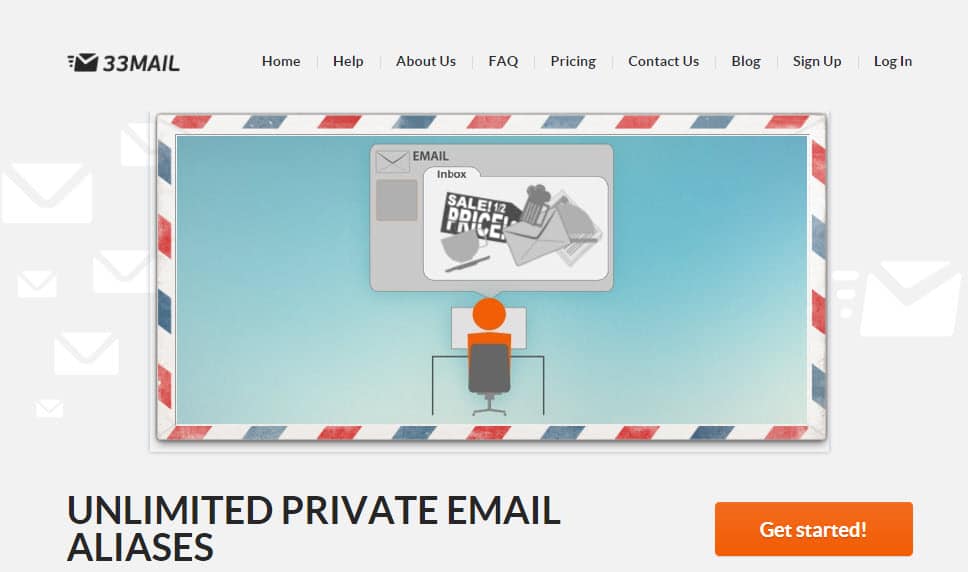 33Mail is technically not a temporary email service. It automatically creates aliases for the account you have logged in and send any emails that your alias receives to the email you logged in with. This secures your email account and even takes away the need to generate new temporary addresses as you can simply do that at fly while logging in any site. How does all this work?
Lets say you have logged in 33mail with the email account [email protected]. Now, you can sign up on any websites with any names with the following email address format: [email protected]
You can write anything in place of "blahblah" and it will create an alias for that. If you receive any email on the alias, it will be forwarded to your primary account used for logging in 33mail.
The 33Mail allows you to manage all the created aliases of your name domain and allows you to either hide or delete it when needed. The free version of 33Mail provides unlimited aliases and only restrains use with 10 MB monthly bandwidth limit.
33mail also has a premium, pro and enterprise version. Each of these plans provide custom domains, full email support, anonymous replies and changes the bandwidth limit to monthly email limit. The Pro version, which is the highest paid plan, allows 500 MB monthly email limit, 100 anonymous replies per day, 5 custom domains and full email support.
Visit 33mail.
7) MailPoof.com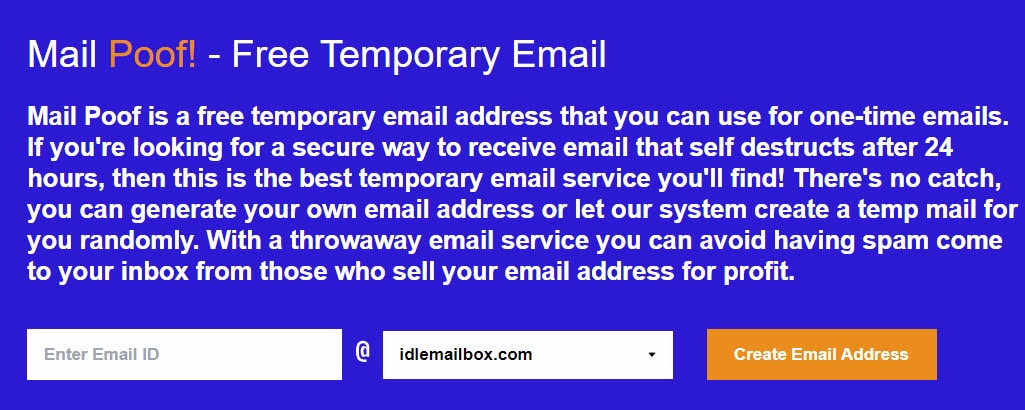 Another one of the easy to use disposable emails that work is MailPoof.com. It allows custom email address creation, while also adding the feature to randomly create an email address. It also comes with a throwaway inbox for reading any emails you receive in the temporary email.
Creating a new email address is also simple, you only need to click on the New option. The email addresses you create will self-delete after every 24 hours. The UI of Mailproof is simple and clean. Also, I found zero ads on their page (at the time of writing), which is quite good.
Visit MailPoof.com.
8) FakeMail.net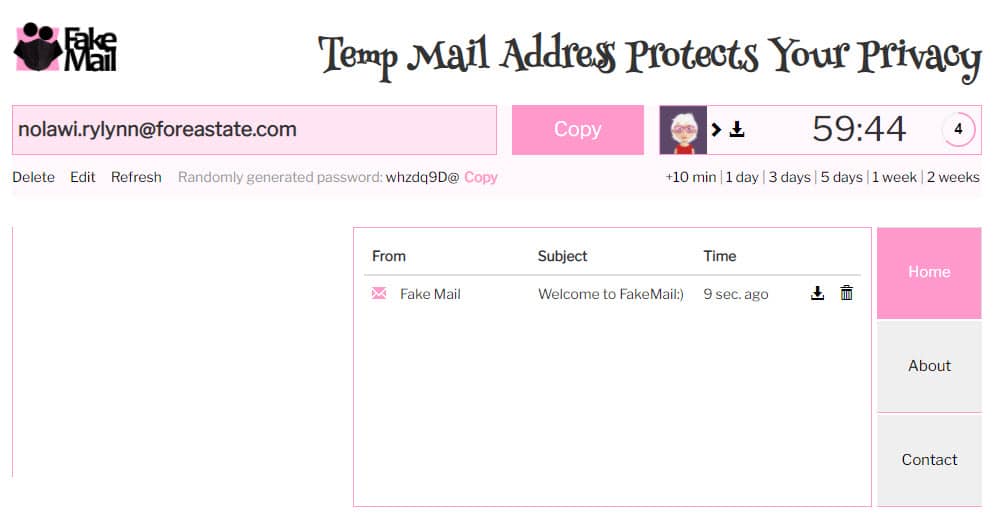 Another best throwaway email service is FakeMail.net. It is completely free to use and allows the creation of custom emails. A throwaway email inbox is also provided for the created address. The email and its inbox gets reset after every 1 hour by default. You can also change the reset time to 10 minutes, 1 day, 5 days and even 2 weeks.
FakeMail.net also randomly generates passwords for you, for further ease in signing up elsewhere. The UI is clean and easily navigable and new users shouldn't find problems using it. This throwaway email service also allows you to save the emails to your PC.
Visit FakeMail.net.
9) ThrowAwayMail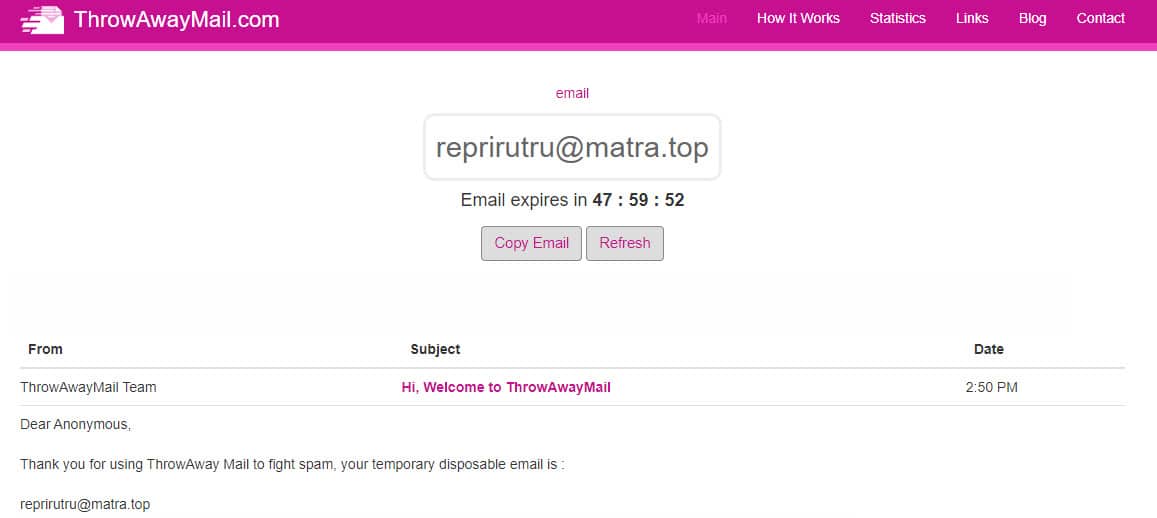 ThrowAwayMail is another simple disposable email address service that generates a new email address the moment you visit it. It also has an inbox on the same page that lets you read the received emails on the newly generated account.
To again generate a new email address, you will have to re-visit the ThrowAwayMail website. It is one of the quick disposable emails that work. The email address expires after every 48 hours automatically, and all its data, including messages in the inbox, gets deleted.
Visit ThrowAwayMail.
10) MyTemp

MyTemp is another fine throwaway email address service that easily makes it in the best disposable email list. It has a user friendly UI and generates a new email address after you visit the website and click on the Start here option. After that it takes you to the inbox page, with the email address generated on top.
The best feature it has is that you can generate multiple email addresses at the same time and access their inboxes separately. I created 5 email address at one time without getting restricted, I didn't see any limit mentioned so, maybe it allows unlimited generated emails at one time, or it can simply be a high number.
The temporary inbox gets disposed after every 24 hours of users' last visit to the website. The auto refresh inbox feature makes it much faster to check your received emails. Each temporary email gets assigned a unique ID which only the user possesses. The emails can be accessed from anywhere on anytime using the direct link to the inbox. The direct link to the inbox can be saved by saving the URL to the inbox.
Visit MyTemp.
Wrapping Up
So, there you have it. Now you know the best disposable emails available online. It's always best to use a disposable email for signing in untrusted websites. If you have any questions regarding this topic, ask them in the comment section below.