HP instant ink subscription provides great value-packed printing ink for users.
But some users find it difficult to afford it and want to cancel the HP instant ink subscription. Is that possible to do?
Yes, it is. You can cancel the HP Instant ink subscription anytime. Follow this article to know how you can do so.
Also read: How To Reset Your HP Printer
How To Cancel HP Instant Ink?
Perform the following methods to cancel the HP Instant Ink subscription.
1. Cancel HP Instant Ink Subscription From HP Website
If you want to stop the instant ink refilling service, then you can cancel your subscription from the HP official website.
To do so, follow the steps below:
Open the HP Official website and log in with your credentials.
From your account dashboard, click on the My plan option.
In this window, you'll be able to see all of your plans. Select the HP Instant Ink Plan option.
Scroll down to the bottom and select the Cancel Enrollment option.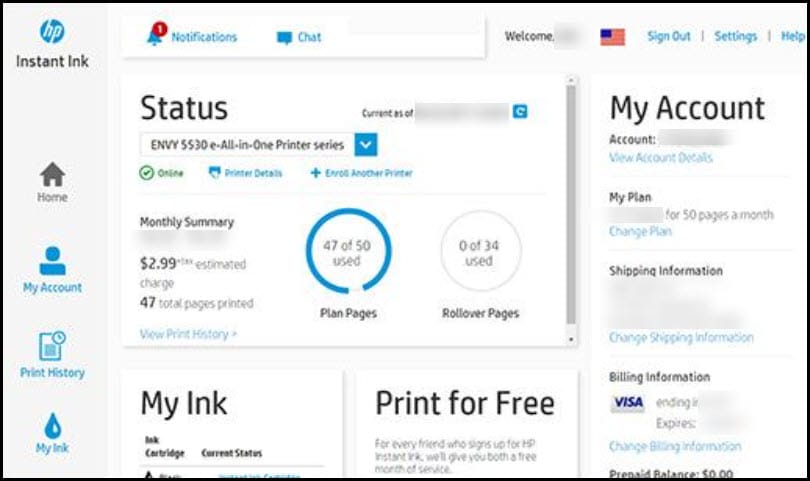 After the cancellation procedure initiates, you'll receive a confirmation mail from HP.
After your confirmation, your plans and subscription will be canceled.
2. Factory Reset
You can also reset your HP printer to factory settings. This will cancel all the subscriptions and changes made so far.
Follow the instructions to do so:
Open the Printer Utility Tools from the Printer's display menu.
From the Open menu section, click on Tools at the top.
Tap on the Restore Printer To Factory Default Settings and you are done.
Frequently Asked Questions [FAQs]
1. Can I Use HP Printer Without Instant Ink?
Yes, you can use an HP printer without Instant ink subscription.
2. How Do You Bypass Cartridge Cannot Be Used Until Printer Is Enrolled In HP Instant Ink?
Some easy and simple hacks are there to bypass the HP instant ink subscription.
Visit HP official website, from Windows control panel and log in with yourcredentials.
From your account dashboard select My plan > HP Instant Ink Plan > Cancel Enrollment.
3. Can I Use Regular Ink Instead Of HP Instant Ink?
Yes, the printer should accept retail cartridges. If you replace the instant ink cartridges with proper retail cartridges you will not need to enroll instant ink.
Also read: How To Print Only Black? [Guide]
Final Words
So, that's it. Now you know how to cancel the HP instant ink subscription.
If you still have queries, ask us in the comments section provided below.