Collated printing is a configuration setting that allows you to print and rearrange documents appropriately.
In this article, I have discussed everything about collated printing. Have a look!
Also read: What Is Printer Fuser And When Should You Change It?
What Does Collate Mean When Printing?
In the printing world, collating means printing the document in proper sequence and assembling them.
In simple words, if you are printing large documents in multiple sets, then you need to collate the documents. It will print and then automatically assemble the printing documents in proper sequence.
What Is The Benefit Of Collated Printing?
Collated printing feature helps you to save time in sorting and rearranging the printing documents.
When you are printing large documents with multiple sets, this feature automatically rearranges and sorts the printed pages.
The more pages and sets you print, the more time this option will save.
Collated printing feature can help you to sort multiple sets of large documents in the blink of an eye.
It's very frustrating if, after printing large documents with multiple sets, you need to rearrange them manually.
Collated printing option will easily do that for you.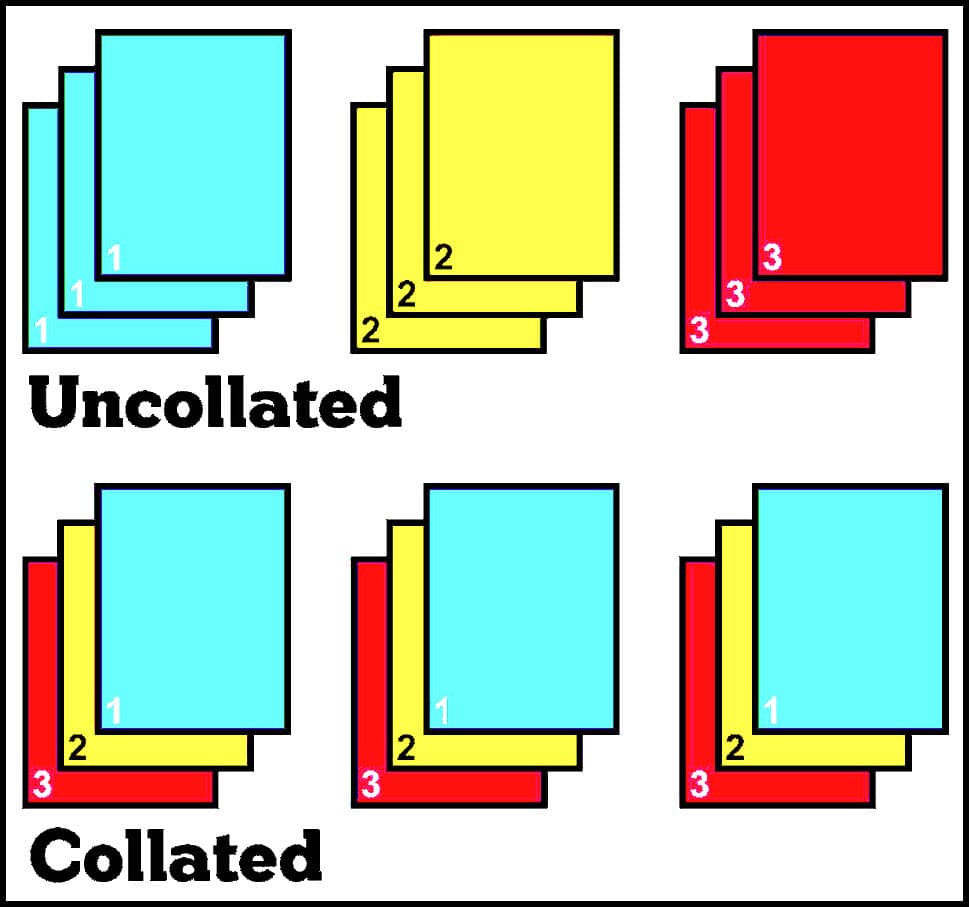 Here in the image, you can see that when you enable the collated option, it will automatically arrange the documents, whereas an uncollated option doesn't rearrange the documents.
This option also helps you while binding leaflets and books.
How To Enable The Collate Printing Option?
The collate printing will mainly help you for printing large documents files.
To enable the collate options, follow these some basic instructions:
Open the Document and press the Ctrl + P button from the keyboard.
When the Printer properties window opens, click on the check box for Collate.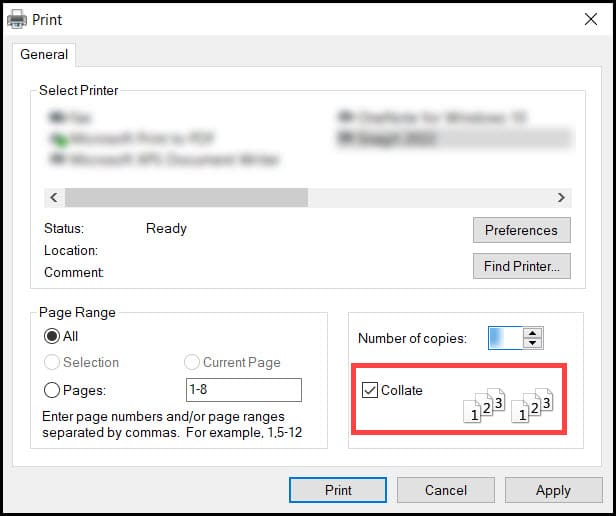 Now, confirm the print option and initiate the process.
This procedure will automatically start to collate your document while printing.
Frequently Asked Questions [FAQs]
1. Should I use collate while printing?
Yes, you should collate while printing a number of copies of multiple-paged documents that are meant to be read in a proper sequence.
2. What Happens When You Print Collated?
When you enable the collate printing option, printer rearranges the multi-pages documents and prints them in proper order.
3. What Is Collated And Uncollated Printing?
Collated printing means the multiple documents get printed in the proper order, while uncollated means the file is printed separately, and one needs to assemble them manually.
Final Words
After reading the above article, now you know what collate printing is, how it works, and the benefits.
If you still have a question regarding this issue, ask us in the comments section.