Has your computer turned slow? Computer becoming slow can be due to various reasons. Buying an SSD, RAM, or better processor can make your computer fast again, but these solutions require you to spend money on new components.
The other way to speed up your PC is to delete the junk files, remove memory clogging applications, and defragging your HDD. In this article, I have discussed how to defrag Windows 10. After reading this article, all your doubts and questions about defrag on Windows 10 should get cleared.
Also, check out:
What Does Defragging Hard Disk Mean?
You may be familiar with the term "defrag" that is a feature used on Windows to speed up the computer. So, what does this defragmentation mean? And how can it make the computer run faster?
As you may know, a hard disk is made up of multiple small memory slots. In these memory slots, all the data of your computer are stored. Over time as the data is stored in your hard disk, it gets scattered in multiple locations. This scattering of data is called fragmentation.
As the data becomes fragmented, the PC has to spend extra time finding it. Consider it as a bookshelf where the books are kept haphazardly. Won't you take more time to search for a book on such a haphazardly ordered shelf? You will be able to find a book much quicker on an ordered bookshelf.
Putting all the data compact with each other in order is what defragmentation does in Windows. Basically, by defragging your PC, Windows is "putting everything in order on the shelf for easy navigation".
How To Defrag Windows 10 Manually?
If you are using Windows 10, you do not need to put too much importance in defragging your hard disk as Windows 10 does it automatically. Also, if you are using an SSD, then defragmentation isn't necessary at all. In fact, you should avoid defragging an SSD.
Although, Windows 10 defrags your HDDs automatically from time to time, it doesn't hurt to manually defrag Windows 10. So, how do I defrag my computer?
To manually defrag Windows 10, follow the steps given below:
Type Defragment and Optimize Drives in the search bar and select the appropriate option. This will open the Optimize Drives dialog.
All the NTFS drives in your PC should show up in the list. Any drive that is in exFAT or FAT32 format cannot be defragmented. Thus, they won't be listed.
Click on the drive you want to defrag and select the Optimize option. This will start defragmenting the drive if you are using an HDD. This same step will run the TRIM command on SSDs.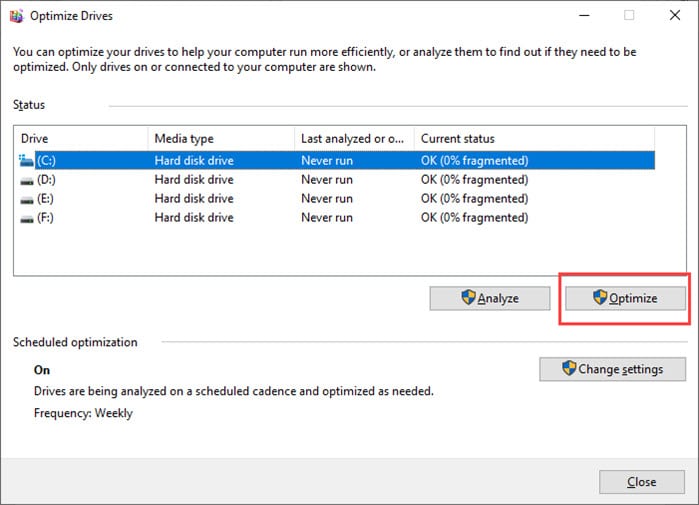 Wait for the defragmentation to finish before closing it.
How Often Should I Defrag Windows 10?
After you have learned how to defrag a computer, you will probably wonder "how often should I defrag Windows 10?". For modern disk in Windows 10, automatic defragmentation occurs. This means that you need not worry about defragmenting your PC from time to time.
Also, if you are using an SSD, rather than defragmenting, Windows 10 runs the TRIM command to optimize the solid-state disk. This is because defragmenting an SSD causes unnecessary read and write cycles that will reduce the disk's life span.
But you can defrag your HDD from time to time, without any fixed schedule as Windows 10 already takes care of it.
Wrapping Up
So, there you have it. Now you know how to defrag Windows 10. Remember that defragmentation isn't necessary anymore, and Windows 10 automatically defrags your HDDs. If you have any questions related to this topic, ask them in the comment section below.