Instagram is the hub of photos and videos. Over 100 million photos are uploaded every day on Instagram. It has become THE social media platform to share your photos. You have likely come across photos that you wanted to download from Instagram, but because Instagram doesn't provide any download option, you couldn't do it.
The photos and videos on Instagram are protected by copyright laws and downloading them is illegal. But if you want to download Instagram photos for personal use and not commercial use or share it with others, then you shouldn't face any issue after downloading it. But how to download images from Instagram?
In this article, I have discussed how to download multiple photos from Instagram with ease. But remember that this article is only for informational purposes and I am not saying you should download photos from Instagram.
Also, check out:
How To Download Instagram Photos?
Instagram doesn't provide a download option on their platform. So, you cannot download images from Instagram directly from their platform. However, it can still be done using 3rd party Instagram photo downloaders.
So, which Instagram photo downloaders should you use? I have listed some great options below that will allow you to download photos from Instagram.
How To Copy URL Of Instagram Images?
Before you proceed further to look at the Instagram photo downloaders, you need to know how to copy the URL of the Instagram image first. If you already know it, then skip this and check the image downloaders.
To copy URL from the Instagram Images, simply click on the menu button (3 black dots) that will be located on the upper right corner of the posted image. After clicking on the menu button, select the Copy Link option from the pop-up menu. The URL of the Instagram post will now be copied on your clipboard.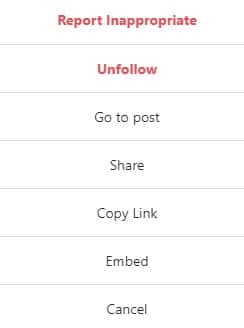 DownloadGram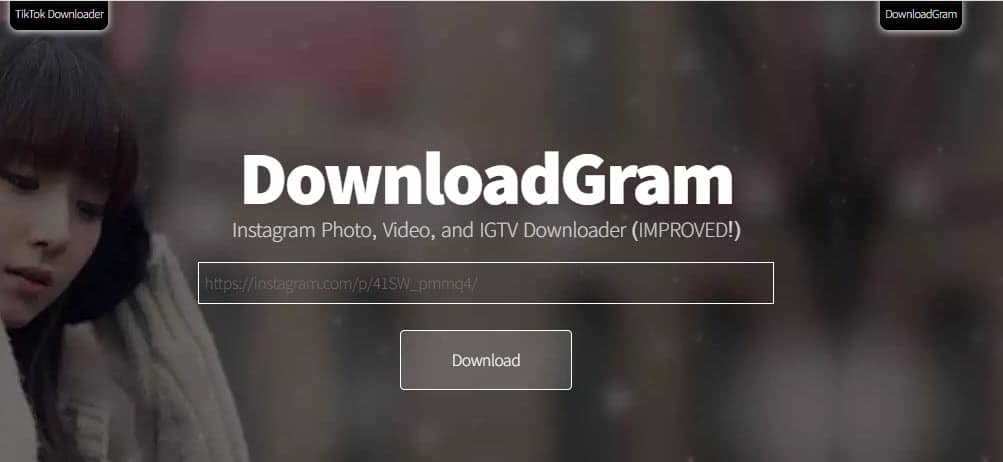 DownloadGram is a website based Instagram video downloader that can also download images. The downloaded image from DownloadGram has the original quality of the posted image, so you won't be compromising on quality.
The DownloadGram website is extremely easy to use. All you have to do is copy the URL of the Instagram image and paste it on the appropriate search bar in DownloadGram. Then, click on Download and wait a few seconds for the site to analyze the URL and give the download link. Finally, click on the download link to start the download.
This website also has a TikTok downloader that you can use to download videos from TikTok. Other than that, the site has a clean interface, which even a novice can use. One downside of DownloadGram is the pop-up ads that appear each time you click on Download.
Visit DownloadGram.
Ingramer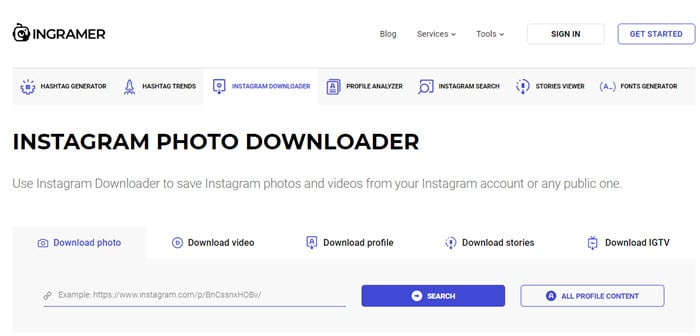 Ingramer includes a complete Instagram package that every Instagram user may need. It has an Instagram Downloader that not only downloads images from Instagram but also videos and stories.
That's not all, you can even analyze profiles, generate hashtags, check out the trending hashtags on Instagram, search Instagram profiles, and even generate fancy fonts. All these features are provided free without even the need to create an account.
The interface is very simple and easily navigable. To download, all you need to do is visit the website, paste the image URL, and click on the download option. It is easy, fast, and very versatile.
Visit Ingramer.
Gramsave

Gramsave is another great Instagram photo downloading online website. You can easily download images from Instagram using Gramsave. The same copy-paste URL download method also works here. You can also download Instagram videos on this website.
Visit Gramsave.
Save-O-Gram (Windows Only)
Save-O-Gram is a dedicated application that can download your favorite photos and videos very easily on your PC. Simply, download and install the application on your PC and copy-paste the image URL in the app to start downloading. If you are wondering how to download multiple photos from Instagram on your PC, then this is the way to do it.
One downside of Save-O-Gram is that is only supported on Windows. Other than that, Save-O-Gram is a great way to download photos from Instagram quickly on your PC.
Download Save-O-Gram.
FastSave for Instagram (Android Only)
If you want to download Instagram photos on your Android, then FastSave for Instagram is one of the best applications you can use to do it. This app is available on Google Play Store with a 4-star rating and 10 million downloads.
The app is fairly simple to use. All you need to do is open Instagram from the app and copy the URL of the image or video. The moment you copy the URL, the image or video will start downloading automatically.
Download FastSave for Instagram.
Bookmark Instagram Images
If you think that downloading a post, photo, or video, from Instagram is the only way to save it, then you are wrong. There is a much convenient way to save Instagram photos that exist on their platform. It is the Bookmark feature. With the Bookmark feature, you can save images or videos posted by your favorite influencers on Instagram, without worry about any copyright laws.
To do it, open the image or video that you want to save on Instagram and click on the Bookmark icon.

Now click on the profile icon on the top right corner of your Instagram page and select the Saved option to view them.

Wrapping Up
So, there you have it. Now you know how to download Instagram photos. Remember not to share the downloaded photo with anyone or use it commercial purposes. You can also use the Bookmark feature on Instagram to save images without worrying about copyright infringement. If you have any questions related to this article, ask them in the comment section.