Instagram is an extremely popular social media platform. There are millions of Instagram active users that love sharing videos, pictures, and posts. Instagram is a great place to browse through videos and pictures uploaded by other users quickly. Instagram also allows users to bookmark their favorite posts and videos.
However, there is one important thing that Instagram doesn't provide on its platform, the download option. Instagram doesn't allow the download of videos shared on its platform. But this doesn't mean it isn't possible. In this article, I have discussed how to download Instagram videos on PC.
Also, check out:
How To Download Instagram Videos On PC?
So, how to save Instagram videos on PC? It is very easy to download Instagram videos on laptop or PC. Before I discuss how to do it, I need to issue a warning.
All the videos downloaded from Instagram are copyrighted, so it is illegal to share them or upload them on other social media sites. The downloaded videos can only be used personal use and nothing more.
Now with that cleared, you can download Instagram videos using 3rd party downloaders. Below I have given some of the best Instagram video downloaders currently available on the internet. But before you use them, you need to know how to copy the URL of any Instagram video. This is necessary to download the video using the 3rd party downloaders.
To copy the URL of any Instagram video, follow the steps given below:
Visit Instagram on your PC and sign in.
Navigate to the video you want to download.
You will notice a menu button (3 horizontal dots) just above any video (or any post to be exact).
Click on that menu button and select the Copy Link option.
That's it. Now the URL of the video will be copied to your click board. Now, how to save an Instagram video on PC? Simply visit the 3rd party downloaders given below and paste the URL in the appropriate location to download the video.
1) DownloadInstagramVideos.net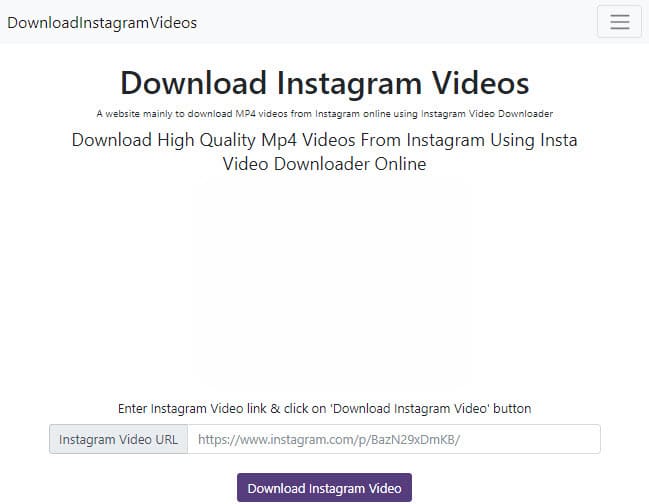 DownloadInstagramVideos.net is a powerful video downloader that can download videos from Instagram easily. It is a website video converter where you can search for videos and convert them to mp4 and download it.
It has a simple interface, nothing fancy. This keeps the interface clean and easily navigable. One issue with DownloadInstagramVideos.net is the ads. It is free to use, and like most free to use websites, it has ads. Other than that, it is an easy way to download Instagram videos on laptop or PC.
Visit DownloadInstagramVideos.net.
2) Downloadgram.com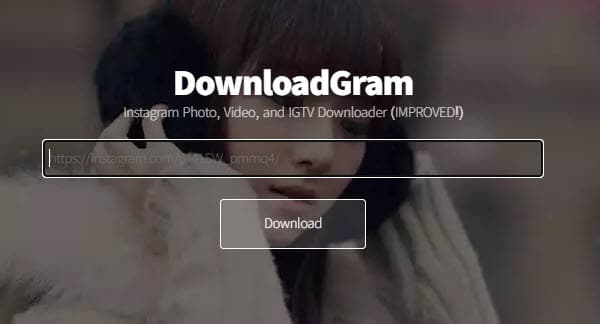 Downloadgram.com is another web-based Instagram video downloading service. Like DownloadInstagramVideos.net, it also has a basic interface but with a pretty background. Simply paste the URL of the video and paste it in the search bar present on the site. Next, click on the Download option.
After the website analyses the video (and closing a few pop-up ads) a download video option will be available. Click on it to start the download.
Downloadgram.com also has many pop-up ads, which are very intrusive. Other than that, the site is great for downloading Instagram videos on laptop or PC.
Visit Downloadgram.com.
3) InstaDownloader.co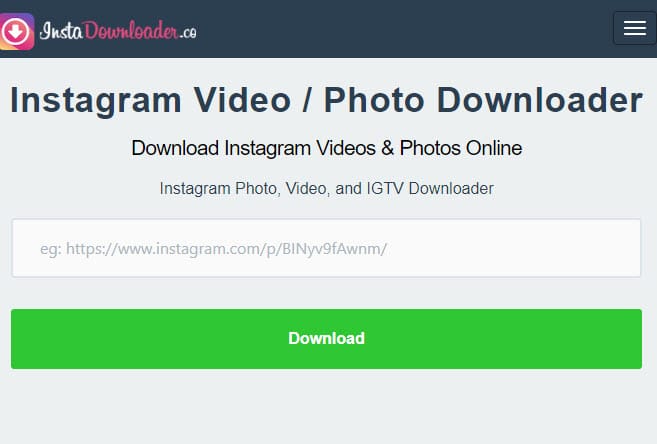 Another free website Instagram video downloader is InstaDownloader.co. Like the previous video downloader, this is also a nice tool for downloading Instagram videos. Simply paste the video URL in the provided location and search. After the video is loaded, click on the Download file option to download it.
This site also contains ads, but they are fixed and not embedded in everything you click, which is far better than some other free websites.
Visit InstaDownloader.co.
Wrapping Up
So, there you have it. Now you know how to download Instagram videos on PC. Remember not to upload or share the videos with others as it is illegal to do so. Only use the videos for personnel use. If you have any questions related to this article, ask them in the comment section below.