Getty Images (gettyimages) is a premium supplier of stock images, editorial photography, video, and music for commercial use. It is a British-American company that has its headquarters in Seattle, Washington, USA. They have over 200 million assets for purchase and the number keeps increasing.
Getty employs many photographers across the world for professional stock images, which others can purchase for commercial purposes. There isn't any way to use Getty Images for commercial purposes without purchasing them. But, you can use the Getty Images downloader to save watermark-free gettyimages for personal use.
In this article, I have discussed in detail how to download full-size Getty Images for commercial use (by purchasing it) and how to download/use them free for non-commercial use.
Also, check out:
How To Download Full-Size Getty Images?
For someone who is running a blog, creating a presentation, or for other commercial purposes, using the right images is of utmost importance. Getty Images has over 200 million assets that can enhance your blogs, videos, or presentations. But something this good doesn't come free.
Getty Images can only be downloaded/used after buying the proper license of the photo from their website. To download full-size Getty images with licensing, you first need to sign in their website. If you don't have an account, then visit this page and fill in the form to register. After you have registered, you can now download the Getty Images with proper licensing.
Below I have mentioned how to buy the images individually or in bundles. One thing you should keep in mind is that the images will be downloaded with "Standard editorial right". This means that anyone in your organization can use it an unlimited number of times for up to 15.
There are also custom rights that you can select for the use of the image. The prices of the images of custom rights depend on the selected licensing rights and will defer from the Standard editorial rights prices.
Purchase Images One By One
Search for the image you want to purchase and open it. You will see 3 purchase options. One for small (594×396 px), medium (1024×683 px) and large (4200×2800 px). The price of the image increases from small to large options. The large option is priced at 3 times the worth of the small one.
Select the size option and then click on the Get This Image option. Fill in the payment essentials to purchase the image.
Purchase In Bundles
If you want to download more than one Getty image, subscribing to one of the plans will come cheaper than purchasing them individually. To subscribe to a Getty Image plan, follow the steps given below:
After signing in, click on the menu button (3 horizontal bars on top of each other) on their website and click on it.
Select the Pricing option.
You will find the bundles appear on your screen. There will be three categories for the 3 sizes of the image as mentioned above.
Now, you can purchase 5 pack or 10 pack for the image size you want to download. You will notice that it is cheaper than buying 5 images or 10 images individually.
After purchasing one of the bundles, you will be able to download that many images (or videos) from the entire Getty Images library.
Purchase For Large Teams And Organizations
If you are part of an organization or a large team that is in constant need of quality stock images, then buying them individually or in bundles can be a nuisance. For them, Getty Images provides a special subscription that has no daily or monthly download limit, no seat licenses required, and provides custom content and special commissions.
To subscribe to this plan, you will have to contact the Getty Sales team by filling this form. The customer service will contact you and discuss the terms of the plan.
How To Download Getty Images Free?
Getty Images are a premium stock image site that has millions of dollars involved in this. So, it is obvious that they simply won't allow free downloads. However, they allow the use of their embed images for non-commercial use. They also allow content from their website to be used on a complimentary basis for test or sample use up to 30 days after the download.
These images will have "gettyimages" watermark and can be downloaded for free from their website. Technically, you can download the image simply by saving it from the web. And as long as you don't share it or use it for commercial purposes, you should be fine.
How To Use Embed Getty Images For Non-Commercial Website?
Using embed Getty Images is a great way to use high-quality content from Getty for free legally. You use the embed images to enhance your blog or other content, as long as they are non-commercial. To use embed images from Getty, follow the steps given below:
Search for the kind of image you are looking for on the Getty website.
Click on the Filter option and turn on the Embeddable images toggle. Now, only the embeddable images will load.
Select the image you want to embed on your website.
Click on the Embed icon (</>) below the image.

Copy the source code of the image and use it on your website.
How To Download Free Getty Images From Their Website?
If you want to download the Getty Images using the Comp license for 30 days non-commercial test or sample use, then follow the steps given below:
Open the image you want to download.
Click on the download icon (arrow pointing downwards), located beside the embed icon.
Select the Download option to start the download.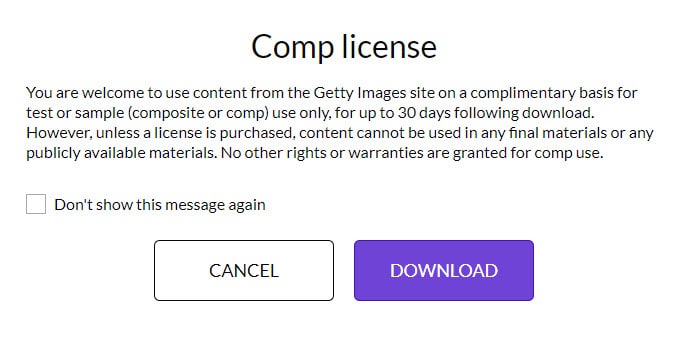 The downloaded image will have a "gettyimages" watermark on it.
Free Getty Images Downloader
Getty Images free download is illegal unless done from their website with the above methods. However, these images will have the watermark. If you want to remove Getty images watermark, you can use the powerful photo editing software like Adobe Photoshop to do it. But how much mastery you have over editing, it will remain obvious that a watermark has been edited from the image.
There is a Getty images downloader, that can download free Getty images for you. This downloader removes gettyimages watermark automatically before downloading it. However, you need to understand that with or without the watermark, the image is still Getty Images property. Using it for commercial purposes will lead to legal implications if you have got the image without buying the license.
You can use the free Getty image downloader for personal use only, like using as wallpaper. To use Getty Images downloader, visit the Downloader.la website. Here you can paste the Getty images URL and download it without the watermark for free.

Simply, paste the image URL and click on Download. Then, click on the Download Now option to open the watermark free image. Right-click on the image and select the Save image as option. Save the image on the desired location on your PC. That's it, now you have the Getty image without the watermark.
Wrapping Up
So, there you have it. Now you know how to use Getty images downloader to download full-size gettyimages without watermark. Remember that the free downloaded gettyimages must not be used in commercial projects. Otherwise, you can face legal consequences. Downloading free gettyimages without proper licensing is illegal and must be avoided. If you have any further questions regarding this article, ask them in the comment section.