If you have accidentally deleted and lost your PDF Files from your computer or hard drive then don't worry this article is a detailed guide on how to recover them.
So, read through and know all the possible ways to recover your lost or corrupted PDF Files.
How To Recover Deleted PDF Files On Windows?
You can recover deleted PDF Files from Windows in various ways.
Go through the below-mentioned steps to know how to recover PDF files easily:
1) File History
Here is how you recover the deleted files from the File History backup drive:
On the Search bar of your Windows device type File Explorer and open it.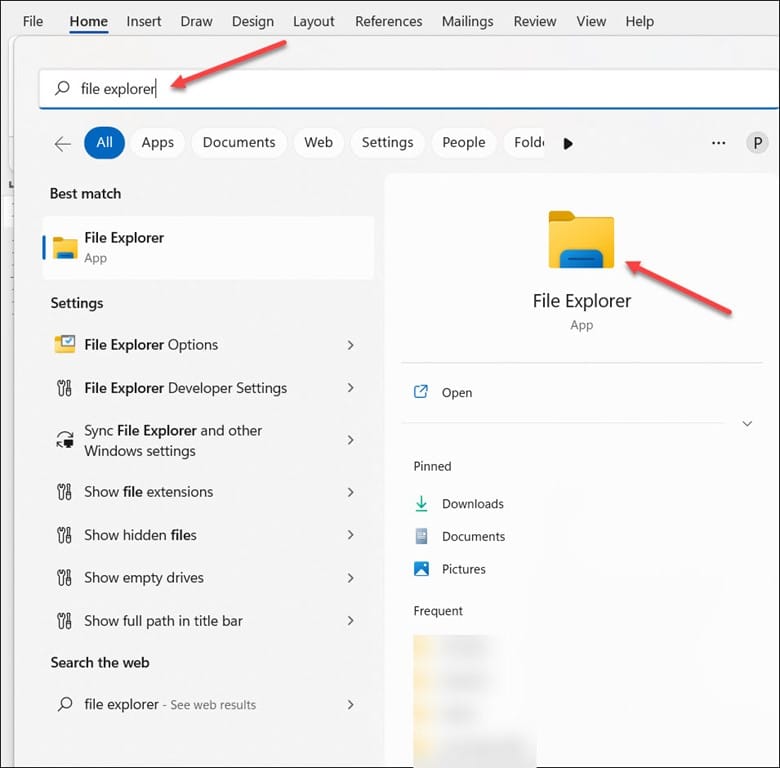 Right-click on the folder where all your deleted PDF files were stored.
Next click on Show More Options and select the Restore Previous Version option.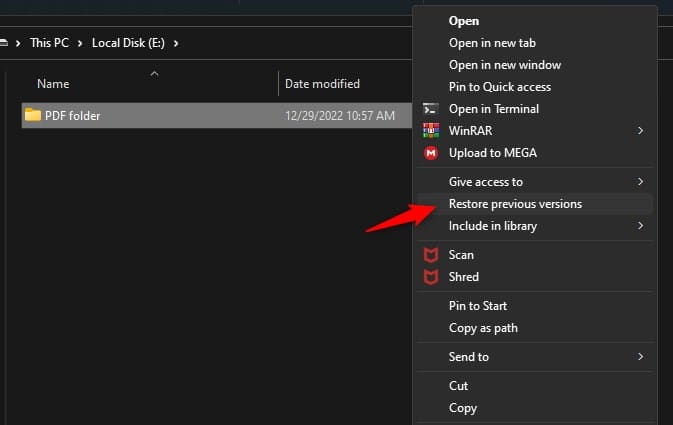 Select a previous folder version and then click on Open or Open In File History.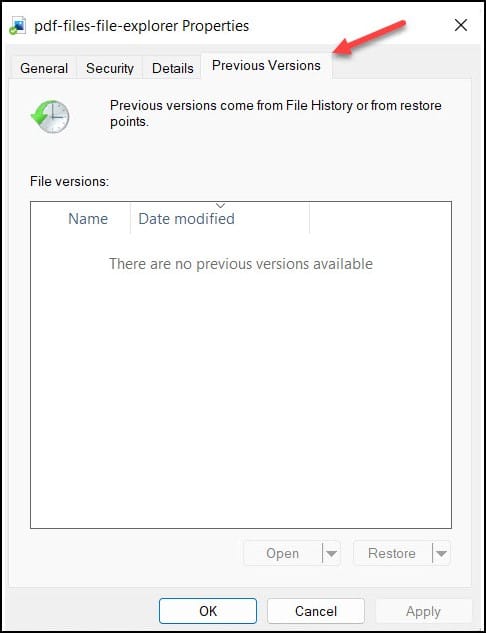 Search for your deleted pdf files.
Select the pdf files and click on Restore.
2) Check Recycle Bin
The moment the file gets deleted from your PC, it goes to the Recycle Bin.
You can restore those deleted files from the Recycle Bin if you have not cleared your Recycle bin.
Here is how you can do it:
Open the Recycle Bin folder and find the deleted PDF File.
Right-click on the PDF file and choose Cut.
Finally, Paste the file on the desktop or on any location on the PC.
3) Check Your Backup Drives
If you have automatic cloud backup or have backed your files up manually on a cloud drive, then you can check it to see if the PDF files have been backed up there.
Windows has OneDrive enabled by default, so OneDrive might have backed up the file even without your notice.
Use the search option to locate the PDF File and restore it.
If you don't find any backup of that file in the Cloud then perform the next solution.
4) Stop Using The System Or The Drive Immediately
This step is important to prevent the overwriting of the PDF Files which can cause corruption and permanent loss.
If you use the drive or the system after you have lost your PDF File or it has been deleted then there are lesser chances of recovering the PDF File.
5) Autosave Feature In Adobe Acrobat Reader
There is an auto-save feature in Adobe Acrobat Reader that protects the data loss in case of a sudden shutdown caused by power failure, software error, or some other factor.
This can't bring back a permanently deleted file but it can restore all the changes which have been made to the pdf before.
This is how you can recover unsaved changes using the Autosave feature:
Launch Adobe Acrobat Reader.
Click on Yes when prompted to recover the autosave file.
Now save the recovered file somewhere.
6) PDF Repair Tools
If the above solutions didn't help you to recover your damaged or corrupted files, then take the help of free PDF repair tools online.
These tools are used for editing PDF Files online. It is also used for converting, merging, compressing, splitting, rotating, or rescaling PDF documents.
Can Deleted PDF Files Be Recovered?
Your unsaved files are stored somewhere in the temporary files.
The longer you wait, the greater the risk of the files getting overwritten.
The moment the data overwriting takes place, the recovery will become impossible.
Your deleted pdf files can be recovered even without a backup if the following conditions are present:
New data haven't overwritten the storage space taken up by the deleted files.
The deleted PDF files were not stored on a TRIM-enabled solid-state disk (SSD).
The storage device on which the pdf files were stored isn't physically damaged.
When you delete a pdf file in Windows or Mac OS the file doesn't vanish immediately it is moved to the Recycle Bin or the Trash folder where it is stored until it gets permanently deleted.
The file is present on the storage device and can be recovered until it becomes overwritten by new data.
The above three conditions don't apply if you have a backup of the deleted files.
Read More About PDF Files here.
How To Protect Deleted PDF Files From Accidental Deletion And Corruption?
Back up and always store a copy on your Cloud storage service.
Remove your USBs in a safe manner especially while unplugging the devices.
Don't ignore any signs of drive failure.
Defragmentation is necessary at least once a month.
Use Disc Monitoring to automate the error-checking routine.
Use Anti Malware software.
How To Repair A Damaged PDF File?
The official Adobe website can help you if you cannot open your pdf file.
They will recommend you install the latest version of Adobe Reader or use Adobe Illustrator.
Why Are PDF Files Not Opening On My Phone?
The most common reasons for the file not opening on your phone are as follows:
PDF is in an invalid format.
An incorrect structure was found in the pdf file.
The pdf file is open and corrupted.
Incorrect form in pdf.
Invalid or corrupted pdf file.
Cannot display invalid pdf format.
Could not save the PDF because of a program error.
The PDF file is damaged and cannot be recovered.
Frequently Asked Questions(FAQs)
Is There A Way To Restore Deleted Files?
You can quickly restore a deleted file by right-clicking on the File or Folder and then selecting Restore Previous Versions.
How Long Deleted Files Can Be Recovered?
Files in the trash will automatically get deleted after 30 days. You can restore the Files from the trash within 30days time.
How Can I Recover Deleted Pdf Files From a Phone Without A Computer?
Phone Rescue for Android Data Recovery will help you to recover deleted files such as photos, videos, and messages.
Closure
Now, that you are successful in recovering the deleted PDF Files get in touch with us in the comment section below in case of any doubts or queries.