Did you ever send any content to a chat and wanted your fellow members to edit or add something to it in the chat itself?
This task can be accomplished easily and successfully with Loop components.
Read the article in detail and learn more about the Loop components and their usage.
Also read: How To Manage Attendee Audio Video Permission In Teams
What Is A Loop Component?
Loop is a lightweight app that operates across Microsoft Teams, Outlook, and OneNote with the help of components.
These are live components and can be copy pasted on the go to achieve great outcomes without disrupting your workflow.
Loop components act as starters for creating a checklist, table, task list, paragraph, and agenda that appear in Teams in a pop-up menu.
As per Microsoft, a Loop component is actually "an atomic unit of productivity" which has been designed to perform a task without reference to the other components.
The physical representation of a loop component is a fluid file that gets stored in your OneDrive.
When a chat message is being sent containing a loop component then the fluid file which is shared with the participants allows them to share or edit the contents.
The default sharing link is defined in the SharePoint online sharing policy for the organization.
You can also edit the sharing link and give access to whatever permission you require.
Note: Loop components are not supported in channel conversations presently.
Loop is essentially one step further and is a much more sophisticated version of Microsoft fluid.
Microsoft Loop has a broader vision of eliminating a large number of windows to operate at the same point in time.
Also, Read: How to manage attendee audio video permission in teams
Also, Read: How to add a missing calendar on Microsoft Teams
What Are The Key Features Of Microsoft Loop Components?
Loop components, Loop pages, and Loop workspaces are the three components of Microsoft Loop, and the first component which got released was Loop components in Teams for both desktop and mobile.
According to Microsoft as of now, these new components are available in the chat features of Microsoft Teams and will soon come to Outlook.
The features of the Loop components are practical and time-saving. The features are as follows:
Microsoft Loop Components Use Cases
You can easily create a note or a paragraph section by using it as a note-taking diary.
All you need to do is to jot down your ideas and then transform them into a list. You can expand the list in the future and add components to the same block.
Everything Is Visible In One Place
It is easy to organize everything which you need to do for your in a single platform. Files, links, and data from other apps can be used.
Collaboration Is Possible Even When You Are Not Together
Loop helps to co-create or add something to somebody else's idea. It is a completely new approach where your individuality gets added to the mix.
In Sync And On Track
Notifications, highlighted changes, status labels, and task lists make it simple to communicate and track progress.
How To Create And Send A Loop Component?
Follow the steps to send a loop component via desktop:
Firstly, open Microsoft Teams on your desktop and select Loop components beneath the chat box.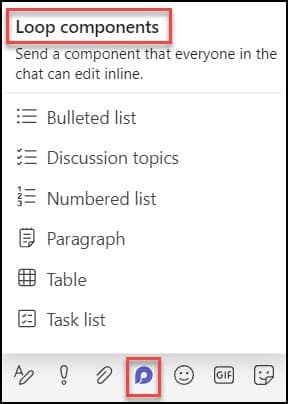 Check whether the box is empty while you are on the verge of performing this step.
Next, select the type of components which you want to insert in the message.

Type the content into that component and click on Send.
While sending it @mention the people from whom you want some contribution related to that.
You can edit or add something to the Loop component too by simply clicking on that particular place where you want to. You need to start typing after that.
How To View The Activity Of The Loop Component?
It may happen that while you are viewing a particular loop component then others are editing it.
In this case, you will get to see different color cursors within the text and it is highly likely for you to even see the text which is being edited as well.
You will even notice avatars in the upper right corner which will help you know about those people who are viewing, editing, or have already edited the component.
Frequently Asked Questions (FAQs)
Is Microsoft Loop An App?
Yes, Microsoft Loop is a new app.
What Is A Loop Task List?
A Loop task list is actually an itemized to-do list that will alert the user along with others if a task is incomplete or needs to get completed within a certain span of time.
Will The Loop Replace Teams?
No, the loop isn't replacing Microsoft teams. In fact, it is integrating with Teams.
Also read: How To Add Missing Calendar On Microsoft Teams
Wrapping Up
You can now easily send a Loop component via Teams chat or in a meeting chat after going through the write-up in detail.
Write down your thoughts in the comment section & also mention how it helped you to make your work easier, better, and more synchronized.