You may have come across image files with the TGA extension. This TGA extension means that the file is in a raster graphic format created by Truevision. These files are also called TARGA files or the Truevision Advanced Raster Graphics Adapter file. This image file format was established in the 1980s by Truevision for images with line drawings and icons.
The TGA files cannot be opened using any normal image viewers. In this article, I have discussed how to open TGA files in Windows 10 using some dedicated file openers. I have also discussed some of the commonly asked questions related to the TGA files.
We have shown a VIDEO walk through at the end of the post for easy solution.
TGA Files: A Brief History
TGA file format was first established in 1984 by the Truevision company. Truevision was later bought by Pinnacle Systems in 1999, which was then bought by Avid Technology. Avid is also the current owner of Pinnacle Systems.
TGA file format was the native format of TARGA and VISTA boards. These were the first graphic cards for IBM-compatible computers that supported the Highcolor display.
The TGA file format can store image data with 8, 15, 16, 24, or 32 bits of precision per pixel, 8bit for the alpha channel, and 24 bits for RGB. This file format can remain uncompressed or use the RLE compression. The RLE compression is great for images with line drawings and icons, which is why the TGA extension is used for such images.
How To Open TGA Files?
There are different ways you can open TGA files in Windows 10. Here I have listed all the methods that you can use.
Method 1: Use Image Viewer
The TGA files are raster images stored as files. Some strong image viewers can open these files. The Windows 10 photo viewer will likely not support it, but you can open them on Paint.NET. Other image viewers like Adobe Photoshop also supports TGA files. Adobe Photoshop can open any image format file.
Method 2: Use A Dedicated TGA Viewer
Another way is to use a dedicated TGA viewer software for opening these files. There are plenty of free TGA viewers available online. You can simply download and use them for viewing the TGA files. Click on this link to download a free TGA Viewer. It is a simple software but will get the job done for you.
How To Convert TGA To JPG?
If you don't like getting a new TGA dedicated viewer and don't have any software that supports TGA files, then you can convert the TGA file to JPG and open it on any of the standard image viewers. There are plenty of image conversion tools available online. Here are some of them that are free to use.
1) Zamzar
Zamzar is a TGA viewer online conversion website. All you need to do is visit their site and upload the TGA file. Choose the file format you want the TGA file to convert to and click on the Convert Now option. After the conversion is done, you can download the converted file and use it. There is also a feature where you can have Zamzar email you the converted TGA file after the conversion finishes.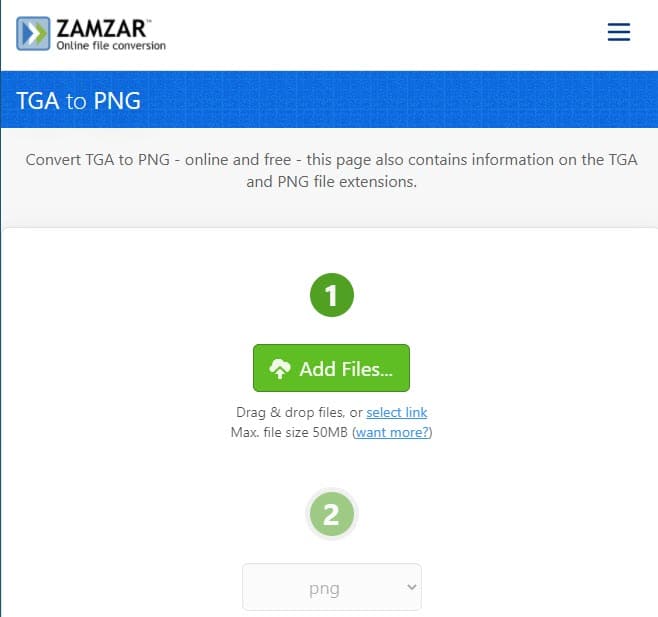 Another plus point of this site is that there are minimum ads and they don't come in your way of converting the file.
Visit Zamzar.com.
2) CoolUtils
CoolUtils is a hub for converting different files. You can convert TGA and many other file types, combine or split PDFs, convert movies and audios, and plenty of other things. You will also find freeware for a PDF viewer, PCL viewer, and many more.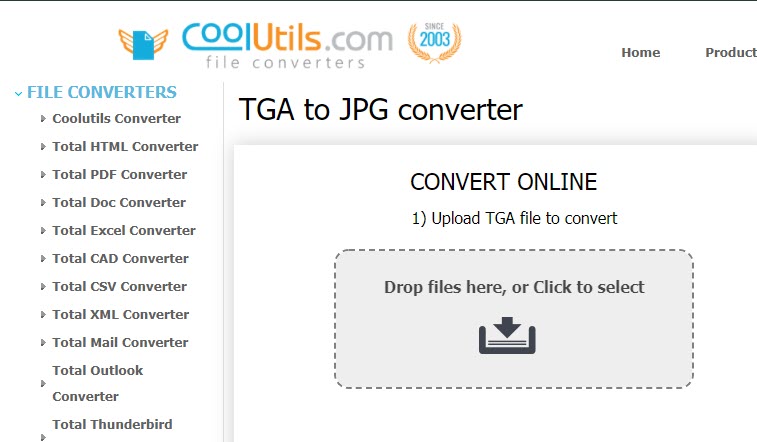 Like Zamzar simply visit the website and upload the TGA file that you want to convert. Select the file type you want to convert into and click on the convert option to start the process. What is different in CoolUtils is that you can resize or rotate the converted file before downloading it.
Visit CoolUtils.
3) Convert TGA Online
Convert TGA online is another website where you can convert the TGA file. However, here you can not only convert TGA files to other files but also convert other files into TGA files. The UI of the website is basic, you will have to find the file format listed that you want to convert the TGA file into or vice versa and then click on it.
Now, you will have to upload the file and then click on the Convert button to start the process. Here also you can resize the image before downloading it.
Visit Convert TGA online.
How Do I Edit A TGA File In Gimp?
Gimp is a powerful photo editor and like Adobe Photoshop, can also open TGA files. You can use Gimp to edit TGA files. Simply open the TGA file. Edit the way you want and save the file. Later convert the saved file into TGA again and you are done.
Wrapping Up
So, there you have it. Now you know how to open TGA files in Windows 10. If you have any other questions related to this topic, ask them in the comment section below.