Malwarebytes is a powerful free anti-malware software. It is very reliable when it comes to detecting PUPs (potentially unwanted programs), malware, and viruses. The free version of the software is more than capable to detect most of the threats your computer may be facing.
Malwarebytes can also be overprotective at times. The problem with using an anti-malware program as powerful as Malwarebytes is that it can block websites that you are trying to access. When this happens, Malwarebytes will show the "Website blocked due to PUP" message.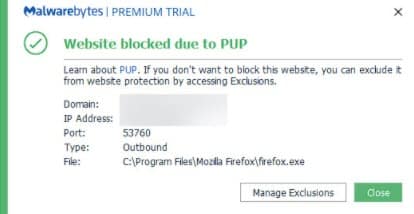 In this article, I have discussed how you can make Malwarebytes unblock websites that you want to visit.
Also checkout:
Website Blocked Due To PUP By Malwarebytes
Malwarebytes is also a powerful malicious website blocker. It is one of the best programs to get malicious websites blocked. However, even Malwarebytes can false detect websites that aren't a threat to your PC. When Malwarebytes blocks a website, you are redirected to the block.malwarebytes.org page where you receive the Website blocked due to PUP error message.
There is no way to bypass this error and open the blocked website at that moment. But, if you are completely sure that the website you are trying to visit isn't harmful to your PC, then you can whitelist the website in Malwarebytes. Whitelisted websites are not checked by Malwarebytes, so they won't get blocked anymore.
Malwarebytes Blocked Website – How To Unblock?
If you have complete trust in the website you want to visit, then you can stop Malwarebytes, the malicious website blocker, to not check that certain website. To do it, you will need to add the website in the whitelist of Malwarebytes.
To add websites in Malwarebytes white list, follow the steps given below:
Open the website that gets blocked on your web browser.
Now, open the system tray from Taskbar by clicking on the small upward pointing arrow icon.
Right-click on the Malwarebytes icon from the tray.
Select the Add ("Domain Name") to Web Exclusions icon from the pop-up menu. In place of "Domain Name" the actual domain name of the website open in the browser will be written.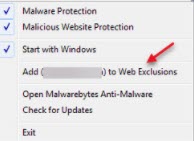 After whitelisting the website, it won't get blocked by Malwarebytes anymore. You can manage the whitelist of Malwarebytes by opening its app settings and selecting the Web Exclusions option. In the Web Exclusion section, you will be able to add a new domain to the whitelist or remove those that were added in the whitelist.
Wrapping Up
So, there you have it. Now you know how to unblock websites when you see the website blocked due to PUP error message. Remember to only whitelist a website that you have complete trust. If you do not trust the blocked website, then it is better to listen to Malwarebytes's judgment and avoid it. If you have any questions regarding this topic, ask them in the comment section below.