Online security has become indispensable with the advent of hackers and cybercriminals.
This is exactly where the Bit browser comes into play with its unique focus on privacy and security.
Whether the user is privacy conscious or is simply looking for a faster, safe browsing experience, Bit browser is a perfect choice.
This incredibly user-friendly web browser sets it apart from other web browsers with the various available features.
It is indeed a top contender in the crowded web browser market.
Its advanced encryption technology ensures that all online activities remain anonymous, making it famous among those who value online privacy.
Read the write-up to get a clear idea about the same.
Also read: What Is Wave Browser And How To Remove It?
What Is Bit Browser?
Bit browser is an easy-to-use multifunctional web browser where you can browse the internet and news feed and use multiple other platforms simultaneously.
This is mainly designed for Chrome OS but can also be used as an extension in other browsers.
They are also known to break site restrictions so users can easily surf through blocked websites.
Don't look further if you are looking for a secure & reliable web browsing experience.
Bit browser's cutting-edge security features make it the ultimate choice for individuals who seek a safer environment to browse the internet.
What Are The Criteria To Download And Use Bit Browser?
If you are on the verge of downloading and using the Bit browser, then you need to follow these demands:
Stable and fast internet connection
Close the programs that are running in the background
Use the latest browser
How Can I Download The Bit Browser On My Device?
The steps to download Bit browser on your device will depend on the specific browser you want to download.
To download Bit browser on your Android or iOS device, follow these steps:
Open the app store on your device or browser and search for the Bit browser you want to download.
After you have found the Bit browser, click on the download or install button.
Follow the onscreen instructions to finish the installation process.
After installing, open the program Bit and configure the blocked site's URL details.
Finally, press the "GO" button.
Note: There are some alternatives for Bit browsers like Opera, Brave, Tor Browser, and Epic Privacy Browser.
To avoid downloading malicious software, download Bit browsers from reputable sources.
How Can I Add Bit Browser As An Extension?
If you are using a Bit browser, you can easily add extensions or add-ons to enhance your browsing experience.
These are the steps to add an extension to a Bit browser:

Then, click "Add to Chrome" to download and use the Bit browser as an extension.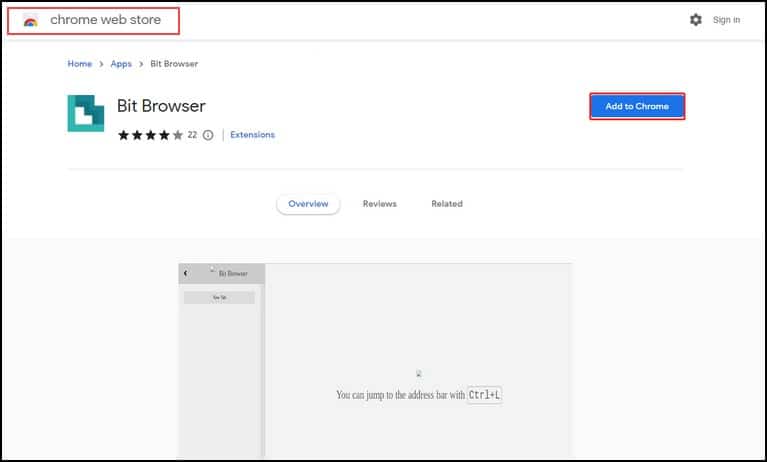 Next, click on "Extensions" in the top right corner.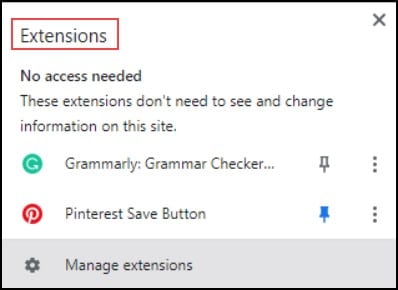 Choose "Manage extensions."
Choose "Bit browser" and click "New Tab" on the left.
Now, input the blocked site's URL and click "Enter."
Once done, you can use the Bit browser to view the blocked site without any security worries.
Is Bit Browser Safe To Download?
Bit browsers are generally safe and secure since they prioritize the user's privacy and security above everything else.
Nevertheless, there are potential risks and vulnerabilities associated with browsers.
Users can unknowingly download or install malicious extensions or add-ons that can compromise security and privacy.
It is therefore recommended to download extensions from trusted sources and review the permissions and features of those extensions before installing them.
Even though Bit browsers are designed to protect users, it is equally important to take additional precautions, like VPN or other privacy tools, to protect your privacy and security while browsing the web.
Why Should I Choose Bit Browser Over Other Popular Websites?
Right from the advanced security features to its user-friendly interface, Bit Browser has everything you need to stay safe and productive while browsing the web.
Regarding web browsing, security is a top-notch feature, and that's where the role of Bit browser comes into play.
They are designed with a wide range of advanced security features to protect the browser while surfing.
These are some security features that the users will encounter while using Bit Browser:
1) Encryption Protocols
Bit browsers use encrypted connections (HTTPS) to secure data transmission between the browser and the web servers, making it difficult for hackers to intercept & read the data.
2) Private Browsing Mode
By using the private browsing mode or the incognito mode, the users can browse the web without leaving any of their digital footprints.
In the case of a shared device, this is useful because the browser doesn't record the user's browsing history, cookies, or temporary files.
3) Password Manager
Bit browsers offer built-in password managers to help users create strong passwords for their accounts. The two-factor authentication process also adds an extra layer of security.
4) Protection Against Phishing Attacks
Bit browsers use phishing protection features to warn users about potentially dangerous websites. It also warns and guides the user about entering sensitive information on these sites.
5) Ad-Blocking And Anti-Tracking
Bit browsers are known to have in-built ad-blocking and anti-tracking features that protect user privacy and prevent websites from tracking their online activity.
6) Automatic Updates
Bit browser's automatic update feature ensures that the users are always running the latest, most secure version of the browser.
What Are The Advantages Of Using Bit Browser?
There are several benefits of using a Bit Browser that is known to prioritize security and privacy features over convenience or performance.
A few advantages of using a Bit browser are discussed below:
Enhanced Security
Bit browsers advanced security features like encrypted connections, ad-blocking, and anti-tracking features protect the user from malware, phishing attacks, and other online threats.
Unblock Access For Restricted Sites
Since Bit browsers are known to break site restrictions, they allow users to surf through blocked websites.
It safely unblocks the sites and the online content without harming your privacy.
Fast And Secure Internet Access
Privacy features like private browsing mode, VPNs, and anti-fingerprinting technologies help to prevent websites and advertisements from tracking your online activity.
Allows Multiple Tabs
Bit browsers are known to withstand a considerable amount of online workload, so users can access as many tabs as they want.
Anonymity And Privacy
Bit browser's privacy feature allows users to surf the internet without leaving any trace.
There is hardly any data theft since the browsing data aren't saved, making detection hard.
Also, the users can manage multiple social media and eCommerce accounts anonymously.
Final Words
Whether you are a privacy-conscious user or a developer, Bit browser is your ultimate choice since you can control your online experience completely.
It undoubtedly offers a unique and valuable browsing experience for those users who prioritize security and privacy.