Popular internet browsers are known to hog RAM. This is the reason why many users are interested to know which browser uses the least memory. However, using less memory doesn't make it the best browser. In this article, we have discussed 4 of the popular browsers Opera, Firefox, Edge, and Chrome, and which one uses the least memory.
Also, check out this article on 5 best slow motion software available right now.
Which Browser Uses The Least Memory?
Opera, Firefox, Edge, and Chrome are some of the most used browsers. Below is a comparison to find the least memory using browser among those mentioned above. We have chosen 10 websites to conduct this experiment and find low memory web browsers. The websites chosen are given below:
We conducted this experiment on a PC running AMD Ryzen 3 2200G with 8 GB RAM and Windows 10 (64 bit) operating system. This reflects most of the devices out there, the result of this experiment should be relatable for almost everyone.
4) Mozilla Firefox
Update: After Firefox's latest update, it is consuming around the same amount of memory as Chrome.
It will probably be very surprising for most of you that Firefox uses the most memory among the others on this list.
After opening all of the above-given sites in Firefox, I found that it was consuming around 1722 MB of memory, which is astonishingly high. Before making this experiment, I never thought that Firefox will be the worst-performing browser as Mozilla proudly advertises that their browser consumes less memory while providing faster browsing.
Among the browsers that don't use a lot of memory, Firefox has always been mentioned. The CPU usage was around 3.5% average and it loaded 11 processes in total.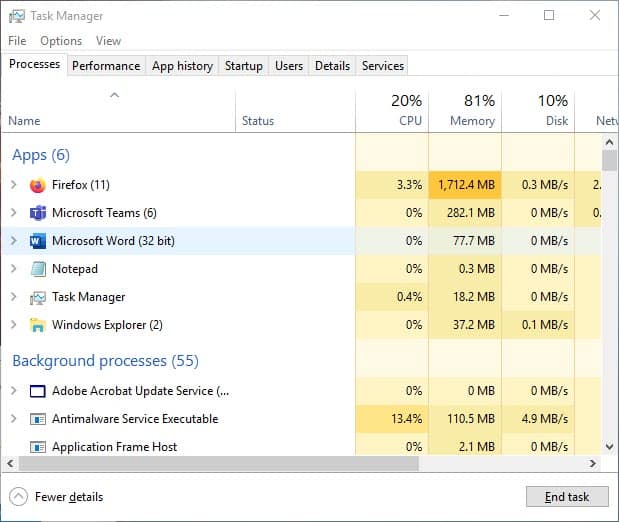 3) Google Chrome
Chrome is the 3rd most memory user among the four browsers. This isn't much surprising, and I expected Chrome to use the memory as we all know how much it is known to hog RAM.
Chrome used around 900 MB of space, which is still high. However, it is almost half of what Firefox used. And Chrome on even comes with better apps and features than Firefox.
The CPU usage by Chrome was around 2.5 – 2.8 % and it had 18 processes running, which is a lot more than Firefox.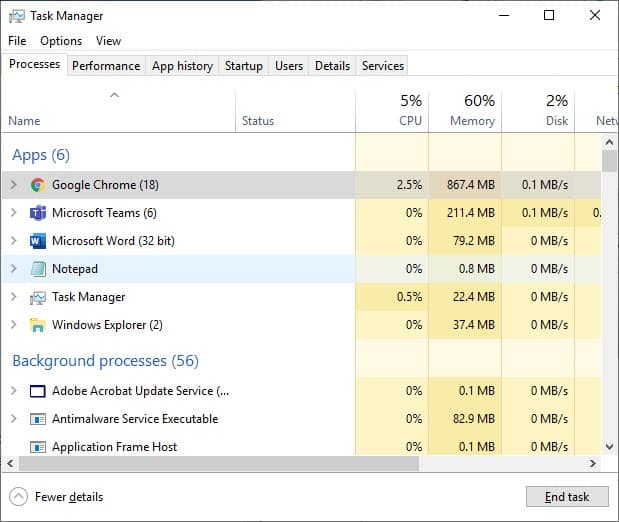 2) Opera
Opera did a better job than Chrome in terms of using memory. It used around 790 MB of memory, which is slightly lesser than Chrome. Opera is known to be a light browser, which is why it is shocking to see it only be a little better than Chrome in terms of memory usage.
Opera had 25 processes open, which is the most among the other browsers mentioned here. It also used around 1-1.5 % of CPU.
Opera might consume less memory than Chrome, however, Chrome is a far better browser in terms of user convenience and safety than Opera. And seeing that Opera browser memory usage is only slightly better than Chrome, there isn't much benefit in using Opera over Chrome.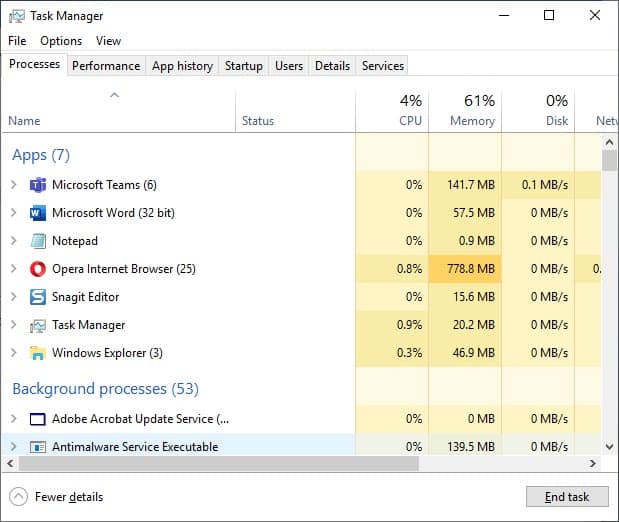 1) Microsoft Edge
Edge did the best when it came to memory usage. It used around 640 MB, which is three times less than Firefox. After Edge shifted to Chromium, it has become much better.
Edge used 3.2 – 3.5% of CPU while running 20 processes. Edge looks to be a great browser to shift from Google Chrome, especially for users that have low RAM.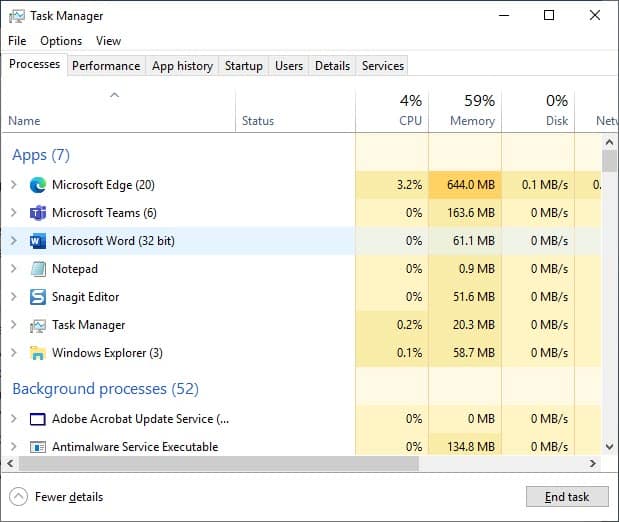 Wrapping Up
So, there you have it. Now you know which browser uses the least memory among Chrome, Firefox, Edge, and Opera. If you have questions related to this article, feel free to ask them in the comment section below.