Listening to music is a great way to clear our minds from the daily dose of problems. One needs a break from all the troubles of life, some take vacations, some watch movies, and others prefer listening to music. Many studies have shown how music soothes the mind and how certain music can even make us work better.
There are countless music apps available on the internet that allows users to play music online. However, some users prefer downloading music on their devices. In this article, I have discussed the 8 best music downloaders that are very easy to use.
Also check out:
8 Best Music Downloaders
Just like the apps that stream music online, there are apps that you can use to download music on your devices. But what's the best music downloader available in 2020? Below, I have compiled a list of music downloading software that you will love to use. I have selected them specifically to appeal to the majority of users.
One thing you should know before reading the list is, the order of the music downloading apps are put at random. They don't signify rankings. Try out all the apps and use the one you find best.
1) AVC (Any Video Converter)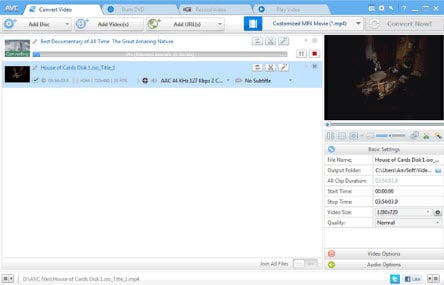 Any Video Converter or AVC is a top-rated music downloader currently available for FREE. It supports a wide range of audio formats, even 4k. The app has a simple UI, nothing fancy, but it is easily navigable. After opening the app, you will find an Add URL option where you can paste the link of the music you want to download.
AVC supports over 100 popular music and video streaming sites including various popular social media platforms. Some of its features that I liked are:
This app can also be used as a video or audio converter.
You can rip and extract audio from CDs and Videos.
AVC supports multiple video and audio formats.
The app can also burn videos to CDs and DVDs.
Overall, AVC is one of the best music downloaders currently available in 2020. AVC also has a premium version that you can buy, which has some additional features. But in my opinion, the free version should suffice for most users.
2) Spotify
Spotify is one of the largest music streaming services. It has a huge library of music that one can stream online for free or download to listen offline with the premium membership. The UI is clean, beautiful, and easily navigable. Spotify app is available for Windows, Mac, Android, and IOS. Some of its features that I liked are:
The login system allows you to use the same account on multiple devices.
A huge library of music from every part of the world is available.
Spotify also acts as a music player and you can create your own playlists. Else you can choose from the custom playlists that are curated for individual users.
The app can also stream music online without downloading.
You will find many lists of top ten or 100 different music genres from different countries, which makes everything easily navigable.
One big downside of Spotify is that you won't be able to listen to all music available on the platform. There are premium music, which are only available for premium users. If getting the premium version is fine for you, then you will absolutely love this app.
3) Vuze

Vuze is basically a torrent client for music. It has a basic interface, but I didn't find it too troubling and it is easy to use. As a torrent client, it is very powerful and is an excellent music downloader. The app is available for Windows, Mac OS, Linux, and Android.
You can directly search for the music on the Vuze web search and download it on your device. The process is fairly simple. The app also has all the features of a torrent client like IP filtering, magnet link, bandwidth limiting that you normally expect.
Overall, Vuze can be a nice music downloader for your devices.
4) SoundCloud

SoundCloud is another popular music streaming platform. It contains a huge library of music from different genres. The UI is beautiful and well optimized for easy usage. All the songs are well categorized in different lists for easy access.
Some features I like about this app include:
You can create your own playlists or listen to one of the curated ones.
Users can also upload their songs to SoundCloud, which I find is great for aspiring musicians.
The app provides a list of music that you have liked or listened in the past.
One downside about SoundCloud is that not all songs are downloadable for offline use. To download songs from SoundCloud, you will have to sign in on their website and get a subscription to Sound Go or Go+ plans. There isn't any option available on their app to download songs for free. For SoundCloud Go or Go+ subscribers, an option for offline download is available on their app.
Another downside is that the app is only available for Android and IOS. For PC users, you can access SoundCloud by visiting their website.
Visit SoundCloud.
5) MP3 Skull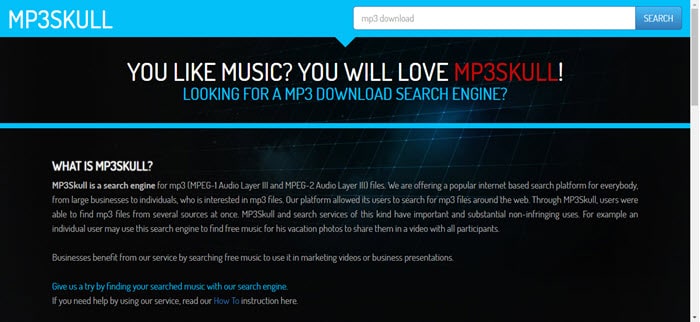 MP3 Skull is an MP3 download search engine. It is very easy to use and a great way to download your favorite songs streamed on different platforms like YouTube. It is easily one of the best music downloaders available online. Just visit the site and search for your favorite songs on the search bar. Many results of different platforms will appear with a download option.
The bitrate of MP3 will also be given beside it. So, you can easily choose the best music and download it. Some of the features I liked about this MP3 Skull are:
You will be provided many sources for the MP3 file you are looking for.
The search engine is also able to play the music before downloading it.
It is free to use.
One thing you need to be aware of while using MP3 Skull is the pop-up ads. They are not too many pop-up ads, but it can still become pretty annoying.
6) SONGily
SONGily is one of the best music downloader that is free to use. The app provides a huge collection of songs to listen to offline. After opening the app, simply click on the music you want to listen to and then select the download icon to download it on your device. This top-rated music downloader also acts as a music player, so you can also directly stream online. Some features of SONGily I liked are:
The UI is clean and easily navigable. New users won't have any trouble using it.
The songs are well categorized into different lists. SONGily also has a top-rated list which I found helpful to listen to good quality music.
This app doesn't require you to create an account, which saves some precious time.
The sound quality is great.
One downside of the app is that it contains ads. Another downside is it is only available on the mobile platform. But the downloaded music can be listened to anywhere.
7) FrostWire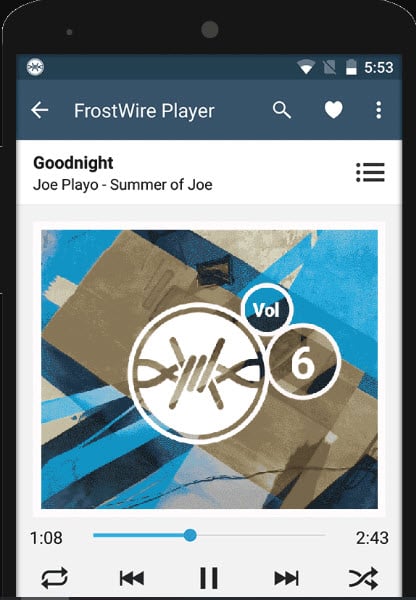 FrostWire is another top-rated music downloader for Windows. It is basically another Torrent client like Vuze. You can search for the music from the FrostWire search engine and easily download the file. The app combines P2P torrent sharing and cloud-based downloads for downloading the music you searched for.
The app also has a built-in media library that is very useful in managing all your downloaded music files. The UI is nothing special but fairly simple. However, you shouldn't face any issue navigating the features. One big downside that you should keep in mind before downloading FrostWire is that bundles its own search engine. Also, the app contains ads that may annoy some users.
Download FrostWire.
8) SCD 2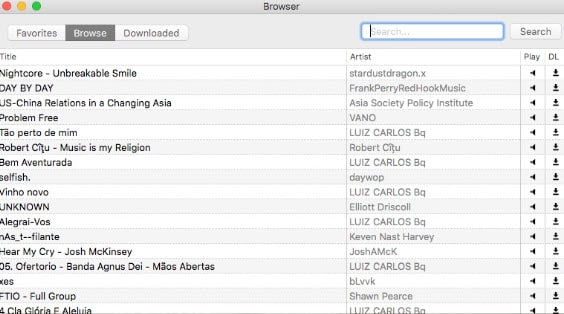 SCD 2 may be last on this list, but it is one of the best music downloaders for Mac users. The user interface is simple and easily navigable. The app directly downloads music from SoundCloud to your Mac. Some of its features that I liked are:
The app has the ability to download up to 5 songs at the same time.
If you have a SoundCloud account, you can use SCD 2 to automatically download all your favorite songs.
You can directly download the songs from SoundCloud by pasting the URL of the song.
The app is FREE.
Overall, SCD 2 is a great music downloader for Mac users. The app isn't available for other OS yet, and there doesn't seem any plan on doing it in the near future.
Download SCD 2 (Mac).
Wrapping Up
So, there you have it. This is the list of 8 best music downloader available in 2020. Now you don't have to wonder what's the best music downloader out there and simply download one of the apps given above. If you have any questions related to this article, then ask it in the comment section below.